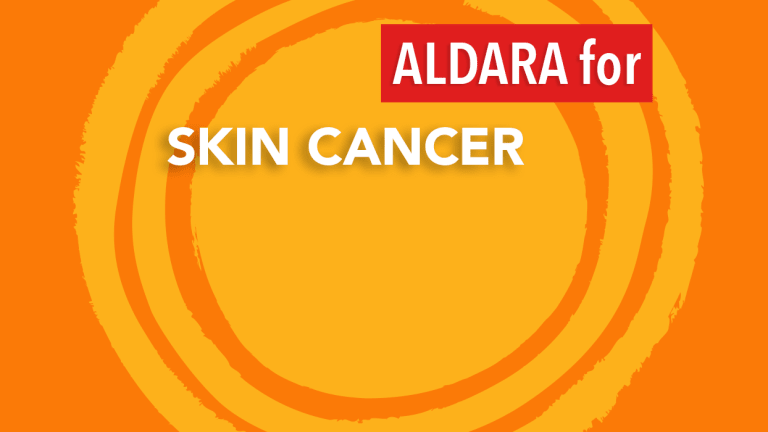 Aldara Approved for Superficial Basal Cell Skin Cancer
Aldara Approved for Superficial Basal Cell Skin Cancer
The Food and Drug Administration recently approved the topical cream Aldara® (imiquimod) for the treatment of superficial basal cell cancer of the skin. However, this indication excludes treatment of superficial basal cell cancer that occurs on the face.
Basal cell cancer of the skin is one of the most common types of cancer. Superficial basal cell carcinoma is one type of basal cell carcinoma, and often causes scaly patches of the skin or areas of the skin that are pink to red-brown in color. Superficial basal cell carcinoma tends to occur on areas other than the face, such as the trunk, arms, legs, back or chest. Basal cell carcinoma is easily treated, particularly when diagnosed early, and has high rates of cure. Treatment often includes the surgical removal of the cancer from the skin, done on an outpatient basis. However, if basal cell carcinoma is left untreated for a lengthy period of time, significant disfigurement or cosmetic issues may occur due to extensive surgery. Fortunately, basal cell carcinoma tends not to be very aggressive and tends not to spread to vital organs and patients often do not require additional treatment following surgery. Patients already diagnosed with basal cell carcinoma should receive scheduled follow-up with a dermatologist as they may develop subsequent basal cell carcinomas in their lifetime.
Aldara® is a topical cream that is already approved for a skin condition called actinic keratosis, as well as external genital warts. Aldara® is classified as an immune response modifier, meaning it stimulates the immune system to help fight "foreign" material, such as bacteria, viruses and cancer cells. The approval of Aldara® was based on two clinical trials including over 360 patients. Patients with superficial basal cell carcinoma were treated with Aldara®, 75% of whom had no evidence of cancer following treatment upon repeat biopsies. One study included 182 patients who were followed for 2 years after finishing treatment and nearly 80% of patients had no evidence of cancer at the end of the study. Side effects of Aldara® include skin reactions at the site of treatment such as redness, swelling, peeling, itching, burning, sores or blisters.
Patients with superficial basal cell carcinoma that is not on the face may wish to speak with their physician about the risks and benefits of treatment with Aldara®.
Reference: U.S. Food and Drug Administration. FDA Approves New Use of Drug to Treat Superficial Basal Cell Carcinoma, a Type of Skin Cancer. Available at: http://www.fda.gov/bbs/topics/news/2004/NEW01088.html. Accessed July 2004.