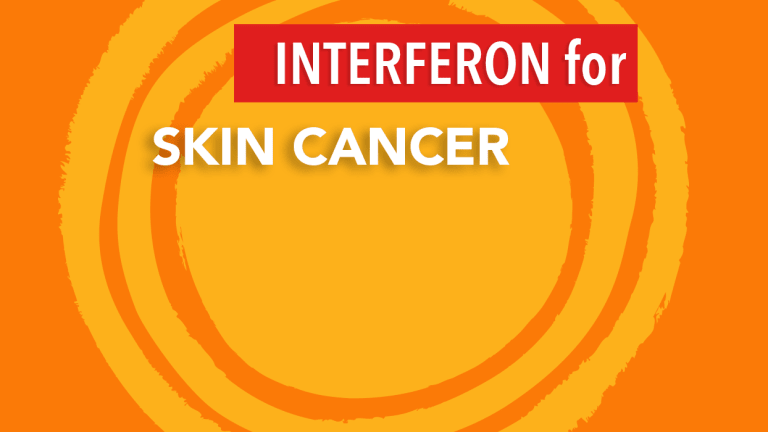 Interferon May Provide Cures for Basal Cell Carcinomas
Interferon May Provide Cures for Basal Cell Carcinomas
According to an article published in the Journal of the American Academy of Dermatology, injections of interferon directly into the cancer may provide cures for a large portion of patients with basal cell carcinoma.
Basal cell carcinoma is the most common form of skin cancer-it affects 800,000 Americans each year. This also makes BCC the most common cancer occurring in humans. It has been estimated that one out of every three new cancers is a skin cancer; the vast majority is basal cell carcinoma.
The number of new cases has increased each year in the last few decades, and the average age of onset of the disease has steadily lowered. And, while more men than women get basal cell carcinoma, there has been a marked increase in incidence in women.
Chronic exposure to sunlight causes almost all basal cell carcinomas, which occur most frequently on exposed parts of the body. Treatments for BCC include the surgical removal of the cancer with or without surrounding tissue, freezing of the cancer cells, radiation therapy and chemotherapy in some instances, and/or stimulating the immune system to help fight cancer.
Fortunately, BCC tends to spread very slowly. As well, cure rates are very high following surgery alone.
Researchers from Houston, Texas, recently conducted a trial to evaluate the injection of interferon, an agent that stimulates the immune system to help fight cancer, directly into the cancer in patients with BCC. This trial included 50 patients with a total of 98 BCCs. They were treated with interferon between 1985 and 1992.
At an average follow-up of 13.5 years (10 years minimum follow-up), cures were achieved in 95 of the 98 BCCs.
The researchers concluded that injection of interferon directly into BCCs may provide cures for a significant portion of patients. However, clinical trials directly comparing these injections to surgery are necessary to accurately assess interferon's true clinical benefit.
Reference: Tucker SB, Polasek JW, Perri AJ, et al. Long-term follow-up of basal cell carcinomas treated with perilesional interferon alfa 2b as monotherapy. *Journal of the American Academy of Dermatology.*2006;54:1033-1038.