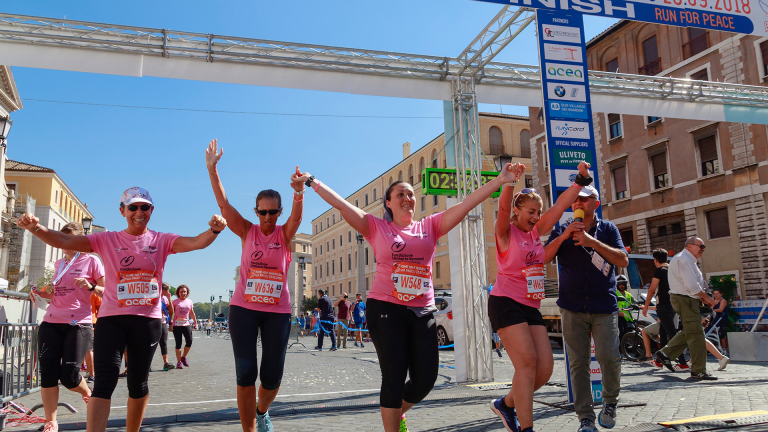 Breast Cancer Survivorship 101
Sheryl Crow, Hoda Kotb, Joan Lunden, Diahann Carol, Peggy Flemming, Olivai Newton John and others share their stories.
by Diana Price and C.H. Weaver M.D. updated 5/2022
It's rare to find a woman who hasn't been personally affected by breast cancer—either she knows a friend who has been diagnosed, has had a family member face the disease, or has been through the fire herself. It's no wonder that increasingly more women can cite the most common breast cancer statistic: one in eight women in the United States will be diagnosed with breast cancer.
What many women might not know is that the number of women affected by breast cancer is expected to rise dramatically in the near future as baby boomers reach the peak ages at which breast cancer is diagnosed and as the survival rate for breast cancer continues to improve. With these growing numbers, the oncology community has initiated efforts to reach out to this significant and growing population, recognizing the needs that exist among breast cancer survivors and their friends and families for awareness, information, and support to sustain optimal health and happiness.
Breast cancer survivorship essentially starts at the time of diagnosis because most women with early stage disease will be cured of their cancer and those with more advanced disease can survive for years as a result of improving treatment. Cancer Connect has interviewed dozens of breast cancer survivors over the years and their stories can offer inspiration and hope.
Survivors Share Their Stories....
Recent efforts have focused on the needs of survivors following treatment—as they enter a new phase of life: survivorship—and recognize different needs and priorities in this population facing a "new normal."
Am I a Survivor?
The meanings of survivorship and cancer survivor continue to evolve as survival times and cure rates improve among patients diagnosed with breast cancer. Historically, the definition of cancer survivor was an individual who was free of cancer for at least five years; now, however, the term generally refers to any individual who has been diagnosed with cancer and is still living. Some advocacy groups who wish to honor the family members and close friends who have also endured the emotional journey of a cancer diagnosis include this group in their definition of survivor. And some, who don't identify with the word survivor at all for one reason or another, might choose to refer to themselves as "thrivers" or another word with which they more closely identify.
Whatever term you feel comfortable with, know that as a survivor of cancer you have reason to celebrate. You've made it through the fear and the confusion of a new diagnosis of breast cancer, you've persevered through grueling therapy, and you've made it to the end of treatment. The unforgiving side effects, severe emotional roller-coaster rides, and life changes you have undergone have no doubt been difficult. But now the cancer has been controlled with treatment. Now you have the opportunity to embrace life as a cancer survivor.
Now What?
First, congratulate yourself for getting where you are today: you made it through treatment. Let yourself dream about the future. Take the time to consider how your outlook on life may have changed as a result of this journey. Some cancer survivors actually express gratitude for their diagnosis, feeling that their journey with cancer has brought about newfound meaning to their life and a change in priorities (for the better!). This sense of gratitude can present a wonderful opportunity to thank your supportive care network—family and friends—for their compassion, commitment, help, and love as they celebrate this milestone with you.
Understand that many breast cancer survivors experience a pendulum of emotions following the completion of therapy. If your first response at the end of treatment is not gratitude and celebration, don't think that there's something wrong with you. Even though your treatment is finished and the cancer is under control, fear and anxiety of a recurrence or of long-term side effects of therapy may still weigh heavily on your psyche or may pop up when you least expect it.
Sadness, elation, depression, joy, fear, anger, and other strong emotions may surface at any time following the end of your treatment. Financial issues related to your diagnosis, a return to work, and relationship and physical changes—all may become new areas of concern in your life. At this time remember that numerous support groups exist for breast cancer survivors, and take advantage of the comfort other cancer survivors can provide. By being able to relate to your experience, this important network can answer questions and provide tips with a perspective that only someone who has been through diagnosis and treatment can offer (see "Support Groups for Cancer Survivors" sidebar).
Organized support groups do not appeal to all survivors, and there is no agreed-upon definition of who or what can make up a support system; often people find inspiration, strength, and peace among people, situations, or ideas that surprise them. Seek out the support network—official or otherwise—that meets your needs.
Scan Anxiety - Coping with Fear of Recurrence
Follow-up
As a breast cancer survivor, it's important to understand your individual risks for certain health concerns that are attributable to your specific diagnosis and treatment. Breast cancer survivors are at an increased risk of certain physical, mental, and emotional side effects, many of which can be prevented or drastically reduced with early detection and intervention.
Keeping track of medical records—from diagnosis to completion of therapy—is the key to preventing many of these potential late side effects. If you have a comprehensive record of your care and treatment, the providers of your follow-up care will have a clear picture of your prior care. This will allow for individualized follow-up care based on previous or current therapies and other risk factors, such as other existing medical conditions, that increase risks of specific short- or long-term side effects.
Recent studies have indicated that some therapies are linked to increased risks of specific long-term side effects for which a patient should be monitored:

Heart complications. Patients who have received radiation therapy to the chest area or have received specific chemotherapy or targeted agents are at an increased risk of heart complications.
Learning or memory difficulties. High doses of radiation to the brain or treatment with some chemotherapy agents can lead to learning, memory, or attention difficulties. This issue is currently under extensive study.
Second cancers. Cancer survivors are at an increased risk of developing a second cancer, the type of which largely depends on the specific therapy received for the initial cancer. Some chemotherapy agents may slightly increase the risk of developing hematologic (blood) cancers such as leukemia.
Lung complications. Radiation therapy to the chest may increase the risk of lung complications, and newer targeted immunotherapy medications like Enhertu may cause lung damage.
Bone, joint, and muscle issues. Osteoporosis (reduced bone density) is more common among breast cancer survivors than in the general population. Prior or continued treatment with aromatase inhibitors, steroids, or chemotherapy and low levels of activity—all may contribute to an increased risk of developing osteoporosis.
Hormonal changes. Chemotherapy can damage the ovaries in premenopausal women, resulting in early menopause, osteoporosis, host flashes, infertility, and sexual dysfunction. Radiation to the head and neck can affect the thyroid gland or hormone-producing glands in the head. Treatment with aromatase inhibitors or selective estrogen modulators such as tamoxifen can also cause mood swings and weight fluctuations and affect energy levels.
Fatigue. Approximately one-third of cancer survivors report fatigue. The underlying cause of fatigue among these patients is often not known, although lifestyle management and nutritional support can help combat fatigue.
Effects of surgery. Side effects that may occur from surgery are highly dependent on the location and the extent of the surgical procedure. For example, women who have undergone a lumpectomy or mastectomy may experience emotions related to femininity or sexuality due to the disfigurement caused by the surgery, whereas women who have had extensive lymph node removal may experience significant swelling or pain of the limb to which the removed lymph nodes provided drainage referred to as lymphedema.
Survivorship Care Plan
Your doctor or treatment team should provide specific instructions for follow up surveillance (monitoring for recurrence), which can be provided in a survivorship care plan. With this information you can be on the same page as all of your healthcare providers, avoid unnecessary testing and work with your primary care provider to implement your care plan. Each different type of treatment is associated with an increased risk of specific long-term issues. Therefore, guidelines specifying follow-up for breast cancer survivors is highly individualized to each patient.
The NCCN recommends the following surveillance care plan.
Physical exam and evaluation 2-4 times per year for 5 years, then annually.
Annual Mammogram unless at high-risk.
Heart evaluation as needed if treated (especially if treated with Herceptin or anthracycline chemotherapy.
Individuals on Tamoxifen or other hormone therapy
Don't miss or skip doses – if you are experiencing side effects discuss with your physician as there are numerous treatment options.
Annual gynecologic exam.
Annual Bone Density test especially if on aromatase inhibitor or with cessation of ovulation.
Genetic counseling should be offered to patients with a strong family history of certain cancers and/or patients who are 60 years or younger with triple negative breast cancer.
Screening for cancers other than breast cancer should be performed in accordance to screening recommendations for the general population.
A gynecologic examination should be performed annually among postmenopausal women on selective estrogen receptor modulator therapies (SERMs).
A bone density scan (DEXA) should be performed every 2 years among women being treated with certain hormone therapies or those with prematurely induced menopause.
Prevention of lymphedema, or referral to a lymphedema specialist should be discussed if extensive surgery or lymph node removal is performed and/or radiation has been part of treatment.
Fertility issues should be discussed among premenopausal women who wish to preserve their fertility.
Patients should be counseled on signs or symptoms of a recurrence.
Survivors of breast cancer who are experiencing changes in physical functioning and/or psychosocial issues should speak with their healthcare provider to obtain appropriate referrals or resources to improve their quality of life.
Fortunately, with monitoring and intervention (the earlier the better), many of these side effects, whether short-term or long-term, can be effectively dealt with so that survivors can live their lives without being weighed down by these issues. In addition, as research and treatment continue to improve, radiation therapy is becoming more precise, so the cancer cells are targeted while sparing healthy surrounding tissue from its effects. Chemotherapy agents that are associated with increased risk of long-term side effects or second cancers are also being avoided and substituted with other agents that are just as effective and not associated with such side effects.
The important message is that long-term follow-up is a very individualized process, based on each survivor's needs and risks. Several issues are taken into consideration when deciding on long-term monitoring, and each survivor is encouraged to be very open with her healthcare provider about her fears or concerns so that the care plan can be accurately developed.
Heading Off Potential Side Effects
Some cancer survivors may wish to distance themselves from their cancer experience. If you feel this way, remember that it nevertheless remains important to continue follow-up monitoring for side effects, second cancers, and co-morbid conditions. With diligent long-term monitoring according to an individualized schedule, side effects or second cancers for which cancer survivors are at an increased risk can be drastically reduced or prevented altogether. Specialists exist for the majority of these issues, so survivors who are at an increased risk of specific side effects should insist on being referred, at least initially, to an expert in the field. For survivors in rural areas, this may require an initial trip for a consultation with a specialist. Insurance typically pays for the consultation, and it is an important step toward achieving optimal long-term health. Often the specialist can coordinate care with the healthcare provider of the patient's choice for follow-up scans, tests, and check-ups.
Good nutrition and exercise may help reduce risks of recurrences for some cancers, such as breast cancer, as well as improve cases of fatigue. A nutritionist can help develop general meal plans and provide nutrition tips for survivors, and a personal trainer specializing in post-cancer exercise can get patients started on a safe fitness routine.
As a survivor it is important to be honest with yourself about your needs so that you can be referred to a specialist for the appropriate guidance and follow-up necessary for a long, healthy, and fulfilling life. For example, a counselor or psychologist may help with anxiety or depression, while a cardiologist, neurologist, pulmonologist, ostomy nurse, physical therapist, plastic surgeon, or pain specialist can aid
One important development in breast cancer survivorship has been the creation of breast cancer care plans. These care plans are forms that oncologists and healthcare providers fill out that include details of a patient's treatment, side effects, and other relevant issues. They also include easy-to-follow schedules for follow-up care, which include schedules for testing and scans (along with the reason for each), descriptions of signs and symptoms to be aware of, and room for notes. The scheduling, explanation, and specific follow-up monitoring recommended are presented in a simple yet detailed format that allows for the individualized nature of each follow-up care plan. The ultimate intention of these care plans is to make them commonplace for all cancer patients and their healthcare providers as a guide through treatment, the transition from treatment to survivorship, and long-term survivorship.
Conclusion
If you're a cancer survivor, you are part of a growing population in the United States. Research efforts focused on long-term survivorship issues continue to expand, as the oncology community has become committed to understanding increased risks for cancer survivors as well as to providing means by which these risks can be minimized or prevented. As a survivor you can take a proactive role in this part of your cancer journey by providing a care plan to your oncologist and by asking questions about your long-term follow-up care. By working with your healthcare team, you can help achieve your optimal health, vitality, and happiness. Support groups are available for emotional, spiritual, financial, or other assistance, and healthcare specialists can provide an essential component to reducing or preventing side effects through their expertise.
Being a cancer survivor is a great achievement. Now it is time to look forward to the rest of your life by making sure your healthcare provider recognizes your potential risks and ways to minimize them and recognizes the important quality-of-life issues unique to your situation.
References:
ASCO Cancer Treatment Summaries. American Society of Clinical Oncology Web site. Available here.
ASCO Expert Corner: Finishing Treatment: What Comes Next. American Society of Clinical Oncology Web site.
Facing Forward: Life After Cancer Treatment. National Cancer Institute Web site. Available at: cancer.gov/cancertopics/life-after-treatment/page1. Accessed June 19, 2008.
Survivors. American Cancer Society Web site. Available here. Accessed June 2008. Livestrong Survivorship Notebook. LiveStrong Foundation Web site. Available here.
Rosenbaum EH, Spiegel DA, Fobair PA, Gautier HO. Everyone's Guide to Cancer Survivorship: a Map for Better Health. Kansas City, Ks: Andrews McMeel Publishing, LLC; 2007.
Runowicz C, Leach C, Henry N, et al. American Cancer Society/American Society of Clinical Oncology Breast Cancer Survivorship Care Guidelines. Available here. Accessed January 19, 2016.