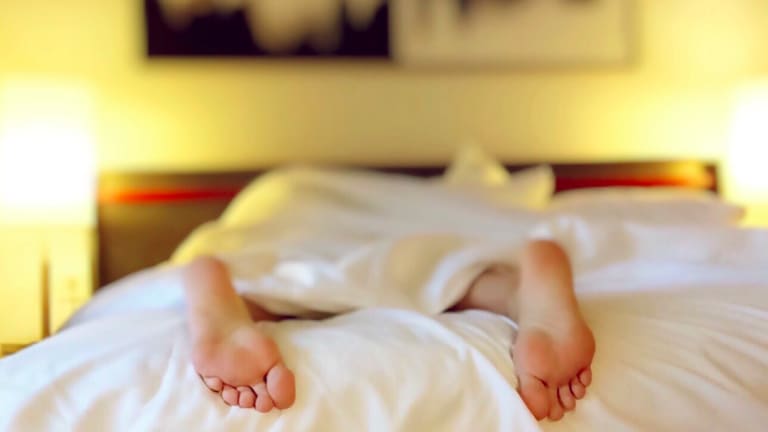 Cancer Fatigue - One of The Most Common Side Effects of Cancer & its Treatment
What causes fatigue, and how can it be managed?
Medically reviewed by C.H. Weaver M.D. Medical editor 7/2021
Approximately 75% of patients undergoing cancer therapy suffer from fatigue, with anemia being a common cause. Sixty-one percent of patients believe that fatigue affects their ability to work and recent research indicates that fatigue plays a very important role in the cancer patient's overall quality of life (QOL). Furthermore, research suggests that fatigue, as well as pain and sleep disturbances, affect cancer treatment outcomes.1-4
There are many factors that contribute to fatigue, such as anemia, poor nutrition, inadequate rest, infection, stress, and others. Likewise, successful treatment of fatigue may require several approaches. For these reasons, it is important to tell your doctor if you have fatigue or if your fatigue is worsening so that you have the best chance of getting a treatment plan that will work for you.
What is Fatigue
Fatigue is a general tiredness or an overwhelming lack of energy. It may be associated with an increasing need for rest, an inability to regain energy with rest, difficulty concentrating, or a disinterest in activities or events.
Compared with symptoms such as nausea or pain, fatigue can be very difficult to identify and discuss. Sensations such as weakness, dizziness, difficulty thinking, and tiredness may be part of the feeling. People sometimes think they are just being lazy or depressed. They may tell themselves, "I can snap out of this if I really try." Sudden changes in feelings of fatigue may mean there is a serious problem. Slower, gradual development of fatigue may lead to a decreased ability to perform everyday activities. There are no medical tests to measure fatigue; however, fatigue can be treated in many circumstances. Patients experiencing fatigue should report this feeling to their nurse or physician in order to determine whether a treatable cause of fatigue exists and to develop a strategy to reduce the amount of fatigue.
What Causes Fatigue
The reasons that patients experience fatigue are many and complex. In fact, fatigue often results from more than one cause and may require the use of many strategies for effective treatment. All of the factors listed below can contribute to fatigue by decreasing the body's ability to produce energy or by consuming the limited energy produced.
Anemia: Anemia is an inadequate supply of red blood cells, resulting in a decrease in the oxygen-carrying capacity of the blood. A common reason that cancer patients experience anemia is as a side effect of chemotherapy. Anemia is important because it may cause unwanted symptoms, such as fatigue, tiredness or shortness of breath, and may exacerbate or cause other medical problems, such as a heart condition. Fortunately, anemia can be managed.
Infection: When you have an infection, the body utilizes extra energy to fight the infection, which can contribute to fatigue.
Cancer medications or medical treatments: Many drugs, including those used for the treatment of nausea (antiemetics), pain (analgesics), anxiety (anti-depressants), and other conditions, can cause fatigue as a side effect.
Inadequate nutritional intake: Cancer or cancer treatments may also cause your to lose your appetite, or feel full early (Early satiety). Insufficient intake of calories and vitamins reduces the body's ability to produce energy and may cause anemia.
Imbalance between rest and activity: Since the 1950's, space program researchers have studied bed rest as a way of better understanding the effect of a weightless environment on the body. These studies have shown that bed rest or even restriction of activity for 1 or 2 days can decrease the body's ability to produce energy. Researchers have not identified how much rest is required for recovery versus how much rest contributes to low energy production. However, it appears that extended rest may contribute to fatigue and modest amounts of activity and movement can improve fatigue.
Stress: Pain, anxiety, or depression can cause stress or result in sleep deprivation, causing increased fatigue.
Other medical conditions: Fatigue may be a symptom of other medical problems. Diabetes, heart disease, kidney failure, thyroid dysfunction, and hypercalcemia are common medical problems that can cause fatigue.
What are the Symptoms of Fatigue
Compared with symptoms such as nausea or pain, fatigue can be very difficult to identify and discuss. Symptoms may include:
Tiredness
Weakness
Dizziness
Difficulty thinking
You may sometimes think that you are just being lazy or depressed. Or, you may tell yourself, "I can snap out of this if I really try." Symptoms usually start out mild and become progressively worse so that you are unable to perform everyday activities. Sudden changes in feelings or fatigue may mean there is a serious problem.
There are no medical tests to measure fatigue; therefore, it is important that you report any new or worsening symptoms of fatigue to your doctor or nurse.
How can Fatigue be Managed
Fatigue has so many different causes and patterns and it may require the use of many strategies for effective treatment. For these reasons, it is important that you discuss your symptoms with your nurse or physician in order to devise an individual plan that will work. While there are no standard medical treatments for fatigue, new tools exist for evaluating and coping with fatigue. The following suggestions may also help you to cope with fatigue and have more energy:
Treat anemia: Anemia is the most common cause of fatigue in cancer patients. It is also very treatable. Treatment of anemia may involve the use of red blood cell boosters such as Procrit® (epoetin alfa) or Aranesp® (darbepoetin alfa), a longer-acting form of erythropoietin that allows patients to receive fewer injections. Patients should discuss the risks and benefits of treatment with a red blood cell booster or blood transfusion with their doctor.5-7
Maintain good nutrition: Maintaining good nutritional intake during treatment is especially important because cancer treatments increase the nutritional demands of the body. However, treatments may also cause you to lose your appetite, or feel full early (Early satiety). Work with a dietician or nutritional specialist to ensure that you are getting proper nutrition.
Conserve energy: Try to be realistic about how much energy you have and what you can and can't do. Only do the things that are most important and ask friends or family for help. It is important to recognize which activities create the most fatigue and also note the frequency, degree, and duration of fatigue so that you can report these to your doctor. If you're having difficulty managing fatigue, you may wish to ask your nurse or doctor to help family members understand how they can help.
Maintaining normal rest and sleep patterns is important for ensuring quality rest. Plan your daily activities carefully, and schedule rest times between activities throughout your day. Try to rest when you feel the worst and do your activities when you feel better.
Evaluate medications: Review your medications with your doctor, pharmacist, or nurse to ensure that the medications are not causing or contributing to your symptoms.
Exercise: While conserving energy is important, it is equally important to understand that too much rest or inactivity can actually decrease the body's ability to produce energy and can worsen fatigue. Moderate daily exercise, such as walking, may help to increase your energy level.
Manage stress: Counseling, support services, and medications can all play a role in reducing stress and thereby alleviating fatigue.
Managing Fatigue with Complementary Medicine
Complementary medicine (CM) which is defined by the American Cancer Society as a therapy that is used in addition to traditional cancer treatment. Complementary medicine approaches include art therapy, acupuncture, massage, mind/body approaches (such as breathing, relaxation, and visualization), music therapy, and yoga.
Western medical framework, evidence-based studies are revealing that a variety of CM modalities are safe and effective. According to one study conducted by Memorial Sloan-Kettering Cancer Center, massage has been found useful in reducing levels of fatigue. Others have reported that use of acupuncture reduced levels of fatigue in 31% percent of cancer patients who had struggled with persistent fatigue over a two-year period.8-11
Exercise Reduces Chemotherapy-related Fatigue
Exercise reduces fatigue and improves strength, physical functioning, and emotional well-being in men and women undergoing chemotherapy, according to the results of a study published in the British Medical Journal. A varied exercise program that includes high- and low-intensity components is safe and feasible for patients undergoing chemotherapy and could reduce fatigue.
Tips for Dealing with Fatigue and the Inability to Eat
Cancer-treatment fatigue is more than just being tired. It is an overwhelming sense of tiredness that is not always relieved by rest. It can be mild, causing a person to have less energy to do the things he or she wants to do; or it can be severe, affecting many areas of a person's life and resulting in the inability to do basic activities.
How Fatigue Affects Nutrition
Fatigue can significantly affect one's desire to eat as well as one's energy to prepare basic meals and snacks. Even walking to the kitchen can feel like running a marathon. This lack of energy is often overwhelming, causing patients to go many hours or even full days with only a few bites of food. This pattern leads to malnutrition and dehydration, both of which lead to more fatigue.
Eating for Energy
Many patients are in search of foods that will give them energy to overcome the fatigue. Unfortunately, there are no such foods. Even caffeine can reduce long-term energy levels and impair sleep, leading to additional fatigue. Foods that are purported to be a good source of energy simply provide calories (energy for the metabolism) but don't provide a cancer patient with the type of energy he or she seeks.
Some cancer patients turn to herbal supplements such as guarana, ma huang, or ginseng for an energy boost. These are known stimulants, but the stimulation provided by these supplements has not been proven safe or effective in cancer-treatment fatigue. In addition, because they have known side effects and may interact with medications, they are not recommended during cancer treatment.
Eating Despite Fatigue
The best advice for people with cancer treatment fatigue is to eat a balanced diet that includes protein foods such as meat, eggs, cheese, peas, and beans and to drink eight to 10 glasses of fluids per day. Preventing malnutrition and dehydration can help keep baseline energy levels up and provide the body with the fuel it needs to maintain basic activities, although this is easier said than done.
Here are some tips to make meeting your nutritional needs easier during this difficult time:
Ask for help. Friends and family members are usually happy to prepare meals or go to the grocery store.
Set a timer for 60-minute intervals. Eat a few bites and drink some fluids every time the timer goes off.
Eat a few bites every time a commercial comes on TV.
Keep a cooler or mini-refrigerator in the room where you rest or next to your chair or bed. Keep it stocked with yogurt, pudding, cheese, milk, juice, or nutritional supplement drinks.
Keep nonperishable food items such as nuts, dried fruit, juice boxes, crackers, and peanut butter next to your chair or bed and nibble often.
Eat high-calorie, high-protein foods to maximize your nutritional intake.
Anemia Treatment Guidelines
Anemia is defined as a hemoglobin (Hb) count of less than 11.5 g/dL. 8 Anemia occurs in 20% to 60% of cancer patients and is most commonly associated with cancers of the lung, breast, ovary, head and neck, and non-Hodgkin's lymphoma.11-13
Risk Factors for Developing Anemia
Elderly patients
Presence of co-morbid conditions
Type of cancer, especially lung, breast, ovary, head and neck, and non-Hodgkin's lymphoma
Advanced stage of cancer
Prior treatment
Treatment regimen that includes paclitaxel, carboplatin, cisplatin, topotecan, or CHOP
The current guidelines of ASH-ASCO for evidence-based clinical practice in anemia are as follows:
Erythropoiesis-stimulating therapy for Hb<10 g/dL
Erythropoiesis-stimulating therapy for Hb<12 g/dL if clinically indicated
The current guidelines of the National Comprehensive Cancer Network (NCCN) for anemia recommend intervention when Hb is less than 11 g/dL, in order to increase Hb to at least 12 g/dL.
In order to prevent or treat anemia with early intervention, caregivers need to focus on trends versus single-day measurements of hemoglobin/hematocrit. Changes in a patient's function and symptoms may be indicative of the onset of anemia.
Aranesp® (darbepoetin alfa) is a long-acting erythropoiesis-stimulating agent. It was approved by the FDA in 2002 for the treatment of anemia in patients receiving concomitant chemotherapy for nonmyeloid malignancies.
Treatment of anemia with erythropoietin in patients with cancer reduces blood transfusions
Anemia can be treated with blood transfusions or with erythropoietin. Erythropoietin is a blood cell growth factor that increases red blood cell production and reduces the complications of anemia. It may also prevent the need for blood transfusions and their associated risks.
Clinical trials have demonstrated that treatment of anemia with erythropoietin in patients with cancer reduces blood transfusions and improves patients' energy, activity and overall sense of well-being.14
References:
Symposium at 2003 annual meeting of the Oncology Nursing Society. Are Oncology Nurses the Strongest Link? Effective management of chemotherapy-associated neuropathy, anemia, and neutropenia. Gillespie, T. presenter of anemia section. May 1, 2003.
Cella D, Peterman A, Passik S, et al. Progress toward guidelines for the management of fatigue. Oncology. 1998. 369-377.
West C, Paul S, Miaskowkski C, et al. Symptom clusters predict fatigue severity in oncology outpatients. Proceedings from the 2003 annual meeting of the Oncology Nursing Society. Abstract #136.
Byar K, Berger A. Women receiving adjuvant chemotherapy for breast cancer: impact on quality of life and fatigue. Proceedings from the 2003 annual meeting of the Oncology Nursing Society. Abstract #142.
Dunphy FR, Harrison BR, Dunleavy TL, et al. Erythropoietin reduces anemia and transfusions:a randomized trial with or without erythropoietin during chemotherapy. Cancer. 1999;86:1362-1367.
Glaspy JA, Jadeja J, Justice G. Optimizing the management of anemia in patients with cancer: a randomized, active-controlled study investigating the dosing of darbepoetin alfa (abstract). Proceedings of the American Society of Clinical Oncology 38th annual meeting; May 18-21, 2002. Abstract 1446.
Kotasek D, Albertson M, Mackey J. Randomized, double-blind, placebo-controlled, dose-finding study of darbepoetin alfa administered once every 3 (Q3W) or 4 (Q4W) weeks in patients with solid tumors [abstract]. Proceedings of the American Society of Clinical Oncology 38th annual meeting; May 18-21, 2002. Abstract 1421.
Complementary and Alternative Methods for Cancer Management. American Cancer Society Web site. Available here.
Deng G, Cassileth BR, Yeung KS. Complementary therapies for cancer-related symptoms. Journal of Supportive Oncology. 2004;2(5):419-26.
Acupuncture: Questions and Answers About Acupuncture. National Cancer Institute Web site. Available here.
Fatigue. National Cancer Institute Web site. Available here.
NCCN Guidelines. Available at:
nccn.org/patient_gls/asp/ASP_Script_showTree/SVGAframeset.asp?pg=fatigueidchart=6bkg=.
Amorajabi M, Tchekmedyian S, Kallich J. Patient-reported depression and anxiety in patients with cancer improves following reduction in anemia-related fatigue with darbepoetin alfa therapy. Proceedings from the 2003 annual meeting of the Oncology Nursing Society. Abstract # 118.
Proceedings of American Society of Clinical Oncology, Vol 18, Abstract 2217, 1999