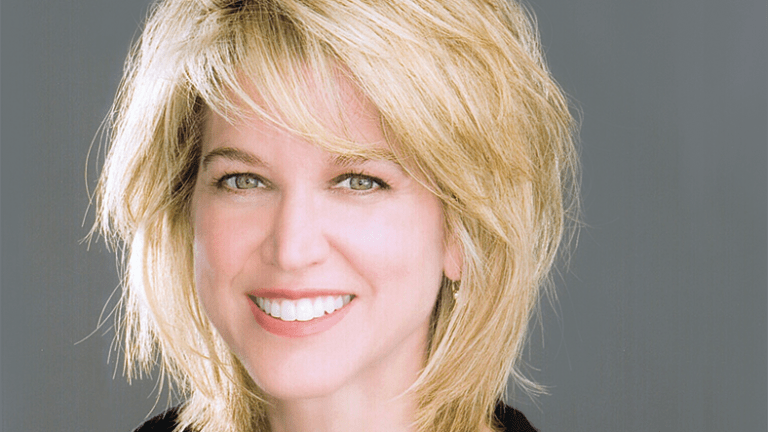 Paula Zahn – A Personal Passion
Cancer Connect - Paula Zahn – A Personal Passion
Paula Zahn – A Personal Passion
Paula Zahn reports from the front lines of cancer, fueled by personal history and a deep sense of public responsibility.
By Diana Price
It should be no surprise for those who spend any time reviewing Paula Zahn's biography that the anchorwoman and reporter—most recently as the face of CNN's evening news program Paula Zahn Now—has become a celebrated champion for cancer research and for survivors and their families. Her résumé, from her days as a high school and college athlete, scholar, and musician through her college years and on through her successful career as a television journalist, speaks to her natural talents and her fierce drive. Match those qualities with the tragedy of the multiple cancer diagnoses that have stricken Paula's family, and the result is a recipe for a dedicated and passionate advocate who has taken on cancer as perhaps the greatest challenge in her life.
Paula was 28 years old when, in the span of several months, she faced first her father's diagnosis with advanced lymphoma, then her mother's breast cancer diagnosis three weeks later. "It was devastating to get the news that both of them had cancer," Paula says, and the entire family was reeling. But the difficult news did not end there. Shortly after her mother's diagnosis came the tragic announcement that her brother Steve's wife, Sherrie—only 34 at the time—had Stage III breast cancer. And only a short time later, her mother's sister, Paula's aunt Annie, would be diagnosed with multiple myeloma. In the space of 14 months, the family was managing four active cases of cancer. Of the four, only Paula's mother, Betty, would survive.
It was an intense and terrible time, Paula says. "I think any of us who have been exposed to cancer in our families share a strong bond. I remember going through all the predictable stages when my parents were diagnosed. I was extremely angry; I probably was in a state of denial for a while. Then I finally rallied and started to use the extraordinary resources I had as a journalist to be the best advocate I could be for my parents, my sister-in-law, and my aunt."
At the time, as a young, single woman trying to build her career in television, Paula was also balancing the demands of her own life with the commitment she felt toward her family and her overwhelming desire to be home with her parents in Chicago. Her father, Norm, was diagnosed as she was moving from Houston to Boston to take a new job, and Paula began a crazy schedule of commuting home to Chicago on her days off. Her father wasn't strong enough to travel, but she brought her mother to Boston for her mastectomy surgery so she could oversee her care. And when she moved to Los Angeles, again to take a new job—just as her father's health deteriorated—she again commuted home to Chicago every Sunday night and returned to L.A. Tuesday night in time for work on Wednesday morning.
Making the transition from child to caregiver for the first time as she helped her siblings care for her parents was difficult, Paula says, and she can attest to the incredible strain on caregivers and family members as they watch their loved ones face a cancer diagnosis. Ultimately, she says, they had to learn how to best support their parents through their journey. "No matter howclose you are, there are a lot of uncomfortable moments. I think one of the toughest things is to figure out what to say and what not to say to someone who's been diagnosed with cancer. You don't want to increase their fear. On the other hand, you don't want to be patronizing. There's a lot of tender territory you have to navigate. The most important thing is for the loved one to know that you're there for them because that's very comforting."
After four years of battling lymphoma, Norm Zahn passed away. Throughout the incredibly difficult time, Paula says, it was the strength of her close family that was crucial. Paula; her two older brothers, Steve and Mark; and her sister, Leslie—all pulled together to care for their parents and Steve's wife, Sherrie. But despite the comfort they were able to offer one another, it was a dark time. "It was an extremely painful time in my life. I never thought I was doing enough to help—that was in spite of my access to top doctors and researchers. I think a lot of family members feel that sense of helplessness when they watch someone they love suffer."
After choosing to undergo a mastectomy, Betty Zahn survived her breast cancer and never, Paula says—still obviously in awe of her mother's strength and grace—gave her family any indication of self-pity. Paula accompanied her mother to her doctor's office when they celebrated her five-year survivor mark and watched as the word cured was stamped on her medical file. But in 1991, during a routine mammogram, doctors found a tumor in Betty's remaining breast, and the family buckled down for another fight. Happily, eight years later, Betty is a two-time survivor. She keeps extremely busy, Paula says, mothering and grandmothering, traveling around the country to spend time with her four children and seven grandchildren. "I look at my mother with such pride," Paula says. "She is a two-time cancer survivor. She is such an inspiration to other women."
Inspired by her family, Paula made it her mission to utilize her public platform as a reporter to raise public awareness about cancer as well. "At the time that my parents were diagnosed with cancer, there wasn't a lot of discussion about treatment or clinical trials; it just wasn't something that was openly discussed. One thing I am proud of is that the media has been very responsible in its coverage of cancer-related issues. Ever since my parents were diagnosed with cancer, I have really pushed to get medical advice out there to families." It is the families and the survivors whom she continues to meet who serve, together with her family, as her greatest inspiration. "I have such enormous respect for the survivor community. They've taught us a lot about strength and empowerment, and that's something that we can all learn from."

Her passion for the topic and her persistence have paid off, and she has been rewarded by truly being able to make a difference in people's lives. But her story ideas haven't always been met by overwhelming enthusiasm. "There was one point when I was working at CBS when my assignment editor would just roll his eyes and ask, 'How many more mammogram and PSA stories are you going to pitch?'" But the response to the stories would always justify the time spent on a cancer-related topic. "This was before e-mail," Paula says, describing her early work toward promoting screening, "but every time I would do a story about how often you need to have a mammogram, or how important any screening test was, the phone banks would be flooded."
One of Paula's first efforts to raise awareness still stands out in her mind as perhaps the most meaningful. As a reporter at KPRC-TV in Houston in the early 1980s, Paula helped the station with a public service project to raise awareness about colorectal cancer screening. Over a four-week period, the station relayed information about the disease and screening techniques and encouraged viewers to be screened. At the end of the project, in her audience alone, more than a dozen people who participated in the screening as a result of the report were diagnosed with colon cancer. "Of everything I've done to fight cancer, I think that's the effort I'm most proud of. There is nothing more rewarding than knowing that your reporting helped save a life."
In fact, in each job she's had since then, Paula has carried a letter with her that she received after that report from a woman who was among those diagnosed with colon cancer. It's a note thanking Paula and her team for the work they did to help this particular woman, who didn't have health insurance, find a surgeon willing to donate his services so she could have lifesaving surgery. The project and its impact on so many lives continues to inspire Paula professionally as she seeks out stories that can make a difference for survivors and their families, and she is proud of her ability to make a difference. "While I think we can always do more as journalists to get information out there," Paula says, "I think we've done a pretty good job of educating the public."
Her focus on the public, though, has always been fueled from the deep, private place of her family history. Her family is clearly the center of Paula's life, and the role that cancer has played in her immediate and extended family is never far from her mind or her heart. Her history continues to affect the way she lives her life and cares for her own health. "My parents' getting sick had a huge impact on me," she says. A competitive swimmer, runner, and golfer through college, Paula had always been disciplined about her health, as had her parents. The family's healthy lifestyle made her parents' diagnoses all the more shocking, she says, and it instilled in Paula and her siblings the resolve to take their own screening and health concerns even more seriously. For the first time, too, Paula says, it made her feel incredibly vulnerable. "I tried to figure out what I could do in my own life to make me less vulnerable. It is a humbling thing."
To make sure she is on top of her health now, Paula adheres to all of the recommended screening guidelines—and her siblings do the same. "I am absolutely disciplined about rotating a mammogram and an ultrasound every six months. I'm also adding an MRI into the mix. My bothers and my sister have reacted the same way, and we're all careful; we try to live as healthy a life as we can." At the same time, she stresses, they make an effort to not let cancer overshadow their lives, grateful for the health that they have and for the lives that they are blessed with.
In Paula's case, her own very active life centers around her three children: daughter Haley, 18, and sons Jared, 13, and Austin, 10. She is also very active with several cancer advocacy organizations, including C-Change, and she sits on the board of the Yale Cancer Center. She has discussed her family's cancer history with her children, she says, and they are aware of the role it has played in her own life; but they are also in tune with the fact that many people today are living full lives after a diagnosis, and that, she says, gives her great hope.
"The one thing I'm always encouraged by when I talk to doctors and scientists," Paula says, "is the stunning progress that has been made. And sometimes it's easy to lose sight of that when you watch so many people suffer. But the fact is that there are many cancers that were considered death sentences just 20 years ago that people are living with and are being treated as chronic illnesses." And yet, if we want the incredible progress that has been made to continue, Paula urges, we must also urge lawmakers to maintain the necessary funding for research: "I've had the privilege of meeting some of the doctors and scientists on the front lines of this war, and while they are optimistic about the scientific strides that are being made, they are also very disturbed by the funding picture." It's not the time to get complacent, she says, but more than ever the time to become more vigilant as we approach a cure.
On a personal level, Paula says, each of us must be accountable. "I think that regardless of what your family history is, we all have to become smarter consumers and we have to be more aware of what screening is available and be very diligent about following through." And she's pleased that screening numbers continue to rise as more Americans realize the value of the lifesaving tests: "The good news is that because so many Americans are living with cancer today, people aren't as terrified as they used to be when they hear the word. They don't always assume it's a death sentence. And I think they are much more likely today to push for information." This assertiveness on the part of patients, Paula says, is crucial. "I think we have to be aggressive consumers, and that means we shouldn't be afraid to learn more about tests, ask for tests. If we don't understand something, we need to have it explained. And no one should tell us that something we're feeling is meaningless. If we feel a change in our body, we need to do something about it."
Paula pauses here, again pulled into her personal history with the disease, as she remembers her sister-in-law's struggle with breast cancer. "I don't want any woman in America to have to go through what my sister-in-law Sherrie went through," she says, reflecting on the need for women to listen to their bodies and make their voices heard. Sherrie went to her doctor, complaining of breast pain, and was repeatedly told that it was surely nothing, that she was too young for breast cancer, and that she was not a candidate for a mammogram. Yet she knew something was wrong. By the time she was able to make someone listen and was diagnosed, she had Stage III breast cancer. It is these personal moments of remembrance that come up so often in a conversation with Paula about her commitment to cancer advocacy and that speak to the depth of her experience with the journey and her passion to make a difference.
When you discover that the source of her passion lies in the love of family, the hope of research, and the inspiration of the survivor community, it's no surprise that Paula's commitment runs deep. Whether it's her proactive approach to her own health, her devoted care for her family, the news stories she continually brings to the public on the topic, or the advocacy work she carries out for other survivors and their loved ones, Paula strives to make a difference.