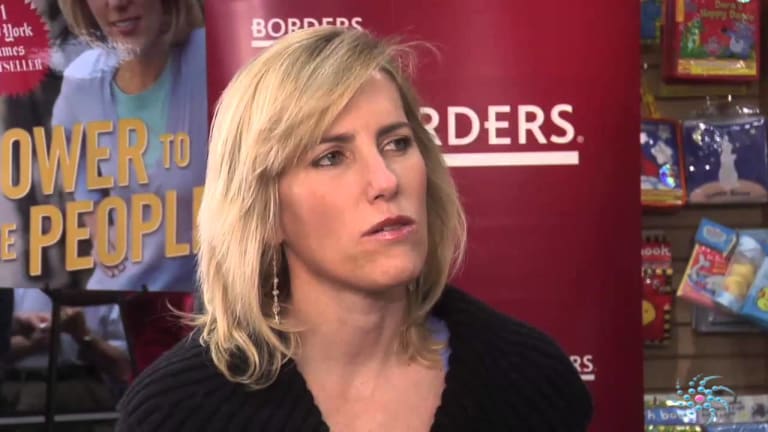 From The Archives: Laura Ingraham: Breast Cancer Survivor
Breast Cancer Survivor Laura Ingraham, sat down with Stacey Gualandi on her Power to the People book tour.
LAURA INGRAHAM: Thank you. Thanks for being here. Thanks for helping me.
ANNOUNCER: As she traveled the country meeting fans and signing her number one bestseller, syndicated radio talk show host Laura Ingraham hoped to empower readers to the message that makes up the title of her book, Power to the People.
LAURA INGRAHAM: Power to the little people.
HOST, STACEY GUALANDI : Do you feel that this movement is making it better?
LAURA INGRAHAM: I do, yeah, because people are saying to themselves, "Look, I only have one life, what am I going to do with it?" We have to stand up and take responsibility for what we've created. This is our culture after all. It's all of our responsibilities.
ANNOUNCER: Two years ago Laura says she never would have imagined she could write another book, let alone make such a public impact. The reason, in April 2005 she was diagnosed with breast cancer. It was a terrifying and trying time, but she kept on working the microphone openly and honestly.
STACEY GUALANDI: Do you think as a public person that it was more impactful that you came forward and talked about your cancer?
LAURA INGRAHAM: I think so. I wouldn't have necessarily chosen this path, but I think, you know, for whatever I've done and soldiering on and doing my job every day, I think that gave other people some sense of, you know, "I can do it. It kind of stinks, but I can do it." Put one foot in front of the other and you can joke about it and cry about it, but you know, we're all kind of in this together.
ANNOUNCER: Laura's cancer was caught early. She underwent chemotherapy, lost her hair and admits there were many dark moments and difficult days. But, she says, after her diagnosis amazing things began happening to her.
STACEY GUALANDI: Why do you consider your bout with cancer an adventure?
LAURA INGRAHAM: Because it brought me to a place of clarity in my own life. I know we all, in our own minds, realize we're going to die someday and we don't really want to think about it though. We want to think we're going to live forever and we can go about our merry ways and lalala. Well, it turns out that, you know, when you get that tap on the shoulder, you either pay attention or you just, you know, keep going on. And I decided that it was time to look at my own life and my own choices and path and decide if I could do better. It was an awful time, but it was a glorious time at the same time. It's really strange.
ANNOUNCER: Laura's diagnosis came just six years after she lost her mother to lung cancer. She writes that her mother's death taught her about faith.
LAURA INGRAHAM: That's a tough diagnosis and she passed away seven months after she was diagnosed, so it was – I think it was harder to deal with her illness than my own.
STACEY GUALANDI: You know, there's a line in your book where you say, "I have nothing to complain about and everything to be grateful for."
LAURA INGRAHAM: It's true and sometimes I forget that, even now. Even you know, two years out when I'm still alive and you know my last check-up was fine, but I still get caught up in the rat race, you know I still get, you know, impatient or short-tempered or… and I literally have to slap myself sometimes – like, "Are you kidding me? Do you know how lucky and blessed you are to even be alive at this point?" We're all on borrowed time here, all of us. And so I don't know, I'm going to try to make, you know, the most of whatever I have left, however long that is.
ANNOUNCER: So far so good doesn't even begin to tell the whole story. On her bus tour, thousands of people have said Laura's book and outspoken discussion about her disease inspired them.
FAN 1: It helps us experience in a way what she's going through.
FAN 2: You know, she fought the battle and she's won it so far and I think that's great because not everybody can do that.
FAN 3: She will not be intimidated. We love that.
STACEY GUALANDI: Is this theory kind of, sort of, this turning illness into action?
LAURA INGRAHAM: Yeah, that's part of it. I think not letting a diagnosis devastate you. I mean, and it's easy to say it and sometimes not easy to do it because believe me there were days and nights where, you know I cried and, you know, really was, you know, quite down. But I put one foot in front of the other because I saw the examples of so many other cancer thrivers. I don't call them survivors, I call them thrivers.
ANNOUNCER: Now Laura sees a purpose to her illness and a lesson for her life and she'll continue to empower each and every one of her readers and listeners.
LAURA INGRAHAM: The message is getting out and it's – it is gratifying and it's very humbling because it's not about me, it's about everything that I saw and learned. But really a lot of the ideas came from my listeners and friends and people really just changed my life for the better. So they're really my co-authors.
STACEY GUALANDI: When you speak to people maybe who have just been diagnosed or… what's the best advice that you give them?
LAURA INGRAHAM: Keep living. Keep living. This is not, you know, it's not your brand. Cancer shouldn't be your brand, it shouldn't be the defining characteristic of your life. It's something you've got to go through and keep moving forward. That's the best advice I can give you – and ask God for help because you can't do it on your own.