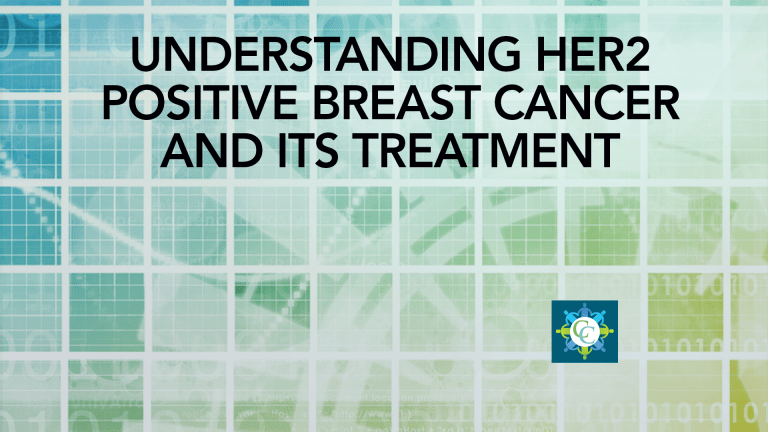 Understanding HER2 positive Breast Cancer and its Treatment
HER2 positive breast cancers require treatment with specific targeted therapies of which there are several.
by Dr. C.H. Weaver M.D. updated 9/2022
HER2 (human epidermal growth factor 2) is a receptor on the surface of breast cells. When HER2 is "turned on" it causes the cells to grow and reproduce. Normal breast cells have 2 copies of the gene that makes HER2. In contrast to normal breast cells some have more than two HER2 genes and/or produce too much HER2. This results in more HER2 receptors on breast cells - a condition doctors refer to as "over expression" Over expression of HER2 leads to increased breast cell production or cancer.
Doctors can test for HER2 with two different tests.
IHC - measures the number of HER2 receptors on a scale of 1-3. 3 + means there are too many.
ISH - counts the number of HER2 genes.
Breast cancer is considered HER2-positive when there is evidence of HER2 over expression as shown by an immunohistochemistry (IHC) assay score of 3+ or gene amplification on an insitu hybridization (ISH) assay in at least 1 tumor sample.9,10
HER2 + "positive" breast cancers can be treated with precision cancer medicines that target the HER2 receptor. Approximately 20-25% of breast cancers are referred to as HER2-positive. There are several precision cancer medicines that target HER2 and the use of these medications improves the outcomes of women with both early-stage and advanced HER2-positive breast cancer.
Medications Targeting HER2 + Breast Cancer
Herceptin (trastuzumab)
was the first FDA approved drug to treat HER2 + breast cancer and can be used to treat all HER2 + breast cancers.
Anti HER2 Precision Cancer Medicines
What is HER2 "low" Breast Cancer?
For patients with IHC scores of 0 and 1+, or those with an IHC score of 2+ and a negative ISH result, breast cancer is characterized as HER2-negative. HER2-negative tumors are classified as Triple Negative Breast Cancer (TNBC) and these do not benefit from anti-HER2 therapies.9,10 New research suggests some patients with HER2-2+, ISH-negative breast cancer are actually closer to that of patients with HER2-positive breast cancer.11,12 Tumors with an IHC assay score of 1+ or 2+ and negative ISH assay results are characterized as HER2-low and clinical trials are evaluating whether some may benefit from treatment directed at HER2.
What are the side effects of HER2 therapies?
Nausea, diarrhea, skin rash can occur with Herceptin and other anti HER2 treatments.
Should all HER2 + breast cancers be treated?
All invasive and metastatic HER 2 positive breast cancers benefit from HER2 directed therapy. Even very small cancers appear to benefit. A U.S. study evaluated the records of 965 women with small cancers that had not been treated with HER2-targeted therapy or chemotherapy. By the end of five years, 6% of women with HER2-negative breast cancer had a recurrence compared with 23% of women with HER2-positive breast cancer.
Standard HER2 Treatment Regimens
There are several current standard treatment regimens used for the treatment of advanced HER2 + breast cancer and doctors sequence them for optimal control of the cancer. 
1st line therapy: Herceptin + Perjeta + Taxane Chemotherapy
2nd line therapy: Tukysa + Herceptin + Xeloda or Enhertu
3rd line therapy: Enhertu or Tukuysa + Herceptin + Xeloda
Important factors to consider include pre-existing lung toxicity and the presence of brain metastases. Enhertu is associated with side effects to the lungs and Tukysa has been shown to be very effective at treating brain metastases. 
What is the role of HER 2 in DCIS?
Compared with invasive breast cancer, DCIS more often expresses HER2, however current research does not support the use of human HER2 - directed therapy in DCIS.
References:
Roses RE, Paulson EC, Sharma A et al. HER-2/neu overexpression as a predictor for the transition from in situ to invasive breast cancer. Cancer Epidemiology, Biomarkers & Prevention. 2009 18: 1386-1389.
Gonzalez AM, Litton JK, Broglio KR et al. High risk of recurrence for patients with breast cancer who have human epidermal growth factor receptor 2-positive, node-negative tumors 1 cm or smaller. Journal of Clinical Oncology[early online publication]. November 2, 2009.
Curigliano G, Viale G, Bagnardi V et al. Clinical relevance of HER2 overexpression/amplification in patients with small tumor size and node-negative breast cancer. Journal of Clinical Oncology [early online publication]. November 2, 2009.
Burstein HJ, Winer EP. Refining therapy for human epidermal growth factor receptor 2-positive breast cancer: T stands for trastuzumab, tumor size, and treatment strategy. Journal of Clinical Oncology [early online publication]. November 2, 2009.​
NCCN Guidelines Version 3.2013 Ductal Carcinoma in Situ (Accessed on August 07, 2013).
Allred DC, Clark GM, Molina R, et al. Overexpression of HER-2/neu and its relationship with other prognostic factors change during the progression of in situ to invasive breast cancer. Hum Pathol 1992; 23:974.

Tarantino P, Hamilton E, Tolaney SM, et al. HER2-low breast cancer: pathological and clinical landscape. J Clin Oncol. 2020;38(17):1951-1962. doi:10.1200/JCO.19.02488

Schettini F, Prat A. Dissecting the biological heterogeneity of HER2-positive breast cancer. Breast. 2021;59:339-350. doi:10.1016/j.breast.2021.07.019

Agostinetto E, Rediti M, Fimereli D, et al. HER2-low breast cancer: molecular characteristics and prognosis. Cancers (Basel). 2021;13:2824. doi:10.3390/cancers13112824

Wolff AC, Hammond MEH, Allison KH, et al. Human epidermal growth factor receptor 2 testing in breast cancer: American Society of Clinical Oncology/College of American Pathologists clinical practice guideline focused update. J Clin Oncol. 2018;36(20):2105-2122. doi:10.1200/JCO.2018.77.8738