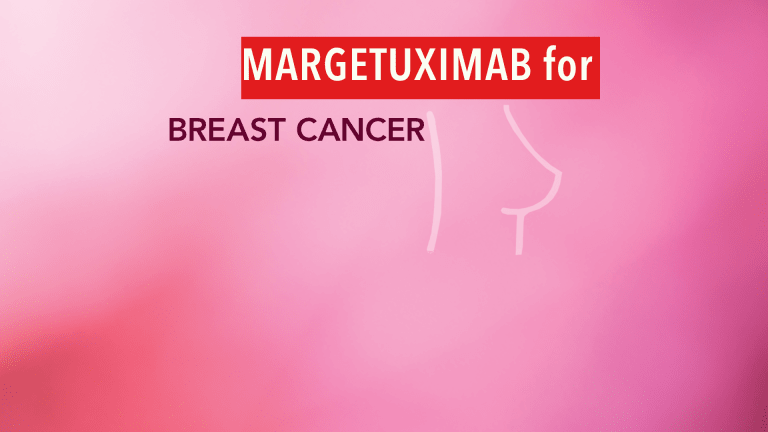 Margetuximab in Advanced HER2+ Breast Cancer
Margetuximab improves progression-free survival compared to Herceptin® in patients with HER2+ metastatic breast cancer.
by Dr. C.H. Weaver M.D. 12/2020
On December 16, 2020, the United States Food and Drug Administration approved Margetuximab for the treatment of advanced human epidermal growth factor receptor 2 (HER2) positive breast cancer based on results from the "SOPHIA" clinical trial.
About Margetuximab
Margetuximab is an immune-enhancing monoclonal antibody that targets the human epidermal growth factor receptor 2, or HER2 oncoprotein. HER2 is expressed by tumor cells in breast, gastroesophageal and other solid tumors. Margetuximab was designed to provide HER2 blockade and has been engineered to better enhance the engagement of the immune system.
About the SOPHIA clinical trial
The SOPHIA clinical trial enrolled 536 women with HER2 + metastatic breast cancer at 200 trial sites across North America, Europe and Asia. Patients were treated with either margetuximab or Herceptin® (trastuzumab) in combination with one of four chemotherapy agents (capecitabine, eribulin, gemcitabine or vinorelbine) and directly compared. All trial patients had previously received Herceptin and Perueta (pertuzumab), and approximately 90% had previously received ado-trastuzumab emtansine.
Trial results were updated at the 2020 San Antonio Breast Cancer Symposia and margetuximab plus chemotherapy treated patients survived without cancer progression on average 5.8 months compared to 4.9 months with Herceptin. Margetuximab appeared to delay cancer progression more in patients with the CD16A genotype.
Approximately 85% of patients in the study were carriers of the CD16A (FcγRIIIa) 158F allele, a biomarker which has been previously associated with a diminished clinical response to Herceptin and other antibodies. There was a 32% risk reduction with margetuximab compared to Herceptin in these patients.
Margetuximab and chemotherapy is comparable to that of Herceptin and chemotherapy and will represent another treatment option for individuals affected with HER2 + advanced breast cancer.
References:
www.nasdaq.com/press-release/macrogenics-announces-positive-results-from-pivotal-phase-3-sophia-study-of-margetuximab-20190206-00210
Rugo HS, Im SA, Cardoso F, et al. Phase 3 SOPHIA study of margetuximab + chemotherapy vs trastuzumab + chemotherapy in patients with HER2+ metastatic breast cancer after prior anti-HER2 therapies: second interim overall survival analysis. Presented at: the 2019 San Antonio Breast Cancer Symposium; December 10-14, 2019; San Antonio, TX. Abstract GS1-02.