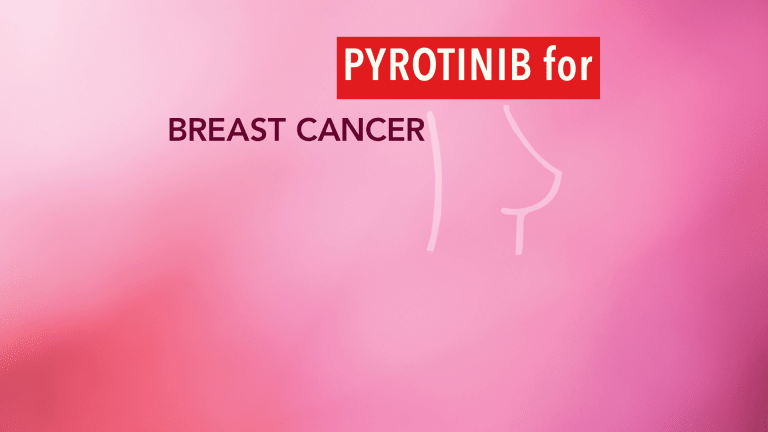 Pyrotinib Treatment of HER2-Positive Advanced Breast Cancer
Pyrotinib appears superior to Tykerb for treatment of advanced HER2+ breast cancer.
by Dr. C.H. Weaver M.D. 9/2019
Pyrotinib plus Xeloda (capecitabine) yielded better overall response rates and delayed cancer progression than Tykerb (lapatinib) plus Xeloda in patients with human epidermal growth factor receptor 2 (HER2)-positive metastatic breast cancer.
Tykerb is a precision cancer medicine that targets two proteins that often function abnormally in breast cancer cells-HER2 and EGFR. When these proteins are over expressed among cancer cells, referred to as HER2-positive and/or EGFR-positive cancers, the proteins tend to function abnormally, resulting in unchecked replication and growth of cancerous cells.
Tykerb is currently approved for use in combination with the chemotherapy agent Xeloda® for the treatment of advanced or metastatic breast cancer in women whose cancer overexpresses HER2 and whose cancer has progressed following prior therapy with an anthracycline, a taxane, and Herceptin® (trastuzumab). (1)
Pyrotinib is a "next generation" pan-HER receptor tyrosine kinase inhibitor that is active against HER positive cancers in both preclinical experiments and humans.
The purpose of the current clinical trial was to determine if pyrotinib's "pan inhibiton" might produce superior results compared to standard treatment with Tykerb. In the clinical trial a total of 128 patients with HER-2 positive relapsed or metastatic breast cancer previously treated with taxanes, anthracyclines, and/or Herceptin were treated with either pyrotinib or lapatinib in combination with Xeloda and directly compared.
Overall 79% of pyrotinib treated patients responded to treatment compared to only 57% for those receiving lapatinib. Pyrotinib delayed cancer progression on average 18 months compared with 7 months for lapatinib. Both treatments were well tolerated but caused hand-foot syndrome in ~20% of patients. Pyrotinb was also more likely to cause diarrhea and a low white blood count than lapatinib.
The study results demonstrated the superiority of pyrotinib over Tykerb for the treatment of advanced HER2-positive breast cancer. Upon approval pyrotinib will provide doctors and patients a new and effective treatment for the management of HER2+ breast cancer.
References:
J Clin Oncol. 2019 Aug 20. Epub ahead of print