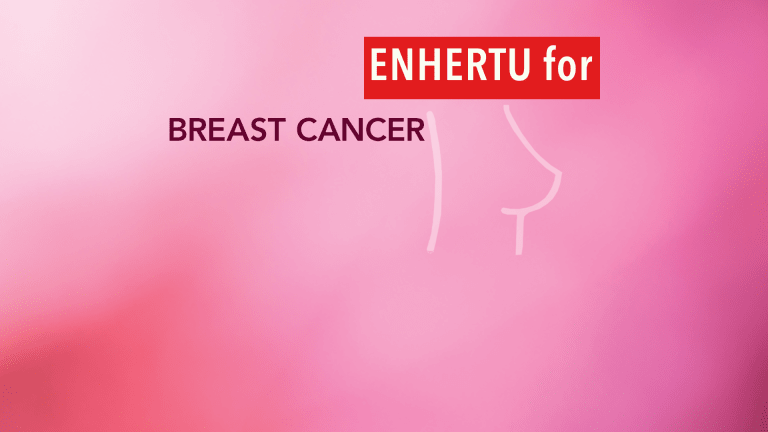 Enhertu (Trastuzumab Deruxtecan) Treatment of HER2+ Breast Cancer
Enhertu precision cancer medicine treatment of HER2-positive metastatic breast cancer
by Dr. C.H. Weaver M.D. updated 8/2021
The United States Food and Drug Administration approved Enhertu (trastuzumab deruxtecan) (DS-8201) for the treatment of patients with HER2-positive metastatic breast cancer in 2019. 
Enhertu is a HER2-targeting antibody drug conjugate (ADC) for the treatment of patients with HER2-positive cancer. Its initial application was for the treatment of breast cancer patients who have been treated with Herceptin and Perjeta and have disease progression after ado-trastuzumab (T-DM1).1 Data released in September 2021 confirms that Enhertu is actually superior to T-DM1.7,8
About Enhertu (trastuzumab deruxtecan)
ADCs are a type of targeted cancer medicine that deliver cytotoxic chemotherapy ("payload") to cancer cells via a linker attached to a monoclonal antibody that binds to a specific target expressed on cancer cells. Enhertu is a smart chemotherapy comprised of a humanized HER2 antibody attached to a novel topoisomerase I inhibitor (DXd) payload by a tetrapeptide linker. It is designed to deliver enhanced cell destruction upon release inside the cell and reduce systemic exposure to the cytotoxic payload (or chemotherapy) compared to the way chemotherapy is commonly delivered.
About HER2-Positive Breast Cancer
About one in five patients with breast cancer over-express HER2 (make too much of), a tyrosine kinase receptor growth-promoting protein found on the surface of some cancer cells, which is associated with aggressive disease.2 Many tumors advance to the point where no currently approved HER2-targeting treatment continues to control the disease. Furthermore, there is no standard of care for HER2-positive tumors following treatment with Herceptin, Perjeta and T-DM1.3
The results of the initial breast cancer trial reported that an objective response rate of 60% and a disease control rate of 94% was attained at the recommended expansion dose of of DS-8201.4 An average 20.7 months median duration of response in HER2-positive metastatic breast cancer patients previously treated with trastuzumab emtansine was reported. Patients enrolled in this part of the trial had a median of seven prior lines of treatment, including trastuzumab and trastuzumab emtansine, and in 86% of cases, pertuzumab.
Trial Confirms Enhertu Superior to Trastuzumab emtansine (T-DM1) in patients with HER2-positive metastatic breast cancer
The DESTINY-Breast03 Phase III clinical trial evaluated the safety and effectiveness of Enhertu versus trastuzumab emtansine (T-DM1) in ~500 patients with HER2-positive unresectable and/or metastatic breast cancer previously treated with trastuzumab and a taxane. At a planned interim analysis an Independent Data Monitoring Committee concluded that Enhertu delayed cancer progression better than T-DM1 and also showed a strong trend toward improved overall survival compared to T-DM1.7
Follow up data was released in September 2021 ESMO and showed that the  median survival duration without cancer progression was 6.8 months with T-DM1 and had not been reached in the group receiving T-DXd. The objective response rate for patients on T-DXd was 79%, compared to 34% for those on T-DM1.8
The phase 2 DESTINY-Breast01 clinical trial results were updated at San Antonio Breast Cancer Symposium in December 2020. The trial included 253 patients with HER2-positive metastatic breast cancer previously treated with Kadcyla (ado-trastuzumab). The patients had received a median of six prior treatments for advanced disease, including HER2-targeted therapeutics.
With a median duration of follow-up of 20.5 months, patients treated with Enhertu achieved an objective response rate of 61.4% and a median duration of response of 21 months. The median progression-free survival was 19.4 months. The most common reported side effects include nausea, decreased appetite, vomiting, hair loss, fatigue, anemia, diarrhea and constipation. Cases of drug-related interstitial lung disease (ILD) and pneumonitis were also reported. According to the study authors "ILD was observed in 25 patients including 4 advanced cases resulting in ILD-related deaths. Because of this potential toxicity, close monitoring for signs and symptoms of ILD is recommended for early detection. If ILD is suspected, evaluations should include high-resolution CT, pulmonologist consultation, pulmonary function tests, and other tests. Although data on treatment for T-DXd-induced ILD are limited, if diagnosed, interruption of treatment and prompt intervention with glucocorticoids is recommended."
Stay Current - Connect With Other Triple-Negative Breast Cancer Patients
Join The CancerConnect Community: Connect with others and receive regular updates
References:
Doi T, et al. J Clin Oncol. 2017;35(15):108
Tamura, K, et al. Trastuzuamb deruxtecan (DS-8201a) in patients with advanced HER2-positive breast cancer previously treated with trastuzumab emtansine: a dose-expansion, phase 1 study. Lancet Oncol. 2019;20(6):816-826.
American Cancer Society. Breast Cancer Overview. 2016.
NCCN Guidelines. Breast Cancer. Version 2.2017.
[Trastuzumab deruxtecan (DS-8201a) in patients with advanced HER2-positive breast cancer previously treated with trastuzumab emtansine: a dose-expansion, phase 1 study](https://www.thelancet.com/journals/lanonc/article/PIIS1470-2045(19%2930097-X/fulltext)
FDA approves new treatment option for patients with HER2-positive breast cancer who have progressed on available therapies
https://www.astrazeneca.com/media-centre/press-releases/2021/enhertu-head-to-head-trial-meets-primary-endpoint.html