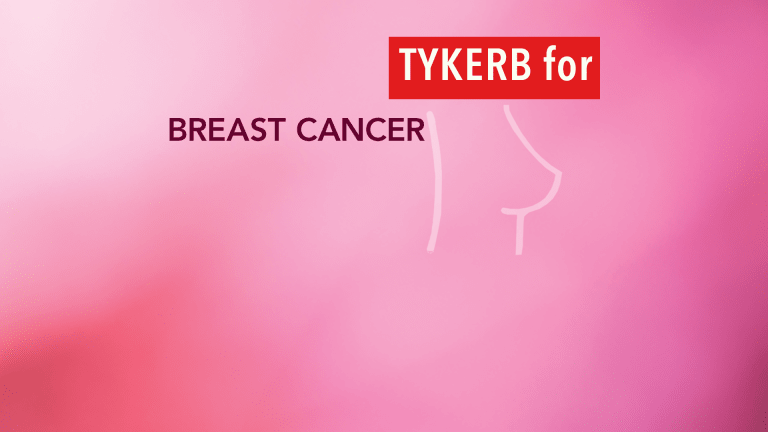 Tykerb® Treatment of Advanced - Metastatic Breast Cancer
Tykerb® is effective treatment in advanced HER2 + breast cancer, in Herceptin failures & has activity against brain mets
by Dr. C.H. Weaver M.D. updated 6/2019
The United States Food and Drug Administration has approved the targeted agent Tykerb® (lapatinib) for the treatment of advanced and early stage breast cancer. The indication for Tykerb includes;
its use in combination with the chemotherapy agent Xeloda® (capecitabine) for the treatment of advanced or metastatic breast cancer in women whose cancer overexpresses the human epidermal growth factor receptor 2 (HER2) and whose cancer has progressed following prior therapy with an anthracycline, a taxane, and Herceptin® (trastuzumab).(1)
initial treatment of metastatic, postmenopausal breast cancer that is both HER2-positive and hormone receptor-positive.(2)
About Tykerb
Tykerb is a precision cancer medicine that targets two proteins that often function abnormally in breast cancer cells-HER2 and EGFR. When these proteins are over expressed among cancer cells, referred to as HER2-positive and/or EGFR-positive cancers, the proteins tend to function abnormally, resulting in unchecked replication and growth of cancerous cells.
Tykerbs approval was based on a Phase III clinical trial conducted by researchers from England and the Allegheny General Hospital in Pennsylvania. This trial directly compared Tykerb plus the chemotherapy drug Xeloda to Xeloda alone in the treatment of HER2-positive advanced breast cancer patients. The study enrolled 324 patients who had HER2-positive refractory advanced or metastatic breast cancer. All patients had previously been treated with an anthracyline, a taxane, and Herceptin.
Patients were assigned to receive Tykerb plus Xeloda or Xeloda alone.
Median time until cancer progression (the time by which half the women had experienced cancer progression) was 8.4 months in patients treated with Tykerb plus Xeloda and 4.4 months in patients treated with Xeloda alone.
Overall survival did not differ between the two groups.
Tykerb for Initial Treatment of Advanced Breast Cancer
The expansion of Tykerb's approval to include the initial treatment of metastatic breast cancer was based on a study in 219 postmenopausal women with HER2-positive, hormone receptor-positive, metastatic breast cancer. Women were treated with either Femara alone or Femara plus Tykerb. Both drugs are given orally.
Progression-free survival was 5.2 months longer among women treated with Femara and Tykerb than among women treated with Femara alone.(2)
The most common side effects of Tykerb include diarrhea, rash, nausea, and fatigue.
Tykerb Combination Therapy in Herceptin Failures
Tykerb plus Herceptin is More Effective Than Tykerb Alone for Metastatic Breast Cancer That Has Progressed on Herceptin
Among women with HER2-positive, metastatic breast cancer that has progressed during treatment with Herceptin®, the combination of Tykerb® and Herceptin appears to be more effective than Tykerb alone.(3)
In a study among 296 women with HER2-positive cancer that progressed during treatment with Herceptin. Women were assigned to receive treatment with Tykerb with or without Herceptin.
Women treated with a combination of Tykerb and Herceptin remained free of cancer progression for roughly one month longer than women treated with Tykerb alone (12.0 weeks versus 8.1 weeks).
Overall survival was roughly three months longer among women treated with Tykerb and Herceptin than among women treated with Tykerb alone (51.6 weeks versus 39 weeks). The difference between groups in overall survival was not statistically significant, however, suggesting that it could have occurred by chance alone
Tykerb® May Be Effective in Brain Metastasis from Breast Cancer
Tykerb® may be effective in shrinking cancer that has spread to the brain among some patients with breast cancer. The brain is a common site for cancer to spread (brain metastasis) among patients with advanced breast cancer. Unfortunately, standard treatment options have only limited effectiveness in treating brain metastasis; furthermore, these treatments are often associated with significant side effects. The average one-year survival rate of patients diagnosed with brain metastasis is 20%, a statistic that represents a significant need for effective treatment for these patients.
Researchers evaluated results from a clinical study that suggested Tykerb may have anticancer activity among patients with brain metastasis from advanced breast cancer. This study included 241 patients whose brain metastasis continued to progress following therapy with Herceptin® and radiation therapy.
Nearly half of the patients (46%) experienced at least a 20% reduction in the size of their brain metastasis.
An additional 42% of patients achieved stabilization of their disease for at least eight weeks.
Overall, 22% of patients had no signs of disease progression within the first six months of treatment with Tykerb.
The researchers concluded that among patients with advanced breast cancer: "Tykerb has promise in the treatment of brain metastases." Patients with brain metastasis associated with breast cancer may wish to speak with their physician regarding their individual risks and benefits of treatment with Tykerb.(4)
​References:
GlaxoSmithKline. FDA Approves Tykerb® (lapatinib) in combination with Xeloda® (capecitabine) for the treatment of advanced or metastatic breast cancer in women who have progressed on prior therapy. Accessed March 2007. Available here
FDA News Release. FDA expands use of approved breast cancer drug. Available here. Accessed February 1, 2010.
Blackwell KL, Burstein HJ, Storniolo AM et al. Randomized study of lapatinib alone or in combination with trastuzumab in women with ErbB2-positive, trastuzumab-refractory metastatic breast cancer. Journal of Clinical Oncology. 2010;28:1124-1130.
Lin N, et al. Tykerb activity in brain metastases associated with breast cancer. Proceedings from the 2007 annual meeting of the American Society of Clinical Oncology. Abstract #1012.