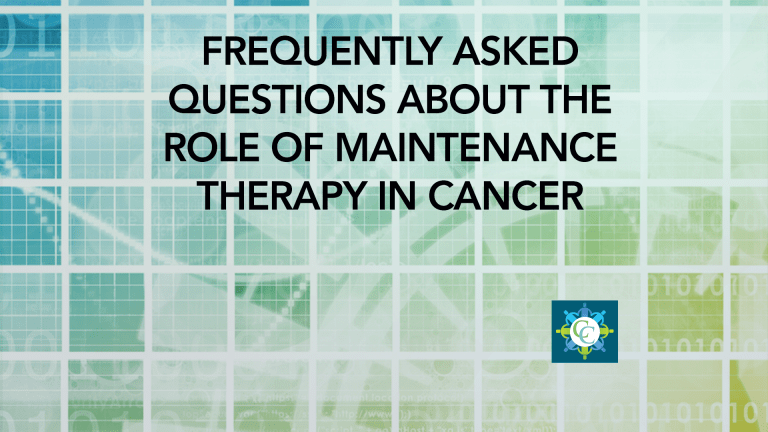 Frequently Asked Questions About the Role of Maintenance Therapy in Cancer
Maintenance therapy prolongs survival in lymphoma, leukemia, myeloma, sarcoma, ovarian and other types of cancer.
by Dr. C.H. Weaver M.D. updated 10/2010
What is maintenance therapy in cancer?
Following the primary treatment of cancer doctor may recommend additional treatment with "maintenance therapy." The goal of maintenance therapy is not to cure the cancer but to "maintain" a remission or prevent or delay the cancer's return if the cancer is in remission after initial treatment. Some doctors believe the term "continuous therapy" is more appropriate since the cancer is essentially being treated on an ongoing basis.
Why is maintenance therapy used?
To prevent or delay the cancer's return if the cancer is in remission after initial treatment. Maintenance therapy is generally approved for use where it has been demonstrated in clinical trials to prolong survival for a specific cancer, leukemia, or lymphoma.
Sometimes maintenance therapy is used to slow the growth of advanced cancer after initial treatment. This can help shrink the cancer, which is called a "partial remission." In this situation, maintenance therapy is not used to cure the cancer, but it can lengthen a person's life.
What types of maintenance therapy are there?
Maintenance therapy can be chemotherapy, hormone therapy, precision cancer medicines or immunotherapy drugs.
For what cancers is maintenance therapy used?
Maintenance therapy is being evaluated in almost all cancer types and has been proven to be of benefit in the following.
Is maintenance therapy new?
Maintenance therapy is not a new concept and has been used for many years to treat a variety of cancers and leukemias. Maintenance therapy is more common now for many types of cancer because:
The number of effective drugs for most types of cancer has increased. Some of these drugs are not used for initial treatment, but they are effective as a part of maintenance therapy.
New cancer drugs often have fewer side effects than older ones. This means that people may be able to take them longer.
Does the recommended maintenance therapy improve survival or just delay cancer progression?
Most recommended maintenance therapies are based on the results of actual clinical trials and most maintenance therapies delay progression of cancer but don't necessarily prolong survival duration. Delaying progression for a year or two is very different than delaying it for 3 or 4 months. Its important to understand and discuss this difference with your doctor. Is the cost and risk of side effects of taking the maintenance worth it if you are delaying progression by a few months but still have to start a new treatment once the cancer returns?
How long does maintenance therapy last?
It may last weeks, months, or years, depending on the type of cancer, the specific drug used, how well the drug works and how an individual tolerates any side effects. Maintenance therapy dosing schedule and durations are typically determined in clinical trials.
What are the risks of maintenance therapy?
Each maintenance therapy is associated with side effects, more frequent doctor visits and increased costs. Individuals should discuss the "pros and cons" of maintenance therapy with their doctor