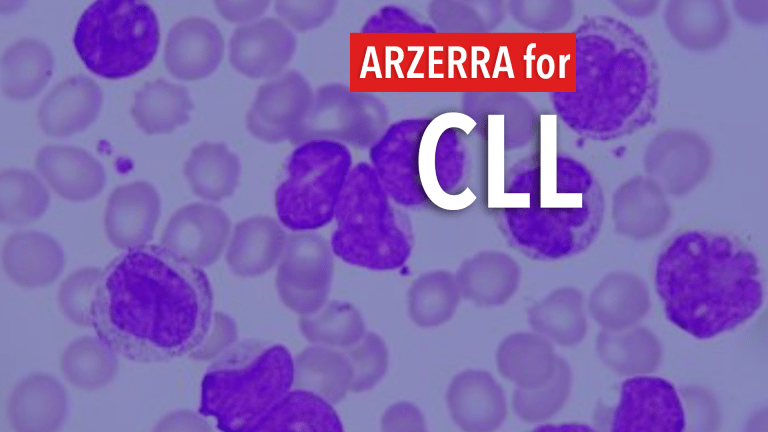 Arzerra™ Treatment for Chronic Lymphocytic Leukemia
Arzerra™ effective for treatment of CLL - maintenance delays progression but does not improve survival.
by Dr. C.H. Weaver M.D. update 1/2020
The targeted therapy Arzerra™ (ofatumumab) has been granted approval by the U.S. Food and Drug Administration for treatment of previously untreated chronic lymphocytic leukemia (CLL) when combined with chlorambucil and or patients refractory to Fludara® (fludarabine) and Campath® (alemtuzumab).
Chronic lymphocytic leukemia (CLL) is the most common form of adult leukemia. The American Cancer Society estimates that approximately 15,000 people will be diagnosed with CLL this year. Currently, there are approximately 95,000 people in the United States living with CLL.
CLL is characterized by the production of atypical lymphocytes. Lymphocytes are specialized immune cells that exist in two forms: B- and T-cells. These cells are produced in the bone marrow and each serves a specific function in aiding the body fight infection.
The large majority of CLL cases involve mature B-lymphocytes that tend to live much longer than normal. B-lymphocytes accumulate in the blood, bone marrow, lymph nodes, and spleen. This results in overcrowding of these areas and suppression of the formation and function of blood and immune cells. Additionally, the cancerous lymphocytes themselves do not function normally, leading to a further reduction in the body's ability to fight infection.
About Arzerra
Arzerra is a fully human monoclonal antibody that binds specifically to the small and large extracellular loops of the CD20 molecule proximal to the cell membrane. The CD20 molecule is a key target in B-cell malignancy therapy because it is expressed on most B-cells.
The most common serious side effects are infections, neutropenia, and pyrexia.
Approval as Initial Treatment
This approval was based on the results from a phase II study known as COMPLEMENT 1. The multi-center, randomized, open-label trial included 447 patients for whom fludarabine-based therapy was considered to be inappropriate (because of advanced age or presence of co-morbidities). Patients were randomized to receive Arzerra plus chlorambucil or chlorambuicl alone. The results indicated a statistically significant improvement in median progression-free survival (PFS) in patients who received Arzerra/chlorambucil compared to those who received chlorambucil alone (22.4 months versus 13.1 months).(1)
Maintenance Therapy
Researchers conducted a clinical trial to evaluate the effectiveness and tolerability of Azerra used as maintenance therapy among patients with CLL. Maintenance therapy refers to treatment that is given to reduce the risk of disease progression following effective initial therapy. It is typically administered while patients are in complete or partial remission following initial therapy, and is often given until the cancer progresses.(2)
The trial referred to as the PROLONG study included 474 patients with CLL who were in partial or complete remission following 2 to 3 prior therapies. One group of patients was treated with maintenance Azerra, while the other group received no further treatment.
According to a final analysis of the PROLONG clinical trial Azerra maintenance therapy was well-tolerated and significantly delays cancer progression but did not prolong survival duration. The average survival duration without CLL progression was 34 months with Azerra compared to 17 months with observation however the average overall survival duration was similar between Azerra treatment and observation. (4)
The most common side effects associated with Azerra were reactions at the site of infusion, low levels of immune cells, and upper respiratory tract infections.
Refractory CLL
The initial approval of Arzerra was based on a study among patients with CLL that was refractory (not responsive) to Fludara and Campath. Forty-two percent of patients responded to treatment with Arzerra. Treatment responses lasted a median of 6.5 months.(3)
The most common serious side effects of Arzerra are infections, neutropenia, and fever. Overall, 67 percent of patients who received Arzerra experienced one or more symptoms of infusion reaction. Ten percent of patients experienced a grade 3 or greater infusion reaction.
References:
Genmab and GSK press release: GSK and Genmab receive FDA approval for Arzerra® (ofatumumab) as first-line treatment in combination with chlorambucil for patients with Chronic Lymphocytic Leukaemia (CLL) for whom fludarabine-based therapy is considered inappropriate.
Genmab. Genmab Announces U.S. FDA Approval of Arzerra®(ofatumumab) as Extended Treatment for Recurrent or Progressive CLL. Available at: . Accessed February 10, 2016.
Genmab and GSK press release. GSK and Genmab receive accelerated approval for ARZERRA™. Available here Accessed October 28, 2009.
Blood Cancer Journal (2019;9[12]:98)