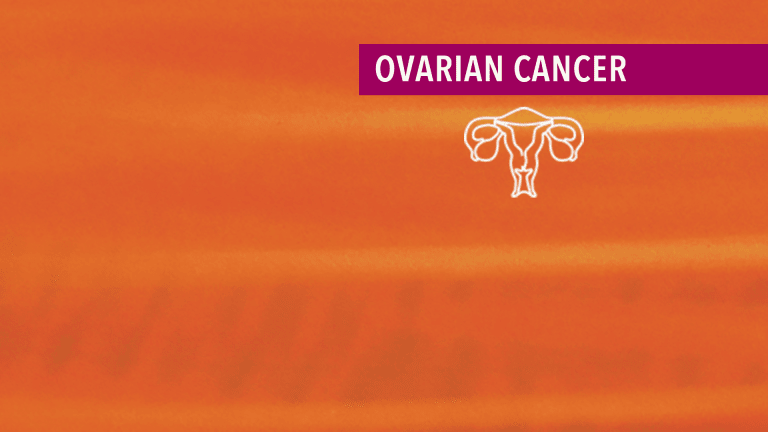 Maintenance Therapy for Advanced Ovarian Cancer
PARPs and Avastin delay progression when used as maintenance therapy for certain individuals with ovarian cancer.
by Dr. C.H. Weaver M.D. updated 9/2022
What is maintenance therapy ?
Following the primary treatment of ovarian cancer with surgery and chemotherapy the doctor may recommend additional treatment with "maintenance therapy." The goal of maintenance therapy is to "maintain" a remission or prevent or delay the cancer's return if the cancer is in remission after initial treatment. Some doctors believe the term "continuous therapy" is more appropriate since the cancer is essentially being treated on an ongoing basis.
Maintenance therapy is a standard treatment for several types of cancer including ovarian cancer.1-5
PARP Inhibitors
The PARP enzyme plays a role in DNA repair, including the repair of DNA damage from chemotherapy. Precision cancer medicines that target and inhibit this enzyme may contribute to cancer cell death and increased sensitivity to chemotherapy and are called PARP inhibitors. By blocking this enzyme, DNA inside the cancerous cells is less likely to be repaired, leading to cell death and possibly a slow-down or stoppage of tumor growth.
PARP inhibitors were initially thought to have the greatest effect in women with mutations of the BRCA genes which occur in about 15% of ovarian-cancer patients. But recent research, still ongoing, indicates that the drugs may benefit women with different genetic profiles as well.
Two-year maintenance therapy with Lynparza (olaparib) significantly delays time to cancer progression and prolongs survival when used as part of the initial treatment strategy for advanced ovarian cancer in women with a BRCA 1 or 2 mutation. Learn more....
The PARP inhibitor Zejula (Niraparib) has been demonstrated to significantly delay ovarian cancer recurrence when used as maintenance therapy in women with or without BRCA. Learn more....
Avastin + Lynparza
Maintenance therapy with the PARP inhibitor Lynparza (olaparib) added to Avastin (bevacizumab) resulted in a significant and clinically meaningful delay in cancer progression in patients with advanced stage III-IV ovarian cancer.1
PAOLA Clinical Trial
The clinical trial enrolled 537 women with newly diagnosed ovarian cancer who had been treated with platinum-based chemotherapy plus Avastin. Patients were then additionally treated with maintenance therapy consisting of Lynparza tablets plus Avastin or Avastin alone and directly compared.
Overall the progression-free survival was 22.1 months for Lynparza + Avastin compared with 16.6 months for Avastin alone demonstrating that the combination benefits all ovarian cancer patients to some extent.
PARP inhibitors are known to have their greatest impact in women with BRCA or homologous recombination deficiency (HRD) and sub-group analyses of the trial confirmed this.
Patients with BRCA mutations treated with Lynparza had a median progression-free survival of 37.2 months compared with 21.7 months for Avastin alone.
Patients with HRD had a median progression-free survival of 37.2 months with Lynparza plus Avastin compared to 17.7 months for Avastin alone.
Homologous Recombination Deficiency
Combination Lynparza plus Avastin demonstrated clinically meaningful improvement in overall survival for patients with newly diagnosed advanced ovarian cancer and HRD.
For patients who had HRD 66%  of Lynpara/Avastin treated patients survived beyond 5 years compared to 48% for those not rexeiving the combination.  The benefit was seen in patients both with and without tBRCAm, but was not seen in patients who did not have HRD.
 In the treatment arm, there were 9 patients who experienced myelodysplastic syndrome, acute myeloid leukemia, and aplastic anemia, compared to 6 patients in the placebo group. The incidence of new primary malignancy was 4.1% in the treatment arm and 2.9% in the placebo arm.
The study results confirm that Lynparza/Avastin as the standard of care for women with HRD positive ovarian cancer. 
Lynparza and Avastin maintenance therapy appears to benefit most patients with advanced ovarian cancer and all women with ovarian cancer should ensure they undergo testing for BRCA, HRD and other mutations that can help determine the role of PARP maintenance therapy.5
Avastin + Chemotherapy
In a pivotal phase III clinical trial, the addition of the targeted therapy Avastin® to chemotherapy, followed by maintenance therapy with Avastin was initially reported to slow cancer progression among women with advanced ovarian, primary peritoneal, or Fallopian tube cancer, however longer term follow did not demonstrate any overall survival benefit.1,2
Avastin is a targeted therapy that blocks a protein known as VEGF. VEGF plays a key role in the development of new blood vessels. By blocking VEGF, Avastin deprives the cancer of nutrients and oxygen and inhibits its growth. Avastin has been approved for the treatment of selected patients with breast cancer, lung cancer, colorectal cancer, kidney cancer, or glioblastoma.
To evaluate the combination of Avastin and chemotherapy among women with ovarian cancer, researchers from the gynecologic oncology group conducted a phase III clinical trial among 1,873 women with newly diagnosed, advanced epithelial ovarian cancer, primary peritoneal cancer, or Fallopian tube cancer.
After surgery to remove as much of the cancer as possible, study participants were assigned to one of three treatment groups:
Chemotherapy alone
Chemotherapy plus Avastin with no maintenance therapy
Chemotherapy plus Avastin followed by up to 10 months of Avastin maintenance therapy
Chemotherapy consisted of carboplatin and paclitaxel.
Maintenance therapy refers to ongoing treatment after the initial treatment is completed.
Progression-free survival was initially reported to be 14.1 months among patients treated with chemotherapy plus Avastin followed by Avastin maintenance therapy, and 10.3 months among patients treated with chemotherapy alone.
Longer follow up however revealed no survival improvement in those treated with Avastin in addition to chemotherapy.2 The median overall survival was 42.8 months for Avastin concurrent plus maintenance compared to versus 32.6 months for chemotherapy alone. 
Side effects of Avastin included high blood pressure, low white blood cell counts and bleeding.
Severe bleeding:
Treatment with Avastin can result in serious or fatal bleeding, including coughing up blood, bleeding in the stomach, vomiting of blood, bleeding in the brain, nosebleeds and vaginal bleeding. These events occurred up to five times more often in people who received Avastin compared to patients who received only chemotherapy.
Across cancer types, 0.4% to 6.9% of people who received Avastin experienced severe to fatal bleeding. People who have recently coughed up blood (greater than or equal to a half teaspoon of red blood) or have serious bleeding should not receive Avastin. Treatment with Avastin should be permanently stopped if serious bleeding occurs.7
These results suggest that Avastin maintenance may initially slow cancer progression among women with advanced ovarian, primary peritoneal, or Fallopian tube cancer but the longer term benefit appears negligible.
References:
Ray-Coguard IL, Pautier P, Pignata S, et al. Phase III PAOLA-1/ENGOT -ov25trial: Olaparib plus bevacizumab (bev) as maintenance therapy in patients (pts) with newly diagnosed, advanced ovarian cancer (OC) treated with platinum-based chemotherapy (PCh) plus bev. Presented at: European Society of Medical Oncology (ESMO) Congress 2019; September 27-October 1, 2019: Barcelona, Spain. Abstract LBA2_PR.
European Society of Medical Oncology (ESMO). Ovarian cancer: more women benefit from maintenance combined targeted therapy. Published September 28, 2019.
Burger RA, Brady MF, Bookman MA et al. Phase III trial of bevacizumab (BEV) in the primary treatment of advanced epithelial ovarian cancer (EOC), primary peritoneal cancer (PPC) or Fallopian tub cancer (FTC): A Gynecologic Oncology Group study. Presented at the 2010 annual meeting of the American Society of Clinical Oncology. June 4-8, 2010. Chicago, IL. Abstract LBA 1.
J Clin Oncol. 2019 Jun 19. Epub ahead of print
Ray Coquard IL, Leary A, Pignata S, et al. Final overall survival (OS) results from the phase III PAOLA-1/ENGOT-ov25 trial evaluating maintenance olaparib (ola) plus bevacizumab (bev) in patients (pts) with newly diagnosed advanced ovarian cancer (AOC). Presented at European Society for Medical Oncology Congress; September 9-13, 2022. Paris, France.