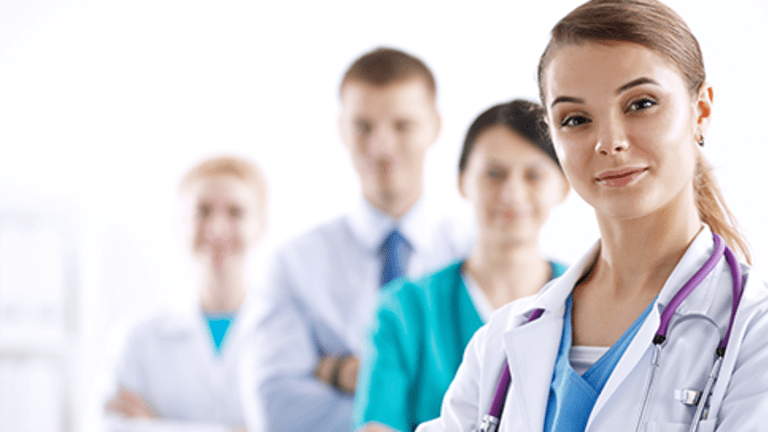 Understand Your Cancer Treatment Team
It is important to understand the roles of all the individuals involved in your cancer care.
by Laurie Wertich
Don't be surprised by how many different healthcare professionals you interact with during your diagnosis, treatment, and recovery from cancer. Cancer treatment can be complicated, and each member of your healthcare team provides a different type of expertise. It is important that you understand their roles to make the best use of their special skills.
Medical Oncologist
Your medical oncologist often becomes the focal point of your medical team. This doctor will review your medical history and may have you undergo more testing. Results from these tests—lab work, physical examination, and scans—will help to determine your specific diagnosis and its stage. The cancer stage often takes into account the size of a tumor, how deeply it has penetrated, whether it has invaded adjacent organs, how many lymph nodes it has metastasized (spread) to (if any), and whether it has spread to distant organs. Staging of cancer is important because the stage at diagnosis is the most powerful predictor of survival, and treatments are often changed based on the stage.
Next, your oncologist will establish an initial treatment plan. You will meet with your oncologist at specific periods throughout your treatment and continue with follow-up visits after your initial course of treatment is complete.
Your medical oncologist will also be the one to prescribe chemotherapy or other drug therapies and will make decisions about your individual treatment plan. Your oncologist may also refer you to a radiation oncologist or a surgeon if he or she feels that these treatment modalities should be part of your treatment plan.
Surgeon (or "Surgical Oncologist")
Surgery is often an integral part of cancer treatment. If you are having surgery, it will be highly individualized, depending on the type and extent of your cancer. You may be referred to a surgeon by your primary care physician, another specialist, or your medical oncologist. You should feel confident in your choice of surgeon. For some types of cancer, surgeons who specialize in the type of surgery that you are to undergo (surgical oncologists) or the type of cancer you have may provide better outcomes compared with general surgeons.
You will have an initial visit before the surgery so that your surgeon can review your medical records, speak with you, and/or perform additional tests or a physical examination. This is the time to ask questions about your upcoming surgery.
Radiation Oncologist
Radiation oncologists are physicians who specialize in treating cancer with radiation therapy. This doctor will determine the precise dose and placement of radiation you are to receive as part of your treatment. If your only type of treatment is radiation therapy, then your radiation oncologist may be the main physician you have contact with throughout your treatment and follow-up.
During your first meeting with your radiation oncologist, you will discuss your diagnosis and treatment plan. You will want to come prepared with questions about what to expect during the course of radiation therapy. You will also most likely undergo scans during the course of therapy to determine how well you are responding to treatment. The physician will often interpret your scans to help determine your response to the radiation. If this doctor is your primary physician during treatment, you can discuss these results during your appointment.
Oncology Nurse Navigator
An oncology nurse navigator is a medical professional who helps patients and their families access and navigate the healthcare system. This professional helps remove barriers to cancer care so that you and your caregivers can receive the treatment and support services that you need in a timely manner. Navigation services may include help with insurance and other financial issues, transportation to appointments, communication, and coordination of care among different healthcare providers and facilities, and foreign language translation or interpretation services.
Physician Assistant
Your cancer center may employ physician assistants to provide some aspects of your medical care. A physician assistant is a trained healthcare professional who works closely with physicians and nurses. Physician assistants are supervised by your doctor and often perform physical exams, prescribe medications or tests, and analyze test results. In addition, these professionals may carry out certain medical procedures and even assist in surgery. Your physician assistant may be your main source of patient education and also may be your contact regarding hospital discharge and follow-up care.
Dietitian/ Nutritionist
Dietitians and nutritionists provide nutritional services. They assess patients' nutritional needs, develop and implement nutrition programs, and evaluate the results. These medical professionals also work with doctors and other healthcare providers to help manage medical and nutritional needs. Optimal nutrition can promote healing, increase energy, and improve overall health.
Often, cancer patients have special nutritional needs. Cancer patients may not have much appetite as a result of chemotherapy or other treatments. A dietitian or nutritionist can help make recommendations for recipes or foods that are appealing and nutritious. It is important for cancer patients to have adequate nourishment during therapy so that they have the strength to manage their treatment.
Oncology Social Worker
Oncology social workers, specialists within the social work field, are clinically trained to provide diversified support for cancer patients and their families during diagnosis, treatment, and recovery. They are also trained in end-of-life care and bereavement. An oncology social worker can help with a wide range of issues, including accessing accurate information about the diagnosis and treatments; educating patients about the language, paperwork, and procedures of the healthcare system, and informing patients of their rights; referring patients and their families to community resources for assistance with financial concerns, transportation issues, lodging during treatment, and support groups; acting as a liaison between patients and their medical team; assisting patients in preparing an advance directive, a living will, and a medical durable power of attorney; and assisting patients and their families with end-of-life care and bereavement if it becomes necessary.
Rehabilitation Therapist
Rehabilitation specialists are healthcare professionals who help people recover from an illness or injury and return to activities of daily life. Examples of rehabilitation specialists are physical therapists and occupational therapists. Physical therapists teach exercises and physical activities that help condition muscles and restore strength and movement. This can help manage problems such as pain and fatigue and also improve a patient's physical functioning. Occupational therapists focus on helping patients manage their daily activities (such as dressing, bathing, and eating). This can help restore a patient's ability to function independently and improve quality of life.
Newly Diagnosed Topics