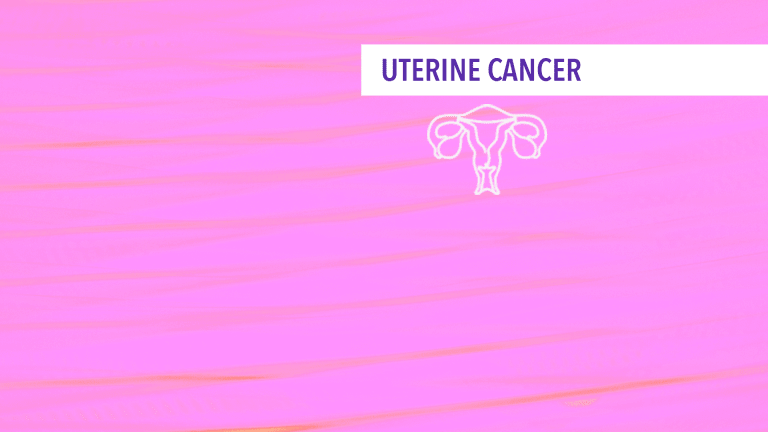 Treatment of Recurrent Uterine Cancer
Surgery, radiation, and systemic therapy may all be used to treatment recurrent uterine cancer.
 by Dr. C.H. Weaver M.D., updated 5/2022
Recurrent uterine cancer is cancer that has returned after primary treatment. For most women, recurrent uterine cancer is incurable with currently available standard therapies. However if the recurrence follows primary treatment with surgery alone and is detected early, cure is still attainable with additional surgery and/or radiation therapy.
In many situations the removal of all cancer cannot typically be achieved for patients with recurrent disease. For these patients, treatment of recurrent uterine cancer is dictated by the site of metastatic cancer and symptoms related to the spread of cancer. The goal of treatment for women with recurrent uterine cancer is to reduce symptoms and prolong survival.
Women with  Recurrent Cancer After Surgery for Stage I or II Disease
Women who initially had stage I or IIB cancer and experienced a recurrence after treatment with surgery alone are frequently cured with further surgery and the addition of radiation therapy. Radiation therapy is usually given as brachytherapy (placement of a radioactive isotope near the cancer) and external beam radiation therapy. This therapy is often successful since stage I and IIB patients treated initially with surgery alone have frequent follow-up examinations, which allow for detection of a recurrence early, when it is curable. For patients with bulky pelvic disease, radiation therapy consisting of a combination of brachytherapy and external-beam radiation therapy is frequently used. Radiation therapy can decrease symptoms and improve survival for patients with inoperable uterine cancer.
Women who Fail Surgery and Radiation Therapy
Further radiation therapy in women who experience a recurrence following initial radiation is usually not possible. However, some women will fail treatment that only included brachytherapy and these women could be treated with external beam radiation therapy if they develop a recurrence in the pelvis away from the site of isotope placement. For more information, go to Radiation Therapy and Cancer of the Uterus.
Systemic Therapy & Minimal Residual Disease
Systemic therapy is any treatment directed at destroying cancer cells throughout the body. Many patients have small amounts of cancer that have spread away from their site of origin or remain after surgery. These cancer cells are difficult to detect and are referred to as micro-metastatic or minimal residual disease (MRD). Their presence is what causes a cancer recurrence following local treatment with surgery and/or radiation therapy. An effective systemic treatment is needed to cleanse the body of MRD to improve a patient's duration of survival and potential for cure.
Systemic Therapy: Precision Cancer Medicines, Chemotherapy & Immunotherapy
Precision cancer medicines, chemotherapy and immunotherapy are all forms of systemic treatment that circulate in the blood and can destroy cancer cells throughout the body. Chemotherapy, once the only systemic therapy is increasingly being replaced by more targeted precision cancer medicines and immunotherapy. The use of precision medicines and immunotherapy is determined by performing biomarker tests that identify which therapy will be most effective. Cancer patients should undergo NGS testing to look for biomarkers that can be targeted with precision medicines. Precision cancer medicines and immunotherapies can be used both instead of and in addition to chemotherapy.1-9
Chemotherapy
Chemotherapy is any treatment involving the use of drugs to kill cancer cells. Cancer chemotherapy may consist of single drugs or combinations of drugs, and can be administered through a vein, injected into a body cavity, or delivered orally in the form of a pill. Chemotherapy is not "targeted" to the cancer and acts more generally in the body's cells which can result in more side effects.
Doxorubicin and Platinol® or Taxol has been the standard chemotherapy drug combination for treatment of women with advanced or recurrent uterine cancer with an overall response rates of 40% - 45%.11,12
Immunotherapy
Immunotherapy is also a standard treatment for cancer and can be used alone or in combination with other systemic therapies. Immunotherapy either works to stimulate your immune system to attach the cancer or remove obstacles that prevent your immune system from working normally.
Precision Cancer Medicines
Not all cancer cells are alike. They may differ from one another based on what genes have mutations. Molecular testing can be performed to test for certain genetic mutations or the proteins they produce, and the results can help identify newer precision cancer medicines that target cancer cells with specific genetic mutations.

The purpose of precision cancer medicine is to define the genomic alterations in the cancers DNA that are driving the growth of that specific cancer. Precision cancer medicine utilizes molecular diagnostic testing, including DNA sequencing, to identify cancer-driving abnormalities in a cancer's genome. Once a genetic abnormality is identified, a specific targeted therapy can be designed to attack a specific mutation or other cancer-related change in the DNA programming of the cancer cells. Precision cancer medicine uses targeted drugs and immunotherapies engineered to directly attack the cancer cells with specific abnormalities, leaving normal cells largely unharmed.
Several precision medicines and immunotherapy drugs have been approved for the treatment of advanced endometrial cancer or are being developed in clinical trials.
Checkpoint Inhibitor Immunotherapy
Checkpoint Inhibitors are precision cancer immunotherapy drugs that help to restore the body's immune system in fighting cancer by releasing checkpoints that cancer uses to shut down the immune system. Programmed death (PD)-1 and PD-L1 are proteins that inhibit certain types of immune responses that allow cancer cells to evade detection and attack by certain immune cells in the body. A checkpoint inhibitor blocks the PD-1 and PD-L1 pathway and restores an immune cells' ability to recognize and fight the cancer cells. Checkpoint inhibitors are most effective when high levels of PD-L1 are present and in individuals with a high tumor mutational burden (TMB).
Jemperli (dostarlimab) is a humanized anti-PD-1 monoclonal antibody that binds with high affinity to the PD-1 receptor and effectively blocks its interaction with the ligands PD-L1 and PD-L2.1-6
Keytruda (pembrolizumab) combined with Lenvatinib (lenvima), a multi-kinase receptor tyrosine kinase (RTK) inhibitor that inhibits the kinase activities of vascular endothelial growth factor (VEGF) receptors VEGFR1-3 and other implicated in cancer progression. It has been effectively combined with Keytruda.7-9
MSI-H and dMMR Disease: The U.S. Food and Drug Administration approved Keytruda as a single agent for the treatment of patients with advanced endometrial carcinoma that is microsatellite instability-high (MSI-H) or mismatch repair deficient (dMMR) who have disease progression.7,8
HER2: The HER2 pathway is a biological pathway involved in cellular replication and growth that occurs in some women with endometrial cancer. These "HER2-positive" cancers can be targeted with several precision cancer medicines target and block the HER2-protein.
Estrogen Receptors
The uterus is an organ that is highly sensitive to estrogen hormone levels, and thus the growth of endometrial cancer is also sensitive to the presence of hormones. Hormone therapy for endometrial cancer has long included the use of progesterone's—such as hydroxyprogesterone, medroxyprogesterone, and megestrol—because the cancer cells have receptors for these agents. Individually, these hormones can produce response rates of 20 to 29%; however, they may be more effective when combined with other anti-estrogen drugs or chemotherapy.
Ibrance belongs to a class of drugs known as kinase inhibitors that work by blocking the action of enzymes called kinases. Kinases are involved in many cell functions, including cell signaling, growth, and division. These enzymes may be too active or found at high levels in some types of cancer cells and blocking them may help prevent cancer cells from growing. Specifically, Ibrance inhibits cyclin-dependent kinase (CDK) 4 and 6. These kinases are involved in the growth of Estrogen Receptor (ER)-positive breast, endometrial and other cancers.9
Radiation Therapy
For bulky pelvic disease, radiation therapy consisting of a combination of brachytherapy (intracavitary placement of a radioactive isotope) and external-beam radiation therapy is frequently used. Radiation therapy can decrease symptoms and improve survival for patients with inoperable uterine cancer.
Strategies to Improve Treatment
The progress that has been made in the treatment of stage IV uterine cancer has resulted from improved hormonal treatments, chemotherapy treatments and doctor and patient participation in clinical studies. Currently, there are several areas of active exploration aimed at improving the treatment of stage IV uterine cancer.
References:
Data from GARNET study indicates robust activity of dostarlimab in patients with advanced or recurrent endometrial cancer.
A Phase 1 Dose Escalation and Cohort Expansion Study of TSR-042, an Anti-PD-1 Monoclonal Antibody, in Patients with Advanced Solid Tumors (GARNET). ClinicalTrials.gov.. Accessed February 2020.
Oaknin A, Duska LR, Sullivan RJ, et al. Preliminary safety, efficacy, and pharmacokinetic/pharmacodynamic characterization from GARNET, a phase I/II clinical trial of the anti–PD-1 monoclonal antibody, TSR-042, in patients with recurrent or advanced MSI-H and MSS endometrial cancer. Presented at 2019 SGO Annual Meeting; March 16-19, 2019; Honolulu, HI. Abstract 33.
Laken H, Kehry M, Mcneeley P, et al. Identification and characterization of TSR-042, a novel anti-human PD-1 therapeutic antibody. European Journal of Cancer. 2016;69,S102. doi:10.1016/s0959-8049(16)32902-1.
A Study of Dostarlimab (TSR-042) Plus Carboplatin-paclitaxel Versus Placebo Plus Carboplatin-paclitaxel in Patients with Recurrent or Primary Advanced Endometrial Cancer (RUBY). ClinicalTrials.gov.. Accessed February 2020
https://www.gsk.com/en-gb/media/press-releases/fda-grants-accelerated-approval-for-gsk-s-jemperli-dostarlimab-gxly-for-women-with-recurrent-or-advanced-dmmr-endometrial-cancer/
Makker V, Rasco D, Vogelzang NJ, et al. Lenvatinib plus pembrolizumab in patients with advanced endometrial cancer: an interim analysis of a multicentre, open-label, single-arm, phase 2 trial. Lancet Oncol. 2019;20(5):711-718. doi: 10.1016/S1470-2045(19)30020-8
Makker V, Colombo, N, Casado Herráez A., et. al. A multicenter, open-label, randomized, phase 3 study to compare the efficacy and safety of lenvatinib in combination with pembrolizumab vs treatment of physician's choice in patients with advanced endometrial cancer: Study 309/KEYNOTE-775. Annual Meeting of the Society of Gynecologic Oncology, 2021.
Mirza MR, Bjørge L, Marmé F, et al. A randomised double-blind placebo-controlled phase II trial of palbociclib combined with Femara (L) in patients (pts) with oestrogen receptorpositive (ER+) advanced/recurrent endometrial cancer (EC): NSGO-PALEO/ENGOT-EN3 trial. Presented at: European Society of Medical Oncology (ESMO) Virtual Congress 2020; September 19-21, 2020. Abstract LBA28.
Miller DS, Fleming G, Randall ME. Chemo- and radiotherapy in adjuvant management of optimally debulked endometrial cancer. Journal of the National Comprehensive Cancer Network. 2009;7:535-541.
Randall ME, Filiaci VL, Muss H et al. Randomized phase III trial of whole-abdominal irradiation versus doxorubicin and cisplatin chemotherapy in advanced endometrial carcinoma: A Gynecologic Oncology Group study. Journal of Clinical Oncology. 2006;24:36-44.
Maggi R, Lissoni A, Spina F et al. Adjuvant chemotherapy vs radiotherapy in high-risk endometrial carcinoma: results of a randomized trial. British Journal of Cancer. 2006;95:266-271.
Hogberg T, Rosenberg P, Kristensen G et al. A randomized phase-III study on adjuvant treatment with radiation (RT) ± chemotherapy (CT) in early-stage high-risk endometrial cancer (NSGO-EC-9501/EORTC 55991). Presented at the 2007 annual meeting of the American Society of Clinical Oncology. Abstract 5503.