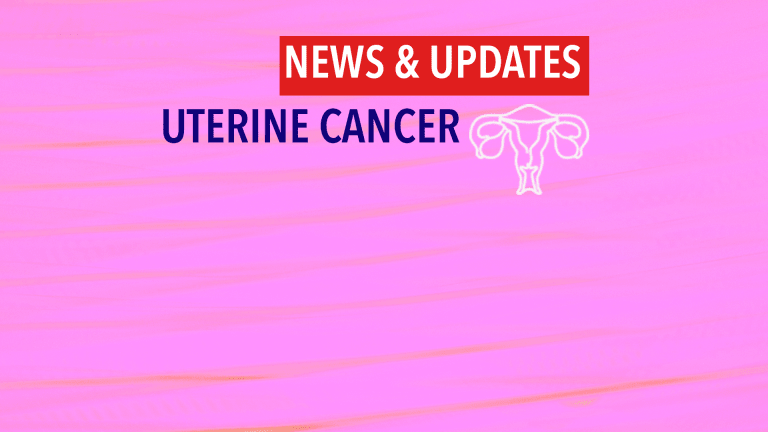 Keytruda - Lenvima Immunotherapy Treatment of Uterine Cancer
Lenvima-Keytruda precision cancer medicine combination a new standard of care for advanced uterine cancer.
by Dr. C.H. Weaver M.D. updated 4/2021
Results from a pivotal phase III clinical trial reported at the 2021 Society of Gynecologic Oncology confirmed the benefit of the Lenvima (lenvatinib) plus Keytruda (pembrolizumab) precision cancer medicine combination previously reported by researchers from Memorial Sloan Kettering Cancer Center in New York for patients with advanced uterine (endometrial) cancer. (1) Lenvima plus Keytruda is a new standard of care for advanced uterine cancer.
About Endometrial Cancer
Endometrial cancer begins in the inner lining of the uterus, which is known as the endometrium. In the U.S., it is estimated there will be almost 66,000 women diagnosed with uterine body cancer and nearly 13,000 deaths from the disease in 2020. The five-year survival rate for advanced or metastatic endometrial cancer (stage IV) is estimated to be approximately 17% and hasn't been significantly improved for several years.
Results of the randomized phase 3 KEYNOTE-775 309 clinical trial have confirmed that a combination regimen including immunotherapy Keytruda and Lenvima in advanced endometrial carcinoma improves overall survival, progression-free survival and objective response rate when compared to chemotherapy.
About Lenvima™
Lenvima is a multikinase receptor tyrosine kinase (RTK) inhibitor that inhibits the kinase activities of vascular endothelial growth factor (VEGF) receptors VEGFR1-3. Lenvima™ also inhibits other RTKs that have been implicated in cancer progression in addition to their normal cellular functions, including fibroblast growth factor (FGF) receptors FGFR1-4 and the platelet derived growth factor receptor alpha (PDGFR), KIT, and RET.
About Keytruda Checkpoint Inhibitors
Keytruda belongs to a class of medicines called "checkpoint inhibitors." Checkpoint inhibitors are a novel precision cancer immunotherapy that helps to restore the body's immune system in fighting cancer by releasing checkpoints that cancer uses to shut down the immune system. PD-1 and PD-L1 are proteins that inhibit certain types of immune responses, allowing cancer cells to evade detection and attack by certain immune cells in the body. A checkpoint inhibitor can block the PD-1 and PD-L1 pathway and enhance the ability of the immune system to fight cancer. By blocking the binding of the PD-L1 ligand these drugs restore an immune cells' ability to recognize and fight the colon cancer cells.
The trial evaluated 827 women with advanced uterine cancer treated with either Keytruda - Lenvima combination therapy or a physicians' choice of IV doxorubicin or paclitaxel chemotherapy.
The combination delayed cancer progression and prolonged survival in all patients, including those with proficient mismatch repair. Average survival duration improved from 11 to 18 months.
Overall, 89% of patients who received the experimental arm had side effects and dose reductions were required in 1/3 of patients compared to only 8% of those treated with chemotherapy.
The use of the combination of pembrolizumab and lenvatinib should be considered in all women with recurrent endometrial cancer. The LEAP-001 study that is ongoing will also determine if this combination should be used in the first line setting over platinum based chemotherapy.
This trial confirmed the benefit of a previous smaller trial of patients with metastatic endometrial cancer that led to the United States Food and Drug Administration (FDA) granting accelerated approval to the combination of Keytruda and Lenvima for the treatment of patients with advanced endometrial carcinoma that is not microsatellite instability high (MSI-H) or mismatch repair deficient (dMMR) and are not candidates for curative surgery or radiation based on this and additional information. (2,3)
The 111/KEYNOTE-146 single-arm clinical trial was the basis for the FDA approval. The study evaluated 108 women with metastatic endometrial carcinoma that had progressed following at least one prior systemic therapy. All patients were treated with the Keytruda + Lenvima combination every 3 weeks until they experienced disease progression or unacceptable side effects.
The overall response rate in patients whose tumors were not MSI-H or dMMR was 38.3% with 10 complete responses (10.6%) and 26 partial responses (27.7%). The average duration of response in these advanced patients has not been reached at the time of analyses 69% of those responding to treatment have response durations greater than 6 months.
In KEYNOTE 775 130 patients had tumors that were MSI-H or dMMR and positive results were observed in the mismatch repair proficient (pMMR) subgroup and the microsatellite instability-high (MSI-H)/mismatch repair deficient group (dMMR).
The combination of Keytruda and Lenvima appears to provide meaningful benefit to women with advanced uterine cancer. Patients with uterine cancer should discuss the role of genomic testing and tumor profiling with their doctors as these tests can help determine whether newer precision cancer medicines like Keytruda and Lenvima will play a role in the management of their cancer.
Merck and Eisai are studying the KEYTRUDA plus LENVIMA combination through the LEAP (LEnvatinib And Pembrolizumab) clinical program in 13 different tumor types across 20 clinical trials, including a Phase 3 trial evaluating the combination in the first-line setting for patients with advanced endometrial carcinoma (LEAP-001).
References:
1. Lancet Oncol. 2019 Mar 25. Epub ahead of print.
2. FDA takes first action under new international collaboration with Australia and Canada designed to provide a framework for concurrent review of cancer therapies, approving treatment for patients with endometrial carcinoma.. Accessed September 17, 2019 FDA website. Posted September 17, 2019.
3. Makker V, Rasco D, Vogelzang NJ, et al. Lenvatinib plus pembrolizumab in patients with advanced endometrial cancer: an interim analysis of a multicentre, open-label, single-arm, phase 2 trial. Lancet Oncol. 2019;20(5):711-718. doi: 10.1016/S1470-2045(19)30020-8
4. Makker V, Colombo, N, Casado Herráez A., et. al. A multicenter, open-label, randomized, phase 3 study to compare the efficacy and safety of lenvatinib in combination with pembrolizumab vs treatment of physician's choice in patients with advanced endometrial cancer: Study 309/KEYNOTE-775. Annual Meeting of the Society of Gynecologic Oncology, 2021.