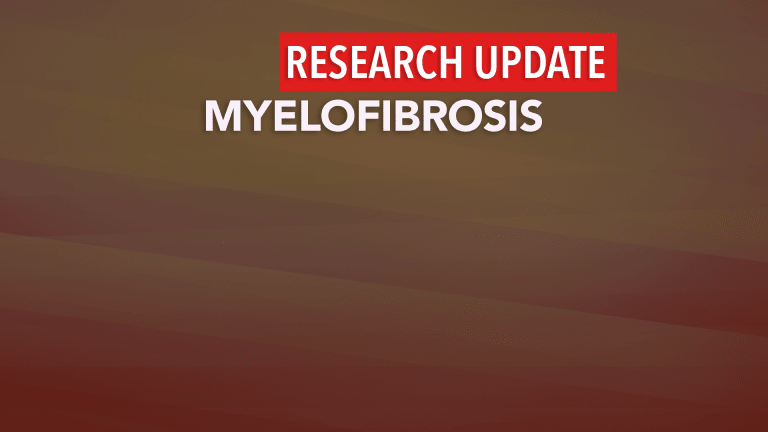 New Treatment Strategies for Jakafi Experienced Patients with Myelofibrosis
Update on clinical trial results for novel Myelofibrosis treatments
by Dr. C.H. Weaver M.D. 4/2021
The JAK1/2 inhibitor Jakafi (ruxolitinib) has been the standard first-line therapy for patients with symptomatic and/or higher-risk myelofibrosis (MF) based on findings from the randomized phase III COMFORT-I and -II clinical trials which showed significant improvements in spleen responses, symptom reduction, and survival with Jakafi compared to placebo and/or best the available therapy.
Although Jakafi improves symptoms and prolongs survival many patients with MF ultimately succumb to their disease. Researchers have been working to develop new drugs that can be used alone or in combination with Jakafi as a backbone to further improve treatment of MF. 1,2
Treatment of MF  Anemia
Anemia is a significant problem for individuals with MF leading to reduced quality of life and not markedly improved by Jakafi treatment alone. 
Luspatercept: Preliminary results from an ongoing clinical trial evaluating the erythroid maturation agent luspatercept for the management of patients with MF-associated anemia were published at ASH 2019. Luspatercept was recently approved for treating anemia in adult patients with β-thalassemia who require regular RBC transfusions.5 Luspatercept is an erythroid maturation agent which binds to select TGF-β and improves late-stage red blood cell production (erythropoiesis).
Seventy-four patients with MF and anemia were treated with luspatercept every 21 days in a dose escalation trial. Overall the therapy was well tolerated, and several patients achieved a sustained increase in hemoglobin levels and a reduction in blood transfusion requirements. These initial results from this ongoing study suggest clinically significant activity of luspatercept in patients with MF-associated anemia, including those receiving concomitant Jakafi.
Pomalyst: In the initial clinical trials the use of single agent Pomalyst improved anemia. A larger clinical trial (MPNSG-0212) was initiated to evaluate whether or not combining Jakafi with pomalidomide could improve anemia and quality of life in patients with MF. According to updated study results presented at the ASH Annual Meeting, combination therapy comprising Jakafi and Pomalyst (pomalidomide) is feasible for use in patients with poor-risk myelofibrosis (MF) and anemia.3
A total of 90 patients with MF and anemia defined as a hemoglobin <10 g/dL but with low platelet counts <100/nL were treated with 2 dose levels of Pomalyst combined with Jakafi. A subset of these patients had their average hemoglobin level improved from 8.7 g/dL to 9.6 g/dL and sustained. The study authors concluded that "Combination treatment using Jakafi plus Pomalyst is feasible in patients with poor-risk MF and resulted in an objective improvement in anemia", the trial is ongoing.
Novel Agents
Bomedemstat improved symptoms in most patients with myelofibrosis, with no dose-limiting toxicities or progression to acute myeloid leukemia, according to results from the first clinical study of a lysine-specific demethylase (LSD1) inhibitor in patients with myeloproliferative neoplasms.4
LSD1 is an epigenetic enzyme critical for self-renewal of malignant myeloid cells and differentiation of myeloid progenitors, Dr. Pettit explained. When it is bound to GFI1b, LSD1 permits progenitors to mature to megakaryocytes, enabling their normal function. Bomedemstat was evaluated in a dose-finding clinical trial in adults with intermediate-2 or high-risk MF that was intolerant of or resistant to Jakafi. Preliminary analysis of 20 patients were published at ASH 2019.
Of the patients who were evaluable for response after cycle half had a reduction in spleen volume from baseline, and 79% had a reduction in total symptom score. In addition, two patients showed improved bone marrow fibrosis scores during the first 12 weeks of treatment.
CP-0610 is a selective and potent small molecule BET inhibitor. BET proteins regulate key cancer causing pathways which are important drivers of pro-inflammatory cytokine expression and bone marrow fibrosis implicated in myelofibrosis. Preclinical studies suggest that a combination of BETi and Jakafi may result in synergistic reduction of splenomegaly and bone marrow fibrosis.6
CPI-0610 was evaluated alone and in combination with Jakafi in MF pts who were refractory/intolerant or had an inadequate initial response to Jakafi Results of the first 48 patients enrolled in the Phase 2 study MANIFEST clinical trial were released at ASH 2019.
Spleen volume reduction was observed in 94% of patients.
An increase in hemoglobin by 1.5 mg/dL post-baseline was observed with both CPI-0610 monotherapy (4 of 8, 50%) and CPI-0610 + rux (4 of 25, 16%).
Improvement in BM fibrosis was reported 58% of evaluable patients.
Preliminary data indicate that CPI-0610 alone or "add-on" to Jakafi is generally well-tolerated and provides clinical benefits in MF patients with inadequate responses or who are refractory to Jakafi. Improvement in bone marrow fibrosis and anemia responses indicate the potential for meaningful disease modification
Navitoclax is a novel small-molecule that targets and binds with high affinity to multiple anti-apoptotic B-cell lymphoma 2 (BCL2) family proteins. Preclinical studies show cytotoxic activity of navitoclax against myeloproliferative neoplasm-derived cell lines. Researchers evaluated the combination of navitoclax with Jakafi in patients with MF.7
Thirty-four MF patients previously treated with Jakafi were treated with Jakafi combined with increasing doses of navitoclax to a maximum daily dose of 300 mg to determine tolerability and platelet count until the end of clinical benefit, unacceptable toxicity, or discontinuation.
At the time of this analysis, 24 patients were evaluable. Overall the therapy was well tolerated, and a majority of patients experienced symptomatic improvement; 29% of patients achieved a spleen volume reduction 42% and a decrease in cancer driver mutations observed in 42% of patients. Twenty-nine percent of patients experienced improvements in bone marrow fibrosis of at least 1 grade at any time.
Elzonris (tagraxofusp) is a targeted therapy directed to CD123 that was approved by the FDA for the treatment of patients with blastic plasmacytoid dendritic cell neoplasm (BPDCN). CD123 is expressed on a variety of cancers including MF. Tagraxofusp offers a novel approach in patients with MF, and in particular in patients with monocytosis.
Twenty-seven patients with advanced MF have been with increasing doses of tagraxofusp at the time of reporting and thus far treatment has been well tolerated with reported clinical symptom improvement including 53% with spleen size reductions. Enrollment continues, and updated trial results will be forthcoming.
Momelotinib (formerly GS-0387) is is a selective and orally-bioavailable JAK1, JAK2 & ACVR1 inhibitor currently being examined as part of the phase 3 MOMENTUM trial (NCT04173494). 
Imetelstat (GRN163L) is a telomerase inhibitor and appears to prolong survival as well as having other positive clinical benefits, according to data from the phase 2 IMbark trial.
Managing Very Low Platelet Counts
Ongoing phase 3 PACIFICA study (NCT03165734) is evaluating the use of the JAK2/FLT3 inhibitor pacritinib in patients with primary myelofibrosis, post polycythemia vera myelofibrosis, or post essential thrombocytopenia myelofibrosis who have a platelet count of less than 50 x 109/L.
References:
Incyte News. Pooled Analysis of Five-Year Data from Two Phase 3 Studies Further Supports Overall Survival Advantage Observed in Patients with Myelofibrosis Treated With Jakafi® (ruxolitinib). Available at: incyte.com/media/recent-news.aspx. Accessed December 15, 2016.
Ann Hematol. 2019;98[7]:1611-1616
Stegelmann F, Koschmiede S, Isfort S, et al. Updated Results from the German Mpnsg-0212 Combination Trial: Jakafi Plus Pomalidomide in Myelofibrosis with Anemia. Presented at: the 2019 ASH Annual Meeting & Exposition; December 7-10, 2019; Orlando, FL. Abstract 672.
Pettit K, Gerds AT, Yacoub A, et al. A phase 2a study of the LSD1 inhibitor Img-7289 (bomedemstat) for the treatment of myelofibrosis. Abstract #556. Presented at the 2019 ASH Annual Meeting, December 9, 2019; Orlando, FL
ash.confex.com/ash/2019/webprogram/Paper122546.html 
ash.confex.com/ash/2019/webprogram/Paper127119.html
ash.confex.com/ash/2019/webprogram/Paper130158.html
ash.confex.com/ash/2019/webprogram/Paper131217.html
Versovsek S. Concepts in the management of myelofibrosis. Presented at: 25th Annual International Congress on Hematologic Malignancies; February 25-28, 2021; Virtual. Accessed March 2, 2021.
Barbui T, De Stefano V, Carobbio A, et al. Direct oral anticoagulants for myeloproliferative neoplasms (MPN-DOACs): results from an international study of 442 patients. Blood. 2020;136(suppl 1):42-43. doi:10.1182/blood-2020-1339229
Masarova L, Bose P, Pemmaraju N, et al. Improved survival of patients with myelofibrosis in the last decade. Blood. 2020;136(suppl 1):50-51. doi:10.1182/blood-2020-142578
Verstovsek S, Parasuraman S, Yu J, et al. Real-world survival among patients with intermediate- to high-risk myelofibrosis in the United States: impact of ruxolitinib approval. Blood. 2020;136(suppl 1):46-47. doi:10.1182/blood-2020-140820
Gerds AT, Vannucchi A, Passamonti F, et al. Duration of response to luspatercept in patients (Pts) requiring red blood cell (RBC) transfusions with myelofibrosis (MF) – updated data from the phase 2 ACE-536-MF-001 study. Blood. 2020;136(suppl 1):47-48. doi:10.1182/blood-2020-137265
Mascarenhas J, Harrison C, Patriarca A, et al. CPI-0610, a Bromodomain and extraterminal domain protein (BET) inhibitor, in combination with ruxolitinib, in JAK-inhibitor-naïve myelofibrosis patients: update of MANIFEST phase 2 study. Presented at: 2020 ASH Annual Meeting & Exposition; December 5-8, 2020; Virtual. Accessed March 2, 2021. Abstract 55. http://bit.ly/3e1kdmJ
Garcia JS, Potluri J, Holes L, et al. The addition of navitoclax to ruxolitinib demonstrates efficacy within different high-risk populations in patients with relapsed/refractory myelofibrosis. Presented at: 2020 ASH Annual Meeting & Exposition; December 5-8, 2020; Virtual. Accessed March 2, 2021. Abstract 52. http://bit.ly/3sLp7bs
Harrison C, Schaap N, Vannucchi AM, et al. Fedratinib in patients with myelofibrosis previously treated with ruxolitinib: an updated analysis of the JAKARTA2 study using stringent criteria for ruxolitinib failure. Am J Hematol. 2020;95(6):594-603. doi:10.1002/ajh.25777
A study of momelotinib versus danazol in symptomatic and anemic myelofibrosis patients (MOMENTUM). ClinicalTrials.gov. Updated March 2, 2021. Accessed March 2, 2021. https://clinicaltrials.gov/ct2/show/NCT04173494
Mascarenhas J, Komrokji R, Cavo M, et al. Favorable overall survival with imetelstat treatment correlates with other clinical benefits in intermediate 2 or high risk myelofibrosis relapsed/refractory to Janus kinase inhibitor. Presented at: 2020 ASH Annual Meeting & Exposition; December 5-8, 2020; Virtual. Accessed March 2, 2021. Abstract 53. http://bit.ly/3r6btiS
Harrison CN, Gerds AT, Kiladjian JJ, et al. Pacifica: a randomized, controlled phase 3 study of pacritinib vs. physician's choice in patients with primary myelofibrosis, post polycythemia vera myelofibrosis, or post essential thrombocytopenia myelofibrosis with severe thrombocytopenia (platelet count <50,000/mL). Blood. 2019;134(suppl 1):4175. doi:10.1182/blood-2019-129245