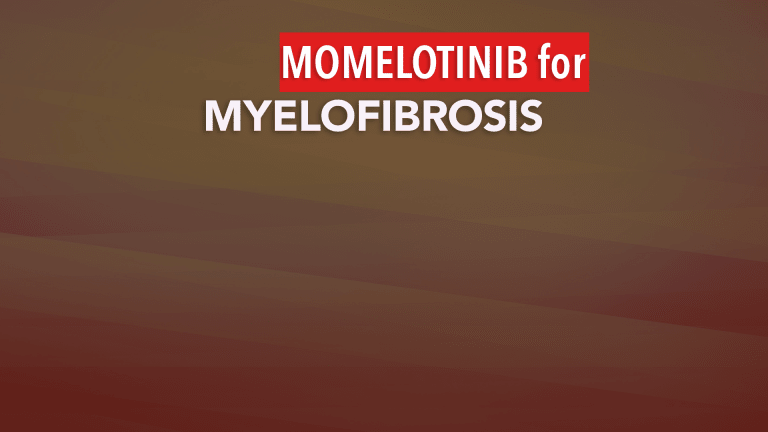 Momelotinib Granted FDA Fast Track Designation for Myelofibrosis
Momelotinib to begin clinical trial in individuals with Myelofibrosis
by Dr. C. H. Weaver M.D. 6/2022
The U.S. Food and Drug Administration (FDA) has granted Fast Track designation to momelotinib, a JAK1, JAK2 and ACVR1 inhibitor for the treatment of patients with intermediate/high-risk myelofibrosis who have previously received a JAK inhibitor.
Roughly half of the people with primary myelofibrosis will test positive for a mutation in the Janus kinase 2 (JAK2) gene and the majority of individuals will have overactive JAK signaling even if the don't have a JAK mutation. This abnormality can be measured by your doctor but doesn't have to be present for a diagnosis. Increased production of JAK proteins causes the wrong number of blood cells and cytokines to be produced. An enlarged spleen may be detected on physical examination. Bone marrow examination typically reveals an increase in abnormal megakaryocytes (platelet-forming cells) and other abnormalities that are characteristic of myelofibrosis. Jakafi is currently the only FDA approved JAK inhibitor for the treatment of myelofibrosis.
About Momelotinib
Momelotinib is a selective and orally-bioavailable JAK1, JAK2 & ACVR1 inhibitor. More than 1200 individuals have received momelotinib since clinical studies began in 2009, including more than 800 treated for myelofibrosis. Momelotinib is believed to have a differentiated therapeutic profile encompassing many of the constitutional symptom improvements, a range of meaningful anemia benefits, including eliminating or reducing the need for frequent blood transfusions, and comparable spleen control to Jakafi (ruxolitinib).
"Fast Track designation for momelotinib highlights the serious and significant unmet needs of patients with myelofibrosis who have previously received a JAK inhibitor. These patients typically suffer from uncontrolled constitutional symptoms, progressively worsening anemia often resulting in transfusion dependency, and enlarged spleens.
A previous study of momelotinib failed to meet the study goal of reducing spleen volume, but data from that study suggested that momelotinib therapy might provide meaningful results for patients previously treated with ruxolitinib, including improved anemia responses, fewer transfusion requirements, and symptom improvement. The current study is designed to measure that benefit.2
About MOMENTUM Phase 3 Clinical Trial:
MOMENTUM is a Phase 3 Study to Evaluate the Activity of Momelotinib (MMB) versus Danazol (DAN) in symptomatic, anemic patients with several myeloproliferative neoplasms including Primary Myelofibrosis, Post-Polycythemia Vera (PV) Myelofibrosis, or Post Essential Thrombocythemia (ET) Myelofibrosis. 
The clinical trial was launched in Q4 2019 and was designed to enroll 180 patients who were symptomatic and anemic and had been treated previously with a JAK inhibitor. Patients were treated with either momelotinib or danazol and directly compared. Danazol has been selected as an appropriate treatment comparator given its use to ameliorate anemia in myelofibrosis patients, as recommended by NCCN and ESMO guidelines. After 24 weeks of treatment, patients on danazol will be allowed to crossover to receive momelotinib.3
Preliminary study results were released at ASCO 2022; in symptomatic and anemic patient, momelotinib was found to be superior to danazol for symptom responses, transfusion requirements, and spleen responses with comparable safety and favorable survival according to the study authors.
References:
Harrison CN, Vannucchi AM, Platzbecker U, et al. Momelotinib versus best available therapy in patients with myelofibrosis previously treated with ruxolitinib (SIMPLIFY 2): a randomised, open-label, phase 3 trial. Lancet Haematol. 2017 December 20.
Mesa RA, Gerds AT, Vannucchi A, et al. MOMENTUM: Phase 3 randomized study of momelotinib (MMB) versus danazol (DAN) in symptomatic and anemic myelofibrosis (MF) patients previously treated with a JAK inhibitor. Abstract presented at: ASCO Annual Meeting; June 3-7, 2022; Chicago, IL, and virtual. Abstract 7002.