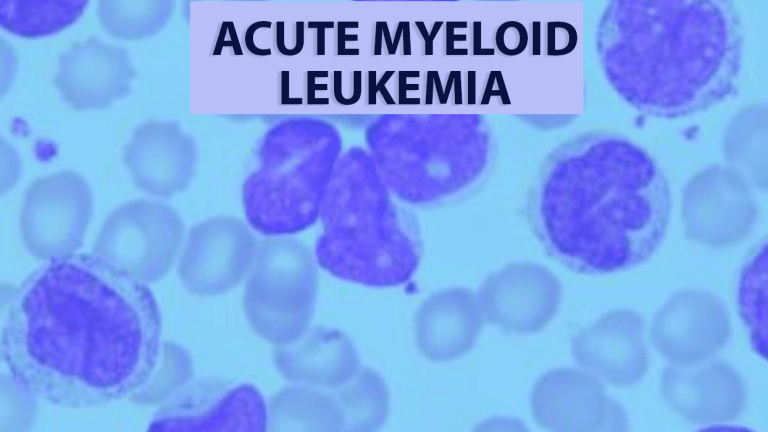 Acute Myeloid Leukemia: Overview and Treatment
Management of Acute Myeloid Leukemia: Induction, Consolidation, Precision Medicines and Stem Cell Transplantation.
Medically reviewed by Dr. C.H. Weaver M.D. updated 12/2022
Acute Myeloid leukemia (AML) is a cancer that impacts the blood and bone marrow characterized by the rapid uncontrolled growth of immature white blood cells known as myelocytes. The disease is more common in adults than in children, with the average age at diagnosis being more than 65 years. According to the American Cancer Society in 2020 there were approximately 22,000 individuals diagnosed with AML in the United States.
The 2022 NCCN Guidelines for the management of acute myeloid leukemia emphasize physiologic rather than chronologic age as a criterion for choice of therapy. Patients with good performance statue should be considered for intensive chemotherapy regardless of age.
In order to understand the best treatment options available for AML, patients should know the classification or histologic subtype of the cancer and the results of molecular biomarker analyses and  chromosomal analyses. These are tests performed on a sample of the patient's bone marrow. AML is frequently associated with abnormal chromosomes of the leukemia cells. Knowing the specific chromosomal abnormalities associated with leukemia is important for determining specific treatments and outcomes.
Cytogenetics in Adult AML
Cytogenetic abnormalities be detected by reverse transcriptase–polymerase chain reaction (RT–PCR) or fluorescence in situ hybridization (FISH)
Good Prognosis
t(8; 21), inv(16) or t(16;16), and t(15;17)
Normal cytogenetics portends average-risk AML
Poor Prognosis
Deletions of the long arms or monosomies of chromosomes 5 or 7
Translocations or inversions of chromosome 3, t(6; 9), t(9; 22)
Any abnormalities of chromosome 11q23
Cytogenetics in Childhood AML
Changes in chromosomes in leukemia cells can be identified in 80% of children with AML. These distinct chromosomal changes detected on cytogenetic examination are often associated with different outcomes of treatment. With current treatment, ~50% of children with AML are cured. It is important to identify those children who can be cured with standard treatments and those who should receive more individualized treatment. The distinct type of chromosomal abnormality present at diagnosis has been shown to help identify patients with a "good" or "bad" outcome.
AML Treatment
The treatment of AML occurs in 2 phases; induction and consolidation and all AML patients are not currently treated the same way. Acute promyelocytic leukemia (M3 subtype) and AML with certain biomarkers require specific treatment. . High dose chemotherapy and autologous or allogenic stem cell transplant is often used for consolidation and patients should be evaluated at a treatment facility with the ability to provide these procedures. AML can be a rapidly progressive disease and prompt planning including a search for a stem cell donor is essential to ensure the best outcome.
Remission induction chemotherapy is administered to produce a complete remission in the bone marrow, which is defined as less than 5% "blasts" in the bone marrow.
Post-remission consolidation/maintenance: Once a remission is achieved it must be "consolidated" with additional intensive therapy or the leukemia is likely to recur. Consolidation is achieved with intensive chemotherapy or high dose chemotherapy and an autologous or allogenic stem cell transplant.
Remission Induction Therapy
The mainstay of AML treatment for several decades had been the "7 + 3" induction chemotherapy regimen consisting of 7 days of cytarabine, followed by 3 days of either daunorubicin or idarubicin. Newer combinations of medicines are increasingly used that target specific genomic abnormalities.
Genetic assessment is critical before selecting treatment for asymptomatic patients. Patients with core-binding factor leukemias, secondary leukemias, and FLT3-mutated leukemias benefit from novel remission induction strategies:
Mylotarg (gemtuzumab ozogamicin) added to induction and consolidation therapy for core-binding factor leukemiasL
Liposomal formulations (ie, of cytarabine and daunorubicin) may benefit older patients with secondary leukemias
Rydapt (midostaurin) is beneficial for FLT3 mutations
IDH Mutations: In some people with AML, the leukemia cells have a mutation in the IDH1 or IDH2 gene. These genes help the cells make certain proteins, which are also called IDH1 and IDH2. Mutations in one of these genes can stop blood cells from maturing the way they normally would. The FDA has approved precision medicines that target IDH.
In order to reduce the risk of infection, antibiotics and blood cell growth factors that stimulate the bone marrow to produce normal white blood cells are often given. After 2-3 weeks, blood counts will begin to recover and often return to normal. A bone marrow examination is repeated to see if a remission has been achieved.
If a complete remission is achieved and no further therapy given, over 90% of patients will have a recurrence of disease in weeks to months. To prevent recurrence of leukemia, consolidation therapy is initiated immediately after recovery from induction therapy. These treatments are given as close together as possible. The more intensive the chemotherapy and the closer together the courses of therapy are given, the less chance the leukemia has of returning. It is very important for patients to understand that lower doses of drugs do not work as well as higher doses of drugs.
Acute Myeloid Leukemia Consolidation
Consolidation therapy can be accomplished with multiple courses of high dose chemotherapy and precision cancer medicines or a single course of very high-dose chemotherapy with autologous or allogeneic stem cell transplantation.
It is recommended that patients who are candidates for intensive chemotherapy and transplant receive that treatment. Patients in first remission who are unable to receive ongoing intensive chemotherapy or transplant should consider oral azacitidine or Venetoclax plus standard azacitidine.
Despite the initial choice of consolidation therapy, it is important to determine the availability of a marrow or stem cell donor as soon as possible following the initial diagnosis of AML. This allows for an immediate transplant if remission induction is a failure and defines therapeutic options once a remission is achieved.
Clinical trials have demonstrated that patients treated with allogeneic stem cell transplantation have a 55-60% chance of cure without evidence of disease recurrence and patients treated with autologous stem cell transplantation have an ~ 50% chance of being alive without evidence of disease recurrence, compared to only 30% for patients treated with conventional-dose consolidation chemotherapy.
Intensive remission induction therapy prior to transplant may not be necessary in all patients based on the results of the ASAP clinical trial.10
Patient age, cost of treatment, prognosis based on cytogenetics and the risk of a stem cell transplant are all factors that contribute to determining an individuals consolidation treatment choice. Stem cell transplant for AML should be performed at a treatment facility with significant experience.
Consolidation Chemotherapy
Consolidation chemotherapy typically consists of 3 to 4 cycles of cytarabine given in high doses over 5 days in conjunction with additional chemotherapy drugs such as etoposide, daunomycin or idarubicin. Remission duration has been correlated with the dose of cytarabine and the number of cycles administered. In general, the more intensive the consolidation, the higher the cure rate.
Precision Cancer Medicines
Doctors now use genomic and biomarker testing to identify precision cancer medicines that target specific parts of the leukemia cells. Precision cancer medicines are used to treat older individuals that might not tolerate chemotherapy and in combination with chemo to improve results.
Individuals with AML should have cells from the blood or bone marrow tested to see if the leukemia cells have any of the following mutations that can be treated with a precision cancer medicine.
FLT3 inhibitors
In ~ 1/3 of individuals with AML, the leukemia cells have a mutation in the FLT3 gene. This gene helps the cells make a protein (also called FLT3) that helps the leukemia cells grow. Mutations of FLT3 in AML are associated with a poor prognosis and the FDA has prioritized the approval of new therapies for FLT3+ AML patients. FLT3/ITD mutations are associated with high risk for relapse and allogeneic transplant seems to lower the risk for relapse considerably.
Rydapt (midostaruin) is a targeted therapy that works by blocking FLT3 and several other proteins on leukemia cells. Midostaruin can be used alone or combined with certain other chemotherapy medications to treat newly diagnosed adults whose leukemia cells have an FLT3 gene mutation.
Xospata (gilteritinib) The U.S. Food and Drug Administration approved Xospata for treatment of adult patients who have recurrent or refractory AML with a FLT3 mutation. Xospata has demonstrated inhibitory activity against FLT3 internal tandem duplication (ITD) as well as FLT3 tyrosine kinase domain (TKD), two common types of FLT3 mutations that are seen in approximately one-third of patients with AML.
The FDA approval of Xospata was based on an interim analysis of the ADMIRAL clinical trial which included 138 adult patients with relapsed or refractory AML and a FLT3 ITD, D835, or I836 mutation. All individuals were treated with oral Xospata daily until unacceptable toxicity or lack of clinical benefit. Xospata doubled the complete remission rate; after a median follow-up of 4.6 months 29 patients had achieved a complete remission and a significant number no longer required blood or platelet transfusion support.
IDH inhibitors
Targeted drugs called IDH inhibitors can block these IDH proteins and seem to work by helping the leukemia cells mature (differentiate) into more normal cells. Because of this, they are sometimes referred to as differentiation" agents.
These following drugs can be used to treat AML with an IDH1 or IDH2 mutation.
Tibsovo (ivosidenib) is an IDH1 inhibitor. It can be used to treat AML with an IDH1 mutation. Tibsovo in combination with azacytidine chemotherapy in adults with previously untreated AML delays leukemia progression and improves survival.6
Idhifa (enasidenib) is an IDH2 inhibitor. It can be used to treat AML with an IDH2 mutation that comes back after treatment or is no longer responding to other treatments. The addition of BCL2-inhibitor venetoclax to enasidenib was associated with a 100% composite complete remission rate in elderly patients with newly-diagnosed IDH2-mutant AML.7
Rezlidhia (olutasidenib) produced a complete remission rate of 35% in 147 adult patients with relapsed or refractory AML with an IDH1 mutation leading to FDA approval in December 2022.10
These drugs are taken by mouth, once a day and common side effects can include nausea, vomiting, diarrhea, fatigue, joint pain, shortness of breath, increased levels of bilirubin (a substance found in bile), and loss of appetite.
An important possible side effect of these drugs is known as differentiation syndrome. This occurs when the leukemia cells release certain chemicals into the blood. It most often occurs during the first treatment cycle. Symptoms can include fever, breathing problems from fluid buildup in the lungs and around the heart, low blood pressure, liver or kidney damage, and severe fluid buildup elsewhere in the body. It can often be treated by stopping the drugs for a while and giving a steroid such as dexamethasone.
Mylotarg (gemtuzumab ozogamicin)
This targeted therapy consists of a monoclonal antibody (a man-made immune protein) linked to a chemotherapy drug. The antibody attaches to a protein called CD33, which is found on most AML cells. The antibody acts like a homing signal, bringing the chemo drug to the leukemia cells, where it enters the cells and kills them when they try to divide into new cells.
This drug can be used along with chemotherapy as part of the initial treatment of AML that has the CD33 protein. It can also be used by itself, either as the first treatment (especially in people who might not be healthy enough for intense chemo), or if other treatments are no longer working. It is given as an infusion into a vein (IV).
The most common side effects are fever, nausea and vomiting, low levels of blood cells (with increased risks of infection, bleeding, and fatigue), swelling and sores in the mouth, constipation, rash, and headaches.
Less common but more serious side effects can include:
Severe liver damage, including veno-occlusive disease (blockage of veins in the liver)
Reactions during the infusion (similar to an allergic reaction). You will likely be given medicines before each infusion to help prevent this.
Serious or life-threatening infections, especially in people who have already had a stem cell transplant
Changes in the rhythm of the heart
Although patients over 60 with AML can benefit from intensive treatment, researchers have been evaluating more effective and safer ways to treat older patients. To that end the US Food and Drug Administration (FDA) approved several specific therapies for elderly patients unable to undergo more aggressive treatment in 2018.
Venclexta® (venetoclax)
The BCL-2 (B-cell lymphoma 2) protein is a type of protein that is found in certain types of cancers that affect blood cells. This protein inhibits the death of cancer cells, enabling the cancer cells to grow and spread. Venclexta is an agent that inhibits the BCL-2 protein from protecting the survival of cancer cells, thereby resulting in reduced growth and/or the death of cancer cells. The combination of Venclexta with azacitidine or decitabine produced an overall response rate of 91% in elderly patients which led to the FDA approval.
Daurismo (glasdegib)
Daurismo is a "Hedgehog pathway inhibitor". The Hedgehog signaling pathway plays an essential role in embryogenesis, the process by which human embryos are developed. In adults, the abnormal activation of the hedgehog pathway appears to contribute to the development and persistence of cancer stem cells. Daurismo disruption of this pathway prevents the development and survival of these cancer stem cells.
Daurismo in combination with the standard low-dose cytarabine (LDAC) chemotherapy was evaluated and was demonstrated to improve overall survival when compared to LDAC alone in adult AML patients who would not tolerate intensive chemotherapy. The average overall survival was doubled to 8.3 months for patients treated with Daurismo plus LDAC compared with 4.3 months for patients treated with LDAC only.
The recent development of these novel precision cancer medicines targeting specific abnormalities that lead to the development of AML significantly expand treatment options, especially for older individuals.
References:
Perl A. AML: Progress — finally? Presented at: HemOnc Today New York; March 21-23, 2019; New York.
www.fda.gov/Drugs/InformationOnDrugs/ApprovedDrugs/ucm627045.htm
www.nature.com/articles/s41591-018-0233-1
www.fda.gov/Drugs/InformationOnDrugs/ApprovedDrugs/ucm626499.htm
www.fda.gov/NewsEvents/Newsroom/PressAnnouncements/ucm626443.htm
ClinicalTrials.gov. Study of AG-120 (Ivosidenib) vs. Placebo in Combination With Azacitidine in Patients With Previously Untreated Acute Myeloid Leukemia With an IDH1 Mutation (AGILE). Available at: https://clinicaltrials.gov/ct2/show/NCT03173248. Last accessed: July 2021.
Venugopal S, Takahashi K, Daver N, et al. Efficacy and safety of enasidenib and azacitidine combination in patients with IDH2 mutated acute myeloid leukemia and not eligible for intensive 
FDA approves olutasidenib for relapsed or refractory acute myeloid leukemia with a susceptible IDH1 mutation. News release. FDA. December 1, 2022. Accessed December 1, 2022. https://bit.ly/3Vr284u
Rigel announces availability of Rezlidhia™ (olutasidenib) in the US for the treatment of adult patients with relapsed or refractory acute myeloid leukemia with a susceptible IDH1 mutation. News release. Rigel Pharmaceuticals. Accessed December 22, 2022. https://www.prnewswire.com/news-releases/rigel-announces-availability-of-rezlidhia-olutasidenib-in-the-us-for-the-treatment-of-adult-patients-with-relapsed-or-refractory-acute-myeloid-leukemia-with-a-susceptible-idh1-mutation-301708714.html.
Stelljes M, Middeke JM, Bug G, et al. In patients with relapsed/refractory AML sequential conditioning and immediate allogeneic stem cell transplantation (allo-HCT) results in similar overall and leukemia-free survival compared to intensive remission induction chemotherapy followed by allo-HCT: Results from the randomized phase III ASAP trial. Presented at ASH 2022. December 10-13, 2022. Abstract 4.