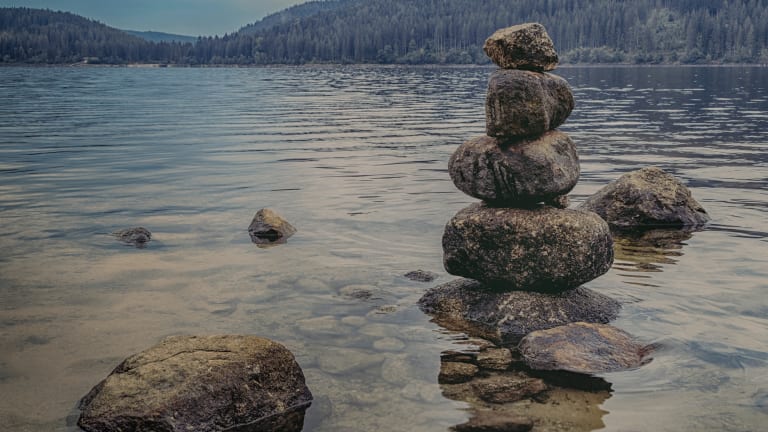 Breath by Breath; Meditation Reduces Stress & Anxiety During Cancer Treatment
Meditation may reduce stress and anxiety during cancer treatment while keeping focus on the positive.
The flurry of tests, procedures, appointments, and drug regimens that accompany a cancer diagnosis—never mind the fear and the stress of facing cancer—leave little chance for tranquility and peace of mind. The good news is that healthcare providers and patients are increasingly aware of the importance of treating the whole patient (body and mind), so complementary therapies that address the psychological as well as physical aspects of cancer are increasingly assuming a more significant role in overall care.
Many such modalities are termed mind-body medicine, which refers to the interaction between psychological and physical health. Meditation is one such practice that can reduce stress and bring comfort to cancer patients and, according to the National Institutes of Health's National Center for Complementary and Alternative Medicine (NCCAM), may even contribute to improved overall health and wellness.1
What Is Meditation, and What Are the Benefits?
Meditation has been practiced in every culture throughout human history in both spiritual and secular (non-religious) contexts. There are many forms of meditation; each provides different techniques to help people focus attention and free the mind from distracting thoughts or emotions. Attention to breath, for example, is a popular and common route to help direct awareness to the present moment, which promotes what is called a "relaxation response." According to NCCAM, meditation can contribute to physical relaxation, mental calmness, and psychological balance as practitioners become more aware of the mind's activity and how thoughts and emotions affect their overall state of being. As for the benefits of meditation for cancer patients specifically, the American Cancer Society states that although meditation does not treat the tumor, "it may help improve the quality of life for people with cancer."2
Robert Schmehr, LCSW, manager of the Mind-Body Therapy Program in Memorial Sloan-Kettering Cancer Center's Integrative Medicine Department in New York City, describes their special program called "Training for Treatment and Beyond" as "training" that involves the dual approach of physical activity and mind-body medicine. The latter includes an emphasis on helping patients learn self-hypnosis, a deeper form of meditation.
Schmehr goes on to explain that the calming, focused nature of this easily-learned practice helps patients better regulate stress and anxiety and address depression, a normal reaction to a cancer diagnosis. Meditation can also play an important role in preparation for surgery, says Schmehr: "People who meditate before surgery fare better physically as well as emotionally after surgery because their self-regulatory processes work better." He explains that hastened physical recovery may be due to "meditation's ability to enhance autonomic nervous system functioning, which enables the body and mind to share information to reduce pain, normalize blood pressure, and manage emotional distress."
The benefits of meditation continue throughout treatment. Schmehr explains that meditation is thought to improve quality of life in many ways, including aiding post-surgery healing, reducing the pain of routine procedures such as the insertion of intravenous (IV) lines, and relieving tension and stress.
For patients the benefits are not only clinical. Endometrial cancer survivor Elizabeth Colman says that she looked to meditation during treatment as a way of relieving stress but that the practice also allowed her to "learn all I could from the cancer experience"—a process that she says has "opened up the door to living mindfully and fully."
Schmehr adds that such benefits need not be limited to cancer patients and that meditation can address stress, anxiety, and fear in patient's loved ones as well: "Going through cancer is a family event; it's not just the person receiving the treatment," and meditation can be an effective way to reduce the stress and tension of anyone touched by a cancer diagnosis.
Elana Rosenbaum, LICSW, has both an expert and a patient perspective on meditation and cancer treatment. She is the meditation teacher at Dana Farber Cancer Institute in Boston, has authored a book (Here for Now: Living Well with Cancer Through Mindfulness), and has produced CDs about meditation during cancer treatment; she is also a lymphoma survivor. It was during her stem cell transplant for lymphoma that she experienced firsthand the powerful benefits of meditation during treatment.
Rosenbaum describes her approach to meditation as the practice of "mindfulness," which she explains as "a way of being present and opening into experience rather than fighting it." Such awareness, she says, directs focus toward "celebrating what is possible." Patients turn to meditation, she says, in an effort to improve well-being and also to gain a sense of control at a time of vulnerability. Such a practice—"something within your realm that you do"—can give patients a sense of control during the treatment process and "increase a sense of self-efficacy." As well, Rosenbaum explains that by focusing on the present moment where patients do have a sense of control, anxiety over a future that can't be controlled is lessened.
Rosenbaum found strength and solace in meditation when she developed pneumonia following her stem cell transplant. She says that she was on oxygen and that her life was at risk, but instead of fighting she allowed herself to slow down and become present—or mindful—of the experience and thus achieved a sense of calm and peace that she believes enabled her to survive. Simple pleasures like looking through her window, hearing children's voices outside, and enjoying a glass of water gained profound meaning. It was, she says, "a wonderful way to feel peaceful." Meditation brought her into a state of acceptance, where she was better able to receive care and was overcome with appreciation and gratitude for being alive. "The little things just became wonderful," she says.
Finding Focus
According to Schmehr and Rosenbaum, most people are capable of some degree of meditation. Both acknowledge that sitting still for long periods of time isn't for everyone, and that many people would find this a challenging introduction to meditation, so they encourage individuals to look to activities and elements of their daily lives and see where a level of meditation might be incorporated.
Among the options for increasing mindfulness that Rosenbaum suggests are spending time in nature and creative expression. Meditation and mindfulness, she explains, can come in many forms so long as they bring focus back to the present moment. This can be done, she says, by simply "stopping and noticing what's here right now." She adds that one of the keys is "trusting your own resources, your own wisdom."
Schmehr says that though he often hears people claim they can't meditate, he also encourages looking for ways to add meditation to your existing activities and interests. "Whatever meditation technique you find, it should be enjoyable and it should be something that can fit into your daily life." He offers the example of sitting with a cup of coffee first thing in the morning and pausing to take several breaths and enjoy the aroma before starting your day.
Survivor Elizabeth Colman, who was so positively affected by meditation that she now teaches it, backs up Rosenbaum and Schmehr's message that meditation is widely accessible and highly beneficial: "Everyone can benefit from meditation, and everyone can do it."
Looking for Inner Peace? Start Here.
"Peace. It does not mean to be in a place where there is no noise, trouble, or hard work. It means to be in the midst of those things and still be calm in your heart."
—Anonymous
If you have been diagnosed with cancer, you may feel anything but peaceful. Try using your breath along with imagery to enter into a state of peace. Here's how to begin:
Find a comfortable seated or reclining position.
Close your eyes and begin to deepen your breath.
As you begin to deepen your breath, imagine that you are inhaling the color yellow. As you inhale, draw in yellow, healing energy and allow it to fill your entire body. See this yellow energy filling every crevice of your body, down to your fingertips and toes.
Pause after your inhale and visualize yourself full of this yellow breath.
Slowly begin to exhale. As you exhale, imagine that you are exhaling the color black. The yellow inhale has filled up your body and is now pushing this black exhale out. You may even imagine that this black energy forms into a dark storm cloud and, as you exhale, you push this cloud away from you, out to sea.
Continue to inhale yellow and exhale black, relaxing into your breath and visualizing health.
Variations
Find whatever works for you. You can use your mind and breath to find peace in many ways:
Inhale love; exhale fear.
Inhale peace; exhale anxiety.
Inhale pink; exhale blue.
Inhale healthy cells; exhale cancerous cells.
For additional guidance in increasing mindfulness during your daily activities and bringing meditation into your life, consult your healthcare team or look into meditation and mind-body programs at your cancer center. Rosenbaum offers a free "Loving Kindness" meditation on her Web site, www.mindfulnessforcancer.com which can help you get started.
References
Meditation: An Introduction. National Center for Complementary and Alternative Medicine Web site. Available at: . Accessed April 1, 2009.
Meditation. American Cancer Society Web site. Available at: . Accessed April 1, 2009.