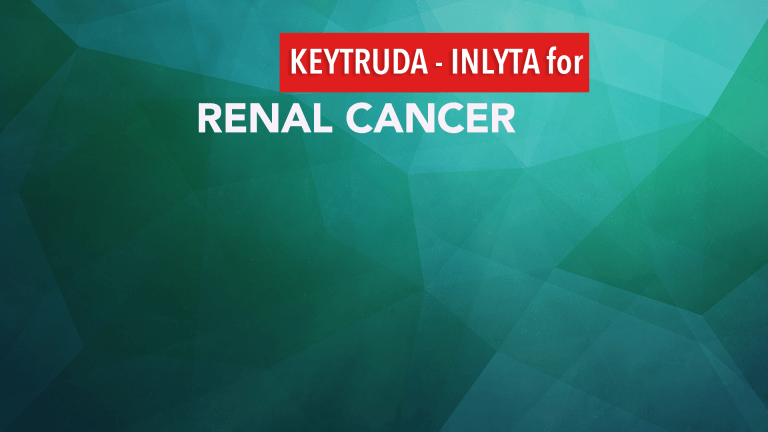 Keytruda Combinations Improve Outcomes in Renal Cell Cancer
Keytruda checkpoint inhibitor Inlyta combo FDA approved - new standard treatment for renal cell cancer. ASCO 2020 update.
by Dr. C.H. Weaver M.D. updated 8/2021
Keytruda® (pembrolizumab) anti-PD-1 therapy in combination with Inlyta® (axitinib), a tyrosine kinase inhibitor (TKI) improved both overall survival and delayed the time to cancer progression compared to Sutent (sunitinib) when used in the first-line treatment of advanced or metastatic renal cell carcinoma (RCC).
Results from Phase 3 KEYNOTE-426 Study presented at the 2019 Genitourinary Cancers Symposium and published in the New England Journal of Medicine showed risk of progression or death reduced by 31% and led to FDA approval.1
Keytruda - Inlyta is the first combination regimen to significantly improve the response to treatment, overall survival, and progression-compared to Sutent. Benefit was seen across all subgroups of advanced renal cell cancer, including favorable, intermediate and poor risk groups, regardless of PD-L1 expression.
Other medications can be combined with Keytruda for effective management of RCC and Keytruda also appears effective in earlier stage cancers. 
Adjuvant Keytruda improves survival in early stage Kidney Cancer
About Renal Cell Carcinoma
Each year in the United States, more than 61,000 people are diagnosed with kidney cancer. The most common type of kidney cancer is RCC, which starts in the lining of very small tubes (tubules) in the kidney. For people with advanced or metastatic RCC (cancer that has spread to other parts of the body), targeted therapies can play an important role in treatment. Approximately 20% to 30% of patients with RCC will have metastases at diagnosis and as many as 40% will demonstrate metastasis after treatment for earlier stage RCC. With a historical 5-year survival rate ranging from 10-12% for patients with advanced RCC, the overall prognosis is poor, but newer therapies are significantly improving outcomes.2,3,
About Keytruda
Keytruda® (pembrolizumab) belongs to a new class of medicines called PD-1 inhibitors that help the immune system recognize and attack cancer. PD-1 is a protein that inhibits certain types of immune responses. Drugs that block PD-1 may enhance the ability of the immune system to fight cancer. Keytruda® works by blocking PD-1. This treatment strategy has previously produced impressive results in melanoma and other cancer types.1
About Inlyta
Inlyta is an oral targeted drug known as a small-molecule tyrosine kinase inhibitor (TKI). It works by blocking certain proteins that play a role in cancer growth. In the US, Inlyta (axitinib) is one of several TKI's used for the treatment of advanced renal cell carcinoma.  
The US Food and Drug Administration initially approved Inlyta®  for the treatment of advanced renal cell  cancer that has not responded to another drug based on a study in 723 patients with metastatic, clear-cell, renal cell cancer. All patients had experienced cancer progression after initial treatment that included Sutent® (sunitinib), Avastin® (bevacizumab), Torisel® (temsirolimus), or cytokine therapy. Study participants were assigned to treatment with either Inlyta or Nexavar® (sorafenib). Inlyta delayed the worsening of the cancer: progression-free survival was 6.7 months among patients treated with Inlyta and 4.7 months among patients treated with Nexavar.
Keynote 0426 Trial Results
According to a report at the ASCO2020 Virtual Scientific Program KEYNOTE-426 continued to confirm Keytruda-Inlyta's benefit when compared with Sutent for the initial treatment of advanced RCC.9
With a median follow-up period of 27 months at the time of reporting the Keytruda-Inlyta combination improved the 24-month overall survival rate to 74% compared with 66% for individuals treated with Sutent alone.
Overall 38% of Keytruda-Inlyta treated patients survive without cancer progression compared to 27% for Sutent 2 years from treatment - the combination decreased the risk of cancer progression or death by 29%.
Keytrude + Inlyta when directly compared to Sutent
Showed a reduction in the risk of progression of disease or death of 31 percent
Achieved a response to treatment of 59.3% compared to 35.7%
Complete response rate of 5.8%
Median duration of response was not reached in the Keytruda combination and is 15.2 months for Sutent
Keytruda plus Lenvima
The Keynote-581 clinical trial compared Lenvima, another TKI in combination with Keytruda to Lenivma in combination with everolimus or Sunitinib as initial treatment for 1,069 patients with advanced RCC. The Keytruda-Lenvima combination regimen was superior-delaying cancer progression and prolonging survival.10
Keytruda plus Lenvima
Reduced the risk of disease progression or death by 61%
Increased survival duration without cancer progression to 24 months compared 9.2 months for sunitinib.
Reduced the risk of death by 34%
Learn More About the Treatment of Renal Cell Cancer...
Combining two precision cancer medicines for the treatment of RCC appears promising. The combination of an immune PD-1 checkpoint inhibitor with a TKI for patients with advanced RCC represents a new approach for the treatment of this disease. Another PD-1 inhibitor, Bavencio® when combined with Inlyta® has also been reported to delay the time to cancer progression in previously untreated patients with advanced RCC.7
References:
mrknewsroom.com/news-release/prescription-medicine-news/fda-approves-mercks-keytruda-pembrolizumab-combination-inlyt
National Cancer Institute: SEER Stat Fact Sheets: Kidney and renal pelvis. Available here. Accessed July 2018.
Ljungberg B, Campbell S and Cho H. The Epidemiology of Renal Cell Carcinoma. Eur Urol. 2011;60:615-621.
American Cancer Society. What is kidney cancer? Available here. Accessed July 2018.
Escudier B, Porta C, Schmidinger M et al Renal cell carcinoma: ESMO clinical practice guidelines for diagnosis, treatment and follow-up. Annal Oncol. 2014; 25(Suppl3):iii49-iii56.
World Cancer Research Fund International: Kidney cancer statistics. Available here
wcrf.org/int/cancer-facts-figures/data-specific-cancers/kidne.... Accessed July 2018.
FDA News Release. FDA approves Inlyta to treat patients with a type of advanced kidney cancer. January 27, 2012.
Plimack ER, Rini BI, Stus V, et al. Pembrolizumab plus axitinib versus sunitinib as first-line therapy for advanced renal cell carcinoma (RCC): Updated analysis of KEYNOTE-426. Presented at: ASCO20 Virtual Scientific Program. J Clin Oncol. 2020;38(suppl):abstr 5001.