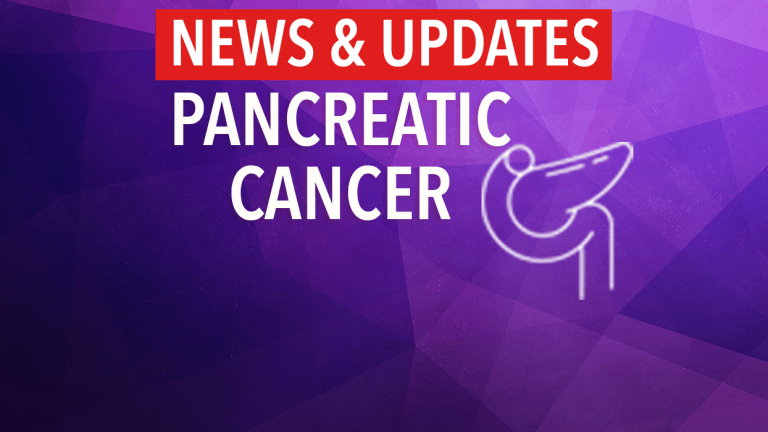 NCCN Updates Pancreatic Cancer Guidelines
NCCN Updates Pancreatic Cancer Guidelines
The National Comprehensive Cancer Network (NCCN), an alliance of 21 leading cancer centers, has updated its guidelines regarding the care of pancreatic cancer patients. The updated guidelines include a new section on supportive care and a greater emphasis on use of neoadjuvant (before surgery) therapy for patients with cancers that are borderline resectable (cancers that can possibly be surgically removed, but that run a risk of incomplete removal).
The pancreas is an organ that is surrounded by the stomach, small intestine, bile ducts (tubes that connect the liver to the small intestine), gallbladder, liver, and spleen. The pancreas helps the body break down food and produces hormones, such as insulin, to regulate the body's storage and use of food.
Each year in the United States, there are roughly 37,000 new diagnoses of pancreatic cancer and 33,000 deaths due to the disease.[[1]](http://news.cancerconnect.com/nccn-updates-pancreatic-cancer-guidelines/#_edn1 "_ednref1") Pancreatic cancer continues to have one of the highest mortality rates of all cancers.
To improve the care of patients with pancreatic cancer, the NCCN recently released updated guidelines regarding the treatment of pancreatic cancer.[[2]](http://news.cancerconnect.com/nccn-updates-pancreatic-cancer-guidelines/#_edn2 "_ednref2") Two notable changes are the addition of a section on "Principles of Palliation and Supportive Care" and greater emphasis on neoadjuvant therapy for patients with borderline resectable pancreatic cancer.
The section on Palliative and Supportive care is intended to "prevent and ameliorate suffering, while ensuring optimal quality of life." The section addresses the management of biliary obstruction; gastric outlet obstruction; severe tumor-associated abdominal pain; depression, pain, and malnutrition; pancreatic insufficiency; and thromboembolic disease.
The section on neoadjuvant therapy notes: "The majority of NCCN institutions prefer upfront neoadjuvant therapy in the setting of borderline resectable disease."
Patients with pancreatic cancer may wish to discuss these updated guidelines with their physician.
References:
[1 American Cancer Society. Cancer Facts & Figures 2007. Available at: (Accessed December 11, 2007).
[2] National Comprehensive Cancer Network. NCCN Updates Pancreatic Adenocarcinoma Guidelines. Available at: (Accessed December 11, 2007).