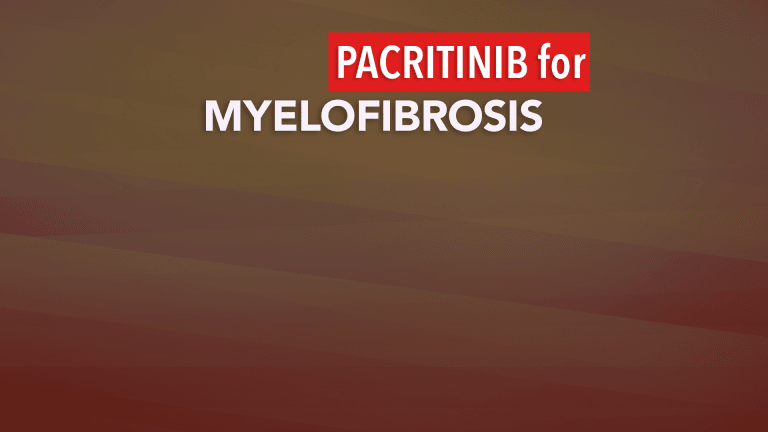 Progress on Pacritinib Development for Treatment of Myelofibrosis
Clinical trials are ongoing evaluating Pacritinib in MF and the FDA plans to review by November 2021
by Dr. C.H. Weaver M.D. updated 6/2021
The full clinical hold implemented by the U.S. Food and Drug Administration (FDA) on all clinical trials conducted under the Investigational New Drug (IND) application for pacritinib was removed and initial data has now been reported as efforts to make this treatment available are ongoing.1 There are currently several clinical trials evaluating pacritinib in Myelofibrosis.3,4
The FDA has granted priority review  for pacritinib as a potential treatment option for patients with myelofibrosis and severe thrombocytopenia, defined as platelet counts less than 50 x 109/L.1 The regulatory agency will make a decision on the NDA by November 30, 2021, under the Prescription Drug User Fee Act; it is not expected to hold an advisory committee meeting to discuss the application, according to CTI BioPharma Corp., the drug developer.7,8
About Myelofibrosis
Myelofibrosis is a type of blood cancer known as a myeloproliferative neoplasm (MPN). It involves the abnormal development and function of bone marrow cells that produce blood cells which leads to the formation of scar tissue in the bone marrow. This can cause anemia, enlargement of the spleen and liver, fatigue, and other problems. In some patients with myelofibrosis, the condition progresses to acute myeloid leukemia.
About Pacritinib
Proteins known as JAK1 and JAK2 may play a role in the development of MPNs, including myelofibrosis, by causing the body to make the wrong number of blood cells. Drugs that suppress JAK1 and JAK2 are used to treat different forms of MPN by reducing the number of abnormal blood cells associated with these disorders. JAK1/JAK2 inhibitors can, however, result in too much suppression of the bone marrow's production of blood cells. Myelosuppression results in low white blood cell and platelet counts which can negatively impact patient health and quality of life.
Pacritinib is designed to fight myelofibrosis by interfering with the kinases JAK2 and FLT3 to potentially keep tumors from developing. Unlike other JAK inhibitors, pacritinib does not cause myelosuppression, which, if safe and effective, could offer an advantage to patients.
In a pivotal clinical trial, pacritinib was shown to be significantly more effective than the best available therapy in reducing splenomegaly and other symptoms in patients with myelofibrosis and thrombocytopenia. The current study (PERSIST-2) is a follow-up that assessed the use of pacritinib in patients with myelofibrosis and thrombocytopenia.2
In the PERSIST-2 study 311 patients with myelofibrosis whose platelet counts were 100,000/μL or less were treated with either pacritinib or the "best available therapy" and directly compared.
The co-primary endpoints were the percentage of patients who attained both a spleen volume reduction of at least 35% as assessed by imaging and a 50% reduction in symptom burden after 24 weeks of therapy.
Overall, pacritinib led to significant improvements in both endpoints compared with the control group. At week 24 18% of patients receiving pacritinib achieved spleen volume reduction of 35% or more compared to 3% of those treated with "best available therapy", and 25% of patients receiving pacritinib achieved a reduction in symptom burden of 50% or greater compared with 14% receiving "best available therapy."
There was no difference in the overall survival between the three groups and the most common side effects from pacritinib were thrombocytopenia and anemia. Perhaps most importantly, the initial concerns regarding excessive mortality due to pacritinib treatment were not observed in the full analysis of mature data, and the survival curves in the three cohorts were not different.
About The FDA Clinical Hold
The investigative agent, pacritinib, being evaluated for treatment of myelofibrosis was been placed on full clinical hold by the United States Food and Drug Administration (FDA). Pacritinib had initially been granted fast-track designation by the FDA for the treatment of intermediate and high-risk myelofibrosis. Results from an earlier clinical trial evaluating pacritinib had demonstrated promising results when compared to best standard therapies in myelofibrosis.
However, side effects that resulted in patient deaths related to bleeding in the brain (intracranial hemorrhage), cardiac arrest and heart failure in the current PERSIST-2 trial resulted in the FDA placing a full clinical hold on pacritinib, including the immediate discontinuation of treatment with pacritinib for all patients.
According to a press release by CTI BioPharma regarding the clinical hold, the FDA has recommended "conducting dose exploration studies for pacritinib in patients with myelofibrosis, submitting final study reports and datasets for PERSIST-1 and PERSIST-2, providing certain notifications, revising relevant statements in the related Investigator's Brochure and informed consent documents, and making certain modifications to protocols. In addition, the FDA recommended that the company request a meeting prior to submitting a response to full clinical hold."
In an earlier clinical trial (the PERSIST-1trial), pacritinib demonstrated significant improvements in spleen volume and overall symptoms among patients with myelofibrosis, compared to best standard therapy (excluding Jakafi). (5,6)
References:
news.cancerconnect.com/pacritinib-clinical-trial-myelofibrosis-now-enrolling-patients/
667 Results of PAC203: A Randomized Phase 2 Dose-Finding Study and Determination of the Recommended Dose of Pacritinib
4175 Pacifica: A Randomized, Controlled Phase 3 Study of Pacritinib Vs. Physician's Choice in Patients with Primary Myelofibrosis, Post Polycythemia Vera Myelofibrosis, or Post Essential Thrombocytopenia Myelofibrosis with Severe Thrombocytopenia.
CTI BioPharma Provides Update On Clinical Hold Of Investigational Agent Pacritinib And New Drug Application In U.S. Available at: investors.ctibiopharma.com/phoenix.zhtml?c=92775&p=RssLanding&cat=news&id=2137027. Accessed April 20, 2016.
Mesa R, Egyed M, Szoke A, et al. Results of the PERSIST-1 phase III study of pacritiib (PAC) versus best available therapy (BAT) in primary myelofibrosis (PMF), post-polychythemia vera myelofibrosis (PPV-MF), or post-essential thrombocythemia-myelofibrosis (PET-MF). Presented at the 2015 ASCO annual meeting: May 29-June 2, 2015. Chicago, IL. Abstract LBA7006.
CTI BioPharma announces completion of rolling submission of new drug application (NDA) for pacritinib in myelofibrosis patients with severe thrombocytopenia. News release. CTI BioPharma Corp. March 31, 2021. Accessed June 1, 2021.
Results of the PERSIST-1 phase III study of pacritinib (PAC) versus best available therapy (BAT) in primary myelofibrosis (PMF), post-polycythemia vera myelofibrosis (PPV-MF), or post-essential thrombocythemia-myelofibrosis (PET-MF). J Clin Oncol. 2015;(suppl 33):LBA7006.