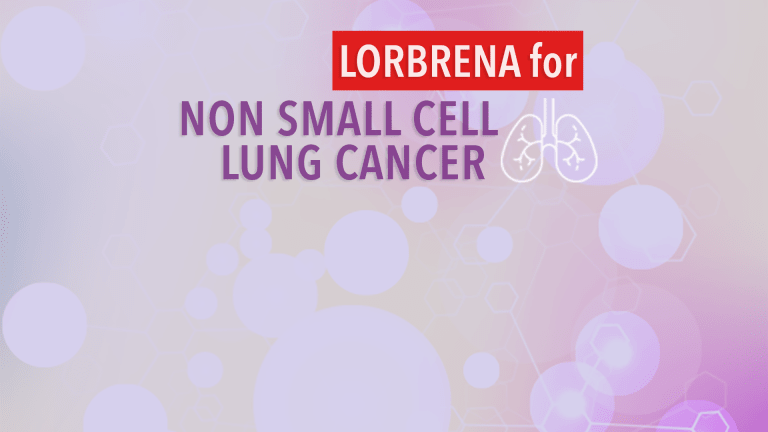 Lorbrena Treatment of ALK-positive Metastatic NSCLC
Lobrena - a third generation ALK inhibitor drug with excellent CNS activity
by Dr. C.H. Weaver M.D. updated 9/2022
The US Food and Drug Administration (FDA) granted full approval to Lorbrena (lorlatinib) for the treatment of patients with anaplastic lymphoma kinase (ALK)-positive metastatic non-small cell lung cancer (NSCLC).
Results of the CROWN clinical trial were published in 2020, and updated in September 2022 and presented to the FDA and other health authorities to support full approval of Lorbrena and to seek approval for an indication that includes previously untreated ALK-positive metastatic NSCLC.1-4
The CROWN clinical trial is a phase 3 comparative trial in which 296 people with previously untreated advanced ALK + NSCLC were treated with either Lorbrena or Xalkori and directly compared. Lorbrena was determined to be better at delaying cancer recurrence than Xalkori.
At 1-year follow-up, 78% of patients treated with Lorbena survived without disease progression compared to 39% of those treated with Xalkori resulting in a 72% reduction in the risk for progression or death with Lorbena.4
Patients also had a higher objective response rate and more patients with brain metastases treated with Lorbena experienced an intracranial response (82% vs. 23%) compared to Xalkori. An intracranial complete response was reporteed in 71% of patients with brain metastases who received Lorbena.5
Up to 7% of NSCLC patients have an abnormal version of the ALK gene. Lung cancers with this abnormality typically occur in non-smokers. The abnormal gene contributes to the growth and development of cancer cells however several precision cancer medicines have been approved over the last few years that target ALK kinase and improve the treatment of individuals with ALK + NSCLC.
About Lorbrena
Lorbrena is a third-generation oral medication that blocks the protein produced by the abnormal ALK gene, which is determined by testing a sample of tumor tissue.
The initial approval of Lorbrena was based on a subgroup of 215 patients with ALK-positive metastatic NSCLC who were previously treated with one or more ALK kinase inhibitors. The overall response rate to Lorbrena treatment was 48%, with 4% complete and 44% partial responses. The estimated median response duration was 12.5 months.
In addition, a 60% response rate was reported among patients with measurable intracranial lesions and the median duration of response in these patients was 19.5 months.1
Lorbrena Shows Greater Efficacy in ALK-Positive vs ALK-Negative NSCLC
Doctors from Massachusetts General Hospital believe that ALK resistance mutations may represent a biomarker that could predict response in previously treated patients.They analyzed the baseline plasma and tumor tissue samples of 198 patients with ALK-positive NSCLC participating in a phase 2 trial of lorbrena and reported their findings in the J of Clinical Oncology.2
ALK mutations were detected in plasma or tissue genotyping in approximately 25% of patients. They found that among patients with resistance to crizotinib, lorbrena effectiveness was comparable between patients with and without ALK mutations. Alternatively, objective response rates were higher among patients with ALK mutations who had not responded to second-generation ALK TKI therapy versus those without ALK mutations.
Lorbrena shows greater effectiveness in patients with ALK mutations compared with patients without ALK mutations.Tumor genotyping for ALK mutations after failure of a second-generation TKI may identify patients who are more likely to derive clinical benefit.
References:
J Clin Oncol. 2019 Mar 20. Epub ahead of print.
LORBRENA® (lorlatinib) Significantly Improves Progression-Free Survival in First-Line ALK-Positive Lung Cancer

Solomon BJ, Bauer TM, Ou SI, et al. Post hoc analysis of lorlatinib intracranial efficacy and safety in patients with ALK-positive advanced non-small-cell lung cancer from the phase III CROWN study. J Clin Oncol. Published online: May 23, 2022. doi:10.1200/JCO.21.02278