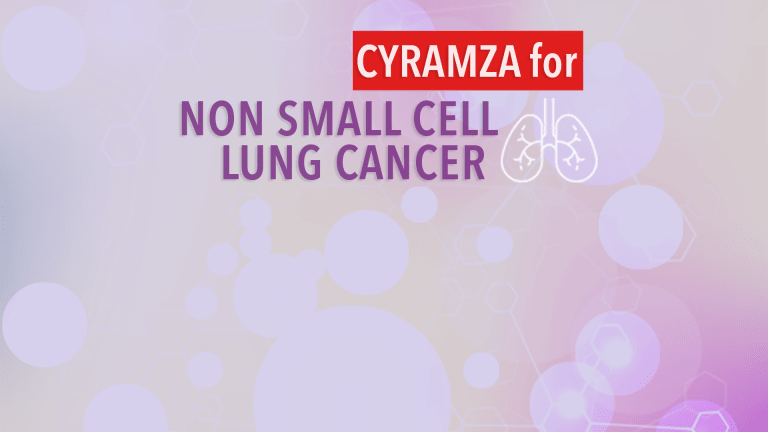 Cyramza Improves Overall Survival and Delays Cancer Recurrence in NSCLC
Cyramza combinations beneficial in the management of EGFR mutated advanced NSCLC and patients failing immunotherapy.
by Dr. C.H. Weaver M.D. 6/2022
Cyramza™ (ramucirumab) when combined with Taxotere® (docetaxel) extends overall survival in patients with non-small cell lung cancer (NSCLC) compared to standard second-line therapy with Taxotere alone. When combined with Tarceva in EGFR positive NSCLC patients, Cyramza also delays cancer progression compared to Tarceva alone when used as initial therapy.1-5
About Cyramza
Cyramza (ramucirumab) is a recombinant human IgG1 monoclonal antibody that targets vascular endothelial growth factor receptor 2 (VEGF-R2) which inhibits the growth of new blood vessels in tumors and, therefore, slows tumor growth.
Cyramza is approved by the US Food and Drug Administration in combination with Taxotere chemotherapy, to treat metastatic NSCLC that has progressed following platinum-based therapy.3,4 In May, 2020, the FDA approved Cyramza plus Tarceva for first-line treatment of patients with metastatic NSCLC with EGFR exon 19 deletions or exon 21 (L858R) mutations.8
Patients with advanced NSCLC are typically treated with immunotherapy as part of their initial therapy. Despite improved survival and clinical benefit, resistance develops. Researchers hypothesized that dual blockade of VEGFR2 with Cyramza and PD-1 with Keytruda could potentially overcome immunotherapy resistance. 
The combination of Cyramza with Keytruda was evaluated and the results reported at ASCO 2022. The combination was found to have significant anti-cancer activity in patients with advanced NSCLC who experienced disease progression following initial treatment with PD-1/PD-L1 immunotherapy and platinum-based doublet chemotherapy. The median overall survival duration was 14.5 months for the combination. The trial is the first in the checkpoint inhibitor immunotherapy–refractory setting to demonstrate a benefit of treatment without a chemotherapy backbone.7
The RELAY Clinical Trial
In June 2019 it was also announced that the phase 3 RELAY study of Cyramza met its primary endpoint of improving progression-free survival. Cyramza when used in combination with Tarceva (erlotinib) when compared to Tarceva alone as a first-line treatment in patients with metastatic NSCLC whose tumors have activating EGFR mutations significantly delayed the time to cancer recurrence.2,5
The RELAY clinical trial evaluated 449 patients with untreated metastatic NSCLC harboring EGFR exon 19 deletion or exon 21 (L858R) substitution mutations. Patients were treated with Tarceva with or without Cyramza and directly compared. Those receiving the Tarceva-Cyramza combination survived on average 19.4 months compared to 12.4 months for those treated with Tarceva alone.
Improvements were also consistently seen across all specified subgroups, including patients with tumors that had exon 19 and 21 mutations. Results of the RELAY clinical trial ultimately led to the US Food and Drug Administration approving Cyramza in combination with Tarceva for first-line treatment of metastatic NSCLC with EGFR exon 19 deletions or exon 21 (L858R) mutations.
Overall survival data is still and will be published in the future however the average survival duration with Cyramza plus Tarceva was 19 months compared to only 7 months for Tarceva alone.5
REVEL Clinical Trial
As part of the REVEL trial, Dr. Maurice Perol et al tested the combination therapy against the standard Taxotere therapy in 1253 stage IV NSCLC patients who had progressed either during or after previous treatment.1
Overall survival for the combination therapy was 10.5 months, while that of the Taxotere arm was 9.1 months. Progression-free survival was 4.5 months versus 3 months. The combination therapy showed an objective response rate of 23%response compared to 14% for Taxotere.
There were a number of grade 3 adverse events associated with the Cyramza treatment, including neutropenia, febrile neutropenia, fatigue, leukopenia, hypertension, and pneumonia. The number of treatment-related adverse events that led to death was comparable.
References:
Perol M, et al. REVEL: A randomized, double-blind, phase III study of docetaxel and ramucirumab versus docetaxel and placebo in the second-line treatment of stage IV non-small cell lung cancer following disease progression after one prior platinum-based therapy. ASCO 2014; Abstract LBA8006.
Lilly's CYRAMZA® (ramucirumab) Phase 3 RELAY Trial Met Primary Endpoint, Significantly Improving Progression-Free Survival in First-Line Treatment of Patients with Metastatic EGFR-Mutated Non-Small Cell Lung Cancer
Larkins E, Scepura B, Blumenthal GM, et al. U.S. Food and Drug Administration approval summary: ramucirumab for the treatment of metastatic non-small cell lung cancer following disease progression on or after platinum-based chemotherapy. Oncologist. 2015;20:1320-1325.
CYRAMZA Prescribing Information. Eli Lilly and Company. Indianapolis, IN.
[Ramucirumab plus erlotinib in patients with untreated, EGFR-mutated, advanced non-small-cell lung cancer (RELAY): a randomised, double-blind, placebo-controlled, phase 3 trial](https://www.thelancet.com/journals/lanonc/article/PIIS1470-2045(19%2930634-5/fulltext)
US Food and Drug Administration. FDA approves ramucirumab plus erlotinib for first-line metastatic NSCLC. Updated June 1, 2020. www.fda.gov/drugs/drug-approvals-and-databases/fda-approves-ramucirumab-plus-erlotinib-first-line-metastatic-nsclc. Accessed June 1, 2020.
Reckamp, KL Redman MW, Dragnev KH, et al. Overall survival from a phase II randomized study of ramucirumab plus pembrolizumab versus standard of care for advanced non–small cell lung cancer previously treated with immunotherapy: Lung-MAP nonmatched sub-study S1800A. J Clin Oncol. 2022;40(suppl 16):9004. doi:10.1200/JCO.2022.40.16_suppl.9004