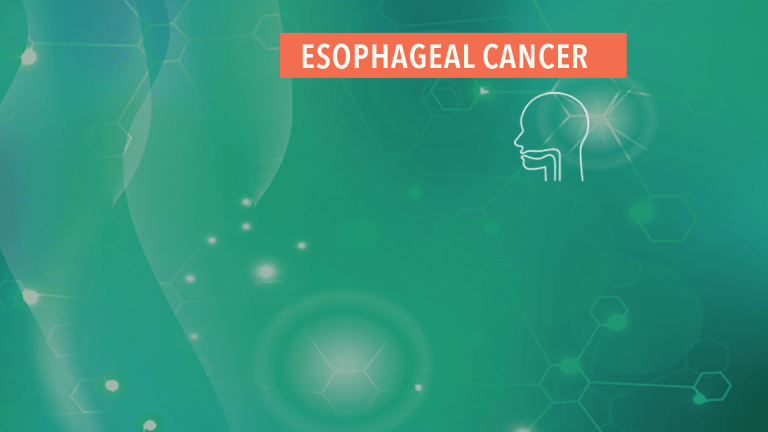 Treatment of Recurrent Esophageal Cancer
Understand treatment options for recurrent esophageal cancer and the role of clinical trials
by Dr. C.H. Weaver M.D. updated 6/2022
Patients with recurrent esophageal cancer have cancer that has recurred after primary treatment.  There are currently no standard curative therapies for treatment of recurrent esophageal cancer. The predominant symptom of esophageal cancer is dysphagia, which simply refers to difficulty in swallowing food and liquids. There are specific treatments that can be administered that can result in short-term benefit and improvement in nutrition. Current treatment approaches are primarily directed at controlling the symptoms of cancer and prolonging a patient's survival. A number of treatment options are currently utilized alone or in combination to achieve optimal results.1-7
Most new treatments are developed in clinical trials. Clinical trials are studies that evaluate the effectiveness of new drugs or treatment strategies. The development of more effective cancer treatments requires that new and innovative therapies be evaluated with cancer patients. Participation in a clinical trial may offer access to better treatments and advance the existing knowledge about treatment of this cancer. Patients who are interested in participating in a clinical trial should discuss the risks and benefits of clinical trials with their physician.
Palliative Surgery
Patients who have recurrent cancer after chemotherapy and/or radiation therapy can be treated with esophagectomy. However, there are usually more surgical complications in patients who have received prior radiation therapy than in patients who undergo surgery as primary treatment.
Surgical Treatment for Esophageal Cancer, Learn More...
Radiation Therapy
Patients who fail surgery alone can often be treated successfully with radiation therapy with or without chemotherapy. Radiation therapy can be extremely effective in temporarily controlling local symptoms from esophageal cancer.
Radiation Therapy for Esophageal Cancer, Learn More...
Additional Systemic Therapy
Precision cancer medicines, chemotherapy and immunotherapy are all forms of systemic treatment that circulate in the blood and can destroy cancer cells throughout the body. Their use for the treatment of recurrent esophageal cancer depends on a patients desire for and ability to tolerate additional treatment. Chemotherapy may still control the cancer but typically for a shorter duration than initial treatment. 
The use of precision medicines and immunotherapy is determined by performing biomarker tests that identify which therapy will be most effective. Cancer patients that have not undergone NGS testing to look for biomarkers that can be targeted with precision medicines and immunotherapy should discuss that option with their doctor. 
Chemotherapy
Chemotherapy is any treatment involving the use of drugs to kill cancer cells. Cancer chemotherapy may consist of single drugs or combinations of drugs, and can be administered through a vein, injected into a body cavity, or delivered orally in the form of a pill. Chemotherapy is not "targeted" to the cancer and acts more generally in the body's cells which can result in more side effects.
Immunotherapy
Immunotherapy is also a standard treatment for cancer and can be used alone or in combination with other systemic therapies. Immunotherapy either works to stimulate your immune system to attach the cancer or remove obstacles that prevent your immune system from working normally.
Precision Cancer Medicines
Not all cancer cells are alike. They may differ from one another based on what genes have mutations. Molecular testing can be performed to test for certain genetic mutations or the proteins they produce, and the results can help identify newer precision cancer medicines that target cancer cells with specific genetic mutations.
Several precision medicines been approved for the treatment of advanced esophageal cancer or are being developed in clinical trials. In order to identify which drugs can be used your physician needs to have NGS-biomarker testing performed on the cancer tissue or blood. The following are known targets for available precision cancer medicines.
Chemotherapy and Radiation Therapy
For patients who have not received radiation or chemotherapy, these treatments can be combined. One study evaluated 19 patients with recurrence of esophageal squamous cell cancer after surgical treatment. Thirteen patients had recurrences in the local area and 6 had metastatic cancer. Treatment of recurrence was combined chemotherapy and radiation therapy for 12 patients. Other treatments included chemotherapy alone, esophageal prosthesis or surgery. There were 7 objective responses among the group treated with chemotherapy and radiation therapy and none in the patients treated with chemotherapy alone. Survival of the 12 patients treated by combined radiation and chemotherapy was 66% at one year and 22% at 2 years with an average survival time of 16 months. These doctors concluded that active medical treatment of recurrent esophageal cancer by combined chemotherapy and radiation therapy provided a significant prolongation of survival with moderate toxicity.1
Other Treatment Modalities
Many other treatment modalities are utilized to prolong survival and quality of life for patients with esophageal cancer.
Thermal laser: Thermal laser coagulation performed by endoscopy can provide temporary relief of dysphagia. Laser ablation appears to be most helpful for treating polypoid cancers that grow into the esophagus causing occlusion. Laser treatment is less effective for upper esophageal cancers or cancers of the gastroesophageal junction. A multi-center clinical trial has compared photodynamic laser therapy to thermal laser ablation for the palliation of patients with esophageal cancer who experience difficulty swallowing food. In general, photodynamic laser therapy was more effective than thermal laser treatment.
Photodynamic treatment: Photodynamic ablation has been used for the palliation of patients with esophageal cancer. Photodynamic treatment involves injection of a light sensitizer into a vein, which is then taken up by cells. A laser is then directed at the cancer cells. The reaction between the laser and the light sensitizer destroys the cells. The objective response rate at one month with this approach has been reported to be 32% for patients receiving photodynamic laser treatment, which compared favorably to the 20% reported for patients receiving thermal-laser treatment.
Esophageal dilatation: Frequently, after the administration of chemotherapy, radiation therapy, laser or photodynamic treatment, the area of the esophagus with cancer can be constricted or narrowed. Narrowing of the esophagus may be due to recurrent cancer or to treatment induced strictures or both. Relief of this constriction by dilation can temporarily improve swallowing. During esophageal dilation, a physician uses endoscopic or fluoroscopic guidance to pass flexible dilators (mercury filled rubber tubes) through the mouth. Increasing diameters of dilators, called bougies, are gradually introduced until the difficulty in swallowing resolves. One clinical study reported a 92% success rate for dilation. In a large study of 154 patients in whom a total of 3,140 dilators were passed before, during and after radiation therapy there were two perforations. The duration of symptom relief after successful dilatation varies from days to weeks.
Esophageal stents or prostheses: Stents are rigid tubes that stay in the esophagus to keep it open. Recently, a clinical study evaluated the use of esophageal stents over a 4-year period for the management of patients with inoperable esophageal cancer. In a group of 160 patients with esophageal cancer,159 had stents placed successfully. In this study, a traditional rigid tube was placed in 84 patients and metallic self-expanding stents were placed in 75 patients. After placement of the stents, chemotherapy and/or radiation therapy was administered to 82 patients. The results indicated that 11% of patients had complications, including displacement of the stent, incomplete expansion of the stent, perforation of the esophagus or bleeding. Swallowing was improved in 97% of patients. These doctors concluded that placement of stents to improve swallowing was a relatively safe palliative procedure. Self-expanding metallic stents were thought to be preferable to rigid stents for maintaining an open esophagus.
Strategies to Improve Treatment
The progress that has been made in the treatment of esophageal cancer has resulted from improved patient and physician participation in clinical studies. Currently, there are several areas of active exploration aimed at improving the treatment of esophageal cancer.
References:
https://www.businesswire.com/news/home/20200902005293/en/New-Scientific-Data-ESMO-Virtual-Congress-2020, Abstract #LBA51
Presentation #LBA6_PR - featured in a Presidential Symposium at the European Society for Medical Oncology (ESMO) Virtual Congress 2020 on September 21 from 18:30-18:42 CEST.
(https://www.thelancet.com/journals/lanonc/article/PIIS1470-2045(19%2930088-9/fulltext)
Lancet Oncol. 2019 May 20. Epub ahead of print.
Lorenzen S, et al. Abstract 4023. Presented at: ASCO Annual Meeting; May 31- June 4, 2019; Chicago.
​