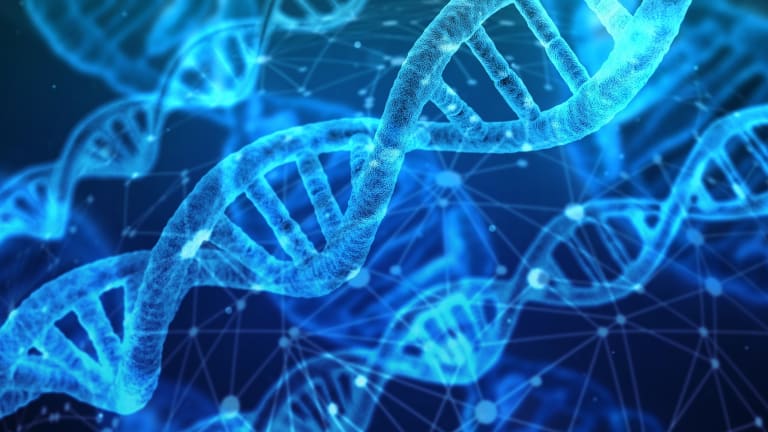 Esophageal Cancer Survival Improved Using Precision Cancer Medicines
Genomic testing for EGFR HER2 and other cancer driving mutations and key biomarkers can help determine optimal treatment
by C.H. Weaver M.D. 6/2022
The purpose of precision cancer medicine is to define the genomic alterations in an esophageal cancers DNA that are driving the growth of that specific cancer. Precision cancer medicine utilizes molecular diagnostic & genomic testing, including DNA sequencing, to identify cancer-driving abnormalities in a cancer's genome. Once a genetic abnormality is identified, a specific targeted therapy can be designed to attack a specific mutation or other cancer-related change in the DNA programming of the cancer cells. Precision cancer medicine uses targeted drugs and immunotherapies engineered to directly attack the cancer cells with specific abnormalities, leaving normal cells largely unharmed.
By testing a cancer for specific unique biomarkers doctors can offer the most personalized treatment approach utilizing precision medicines. There are increasing numbers of precision cancer medicines that can target cancer driving mutations and more being developed in clinical trials. Patients with esophageal cancer should ensure their doctors perform genomic biomarker testing on their cancer and discuss the role of precision medicines in their treatment planning. Genomic testing can also be performed on a blood sample.
Currently there are several genomic mutations that can be targeted with precision cancer medicines.
HER2: The HER2 pathway is a biological pathway involved in cellular replication and growth. Precision cancer medicines that target HER2 have made important contributions to improving outcomes among women with HER2-positive breast cancer. Some gastric and esophageal cancers also over express the HER2 protein and are referred to as HER2-positive. Precision cancer medications that block the HER2-protein can be used for the treatment of both early and more advanced stage HER2-positive esophageal cancers.
Herceptin: The U.S. Food and Drug Administration (FDA) expanded the approval of the anti HER2 therapy Herceptin® (trastuzumab) to include the initial treatment of HER2-positive metastatic cancer of the gastroesophageal junction in combination with chemotherapy based on the results of a Phase III clinical trial. Treatment with Herceptin® improved survival among patients with HER2-positive, advanced and inoperable stomach cancer. Research also suggests that adjuvant therapy with Herceptin may increase overall survival in advanced gastroesophageal cancer compared with chemotherapy alone.1,2 Several more effective precision cancer medicines targeting HER2 are in development.
Enhertu(trastuzumab deruxtecan): ADCs are a type of targeted cancer medicine that deliver cytotoxic chemotherapy ("payload") to cancer cells via a linker attached to a monoclonal antibody that binds to a specific target expressed on cancer cells. Enhertu is a smart chemotherapy comprised of a humanized HER2 antibody attached to a novel topoisomerase I inhibitor (DXd) payload by a tetrapeptide linker. It is designed to deliver enhanced cell destruction upon release inside the cell and reduce systemic exposure to the cytotoxic payload (or chemotherapy) compared to the way chemotherapy is commonly delivered. Treatment with Enhertu results in clinically meaningful improvement in overall survival in patients with HER2-positive advanced gastric or gastroesophageal junction cancer.5
Epidermal growth factor receptor: A mutation in EGFR occurs in up to 1 in 6 individuals with esophageal cancer. EGFR is involved in cellular growth and replication. Some esophageal cancers produce too much EGFR and this leads to more rapid growth of the cancer. Some medicines specifically target EGFR and the spread of cancer can be reduced or delayed. Researchers have reported that the anti-EGFR medication Iressa® improved survival in individuals with advanced disease by up to six months, and sometimes beyond. There are several EGFR drugs currently available and all patients with esophageal cancer should make sure they are tested for EGFR, and if positive should discuss how anti-EGFR precision cancer medicines can improve their treatment options.
TRK + Cancers: Tropomyosin receptor kinases (TRK) fusions are rare chromosomal abnormalities that occur when one of the NTRK genes (NTRK1, NTRK2, NTRK3) becomes abnormally connected to another, unrelated gene (e.g. ETV6, LMNA, TPM3). This abnormality results in uncontrolled TRK signaling that can lead to cancer. Several disease agnostic treatments have been shown to induce responses, occasionally durably, in patients with pancreatic cancer. Tropomyosin receptor kinase inhibitors which target TRKA, TRKB, TRKC, ROS1 and ALK encoded by NTRK1, NTRK2, NTRK3, ROS1 and ALK, respectively are associated with response rates exceeding 75%.3,6,7

Checkpoint Inhibitors: Checkpoint inhibitors are a novel precision cancer immunotherapy medication that helps to restore the body's immune system in fighting cancer by releasing checkpoints that cancer uses to shut down the immune system. PD-1 and PD-L1 are proteins that inhibit certain types of immune responses, allowing cancer cells to evade detection and attack by certain immune cells in the body. A checkpoint inhibitor can block the PD-1 and PD-L1 pathway and enhance the ability of the immune system to fight cancer. By blocking the binding of the PD-L1 ligand these drugs restore an immune cells' ability to recognize and fight the esophageal cancer cells. A diagnostic test to measure the level of PD-L1 is available.4
Data from Phase 3 clinical trials evaluating checkpoint inhibitors in combination with platinum-based chemotherapy for the first-line treatment of patients with locally advanced or metastatic esophageal and gastroesophageal junction (GEJ) cancer was featured during a Presidential Symposium at the European Society for Medical Oncology (ESMO) Virtual Congress 2020 on Monday, Sept. 21 The study found that checkpoint inhibitor immunotherapy when combined with chemotherapy improved the response to treatment, delayed cancer progression, and prolonged survival.
About KEYNOTE-590
KEYNOTE-590 is a Phase 3, randomized, double-blind clinical trial that enrolled 749 patients with locally advanced or metastatic esophageal carcinoma (including esophageal squamous cell carcinoma and adenocarcinoma of the esophagus) to compare treatment with Keytruda in combination with chemotherapy or chemotherapy alone regardless of histology or PD-L1 expression status.
At the first interim analysis, after a median follow-up of 10.8 months, Keytruda in combination with chemotherapy
Produced an overall response to treatment of 45% versus 29.3% for chemotherapy.
Demonstrated superior survival - the median survival duration was 12.4 months in the Keytruda combination arm versus 9.8 months for chemotherapy. In patients with ESCC whose tumors expressed PD-L1 (CPS ≥10), the median OS was 13.9 months in the Keytruda combination arm versus 8.8 months for chemotherapy alone.
Delayed cancer progression reducing the risk of disease progression or death by 35% or more than a third.
Treatment-related side effects led to discontinuation of treatment in 19.5% of patients in the Keytruda combination arm and 11.6% of patients in the chemotherapy arm.
About CheckMate -649
Checkmate-649 compared Opdivo plus chemotherapy and Opdivo plus Yervoy (ipilimumab) to chemotherapy alone as the initial treatment for patients with previously untreated, non-HER2-positive, advanced or metastatic gastric cancer, GEJ cancer or esophageal adenocarcinoma in patients with a combined positive score (CPS) ≥ 5. The median survival duration was 14.4 months compared to 11.1 months for chemotherapy alone among PD-L1 positive patients with CPS ≥ 5.2
References:
Genentech News Release. FDA Approves Herceptin for HER2-positive metastatic stomach cancer. October 20, 2010.
Bartley A, Washington M, Colasacco C, et al. HER2 Testing and Clinical Decision Making in Gastroesophageal Adenocarcinoma: Guideline From the College of American Pathologists, American Society for Clinical Pathology, and the American Society of Clinical Oncology. DOI: 10.1200/JCO.2016.69.4836 Journal of Clinical Oncology– published online before print November 14, 2016.
US Food and Drug Administration. FDA approves pembrolizumab for advanced esophageal squamous cell cancer. Updated July 31, 2019. . Accessed July 31, 2019.
[https://www.thelancet.com/journals/lanonc/article/PIIS1470-2045(19)30088-9/fulltext]
(https://www.thelancet.com/journals/lanonc/article/PIIS1470-2045(19%2930088-9/fulltext)
Lancet Oncol. 2019 May 20. Epub ahead of print.
Copyright © 2018 CancerConnect. All Rights Reserved.