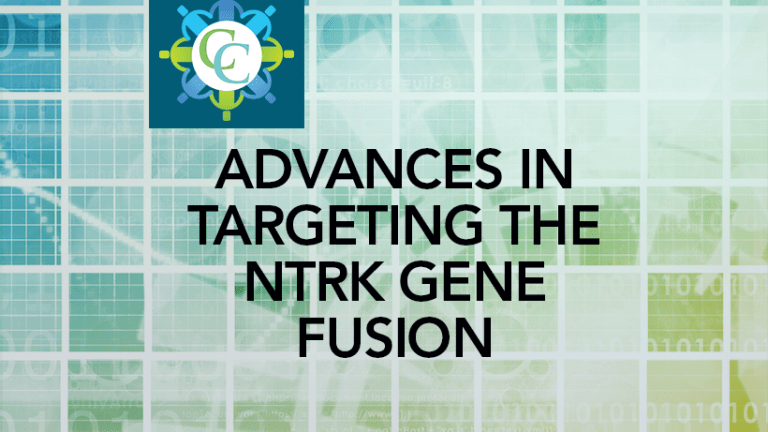 Vitrakvi® - Larotrectinib FDA Approved for Treatment of NTRK + Cancers
Neurotrophic receptor tyrosine kinase (NTRK) gene fusion mutations can be treated irrespective of origin - effective in Lung Cancer
by Dr. C.H. Weaver M.D. updated 4/2022
The U.S. Food and Drug Administration (FDA) approved Vitrakvi® (larotrectinib), the first ever oral TRK inhibitor, for the treatment of adult and pediatric patients with solid tumors that have a neurotrophic receptor tyrosine kinase (NTRK) gene fusion without a known acquired resistance mutation, are metastatic or where surgical resection is likely to result in severe morbidity, and have no satisfactory alternative treatments or that have progressed following treatment.
Vitrakvi is the first treatment to receive a tumor-agnostic indication at the time of initial FDA approval. In clinical trials of patients with TRK fusion cancer, Vitrakvi demonstrated a response rate of 75 percent including a 22% complete response rate.2
Clinical data from three ongoing larotrectinib (LOXO-101) clinical trials in patients whose tumors harbor tropomyosin receptor kinase (TRK) fusions demonstrating a 76% confirmed objective response rate were recently published in the New England Journal of Medicine after an initial summary presentation at the American Society of Clinical Oncology in 2017.1,2
Larotrectinib received Breakthrough Therapy Designation from the FDA in July 2016, for the treatment of unresectable or metastatic solid tumors with NTRK-fusion proteins in adult and pediatric patients who require systemic therapy and who have either progressed following prior treatment or who have no acceptable alternative treatments. Larotrectinib appears to deliver consistent and durable responses in TRK fusion patients across all ages with few side effects.
Rare Mutation
Larotrectinib is a potent, oral and selective precision cancer medicine for the treatment of patients with cancers that harbor abnormalities involving the tropomyosin receptor kinases (TRKs). Growing research suggests that the NTRK genes, which encode for TRKs, can become abnormally fused to other genes, resulting in growth signals that can lead to cancer in many sites of the body. Larotrectinib targets the TRK fusion gene which occurs rarely in sarcomas fibrosarcomas and a variety of other cancers.
Response to Vitrakvi by primary cancer location.
TRK fusions are chromosomal abnormalities that occur when one of the NTRK genes (NTRK1, NTRK2, NTRK3) becomes abnormally connected to another, unrelated gene (e.g. ETV6, LMNA, TPM3). This abnormality results in uncontrolled TRK signaling that can lead to cancer. TRK fusions occur rarely but broadly in various adult and pediatric solid tumors including sarcomas, fibrosarcomas, and gastrointestinal stromal tumors (GIST). Although TRK fusions can be identified through various next-generation sequencing tests, patients should ask their physician if the test they order specifically "looked for NTRK fusions" because not all commercially available tests measure NTRK.
The larotrectinib TRK fusion story fulfills the promise of precision medicine, where tumor genetics rather than tumor site of origin define the treatment approach. It is now incumbent upon the clinical oncology and pathology communities to examine our testing paradigms, so that TRK fusions and other actionable biomarkers become part of the standard sarcoma patient workup.
Vitrakvi in NSCLC
The overall response rate was 73% with a median duration of response in 15 advanced NSCLC patients. Progression-free survival, and overall survival were 34 months, and 41 months respectively.  Among patients with CNS metastases, the response rate was 63%.
For additional information about the larotrectinib clinical trials, patients and physicians can contact the Loxo Oncology Physician and Patient Clinical Trial Hotline at 1-855-NTRK-123 or visit www.loxooncologytrials.com.
Keep Current with Advances in Lung Cancer Treatment Here.
References:
www.bayer.us/en/newsroom/press-releases/article/?id=123256
www.nejm.org/doi/full/10.1056/NEJMoa1714448?query=featured_home
mavendoctors.io/cancerconnect/lung-cancer/early-imaging-with-pet-does-not-reduce-number-of-diagnostic-tests-for-cancer-guVoQHxUQEOdeKOTHRo75g/
Drilon A, Tan D, Lassen U, et al. JCO Precis Oncol. 2022 Jan;6:e2100418. doi:10.1200/PO.21.00418.