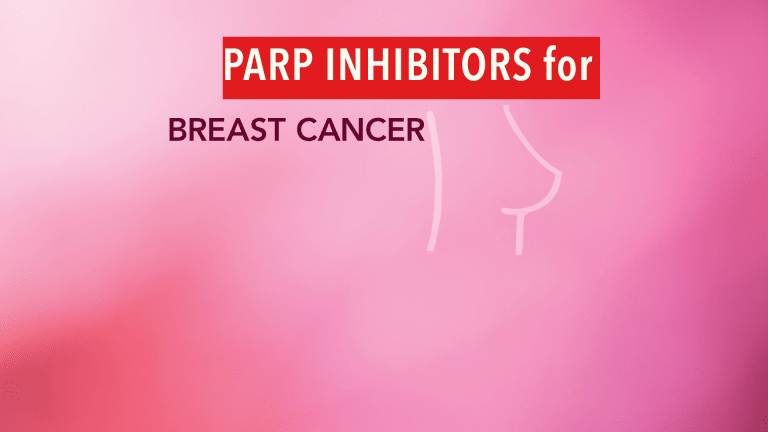 PARP Inhibitors Slow Spread of Inherited Breast Cancer Caused by BRCA Mutations.
PARP Inhibitors improve outcomes in BRCA mutated breast cancer. ASCO 2021 trial update suggests benefit for early and late stage cancers
by Dr. C.H. Weaver M.D. updated 6/2021
The US Food and Drug Administration (FDA) approved Lynparza (olaparib) for treatment of metastatic breast cancer in patients who carry the specific inherited BRCA mutation and data released at the 2021 American Society of Clinical Oncolgy Annual Meetings suggests Lynparza may benefit women with earlier stage breast cancers as well. Lynparza belongs to a class of precision cancer medicines known as "PARP" inhibitors. Lynparza and other PARP inhibitors were developed to treat BRCA mutated ovarian cancer and are increasingly used to treat other BRCA mutated cancers including breast, prostate and pancreatic cancer.1-7
All patients with breast cancer should be evaluated for BRCA 1 and 2 can be identified by using the FDA-approved genetic test, BRACAnalysis CDx (Myriad Genetic Laboratories).
About BRCA-mutated Breast Cancer
Breast cancer is the most common type of cancer in women, with some 250,000 individuals likely to be diagnosed in the U.S. this year. About 3 to 5 percent of breast cancers are in people who inherited BRCA mutations. Mutations in the BRCA gene raise the risk of cancer because they make the body less likely to repair damage to its DNA, making the mutations that lead to cancer more likely. There has been a trend in recent years that these women opt for double mastectomies in order to lower their cancer risk.
About PARP Inhibitors
The poly ADP-ribose polymerase (PARP) enzyme plays a role in DNA repair, including the repair of DNA damage from chemotherapy. Precision cancer medicines that target and inhibit this enzyme may contribute to cancer cell death and increased sensitivity to chemotherapy and are called PARP inhibitors. By blocking this enzyme, DNA inside the cancerous cells is less likely to be repaired, leading to cell death and possibly a slow-down or stoppage of tumor growth.
Lynparza Significantly Improved Disease-Free Survival in Patients With High-Risk Early-Stage HER2-Negative Breast Cancer & BRCA 1/2 Mutations
The addition of 1 year of the PARP inhibitor Lynparza after completion of standard neoadjuvant or adjuvant chemotherapy, surgery and radiation significantly improved cancer free survival in patients with BRCA1/2 germline mutations and high-risk early-stage breast cancer that is negative for human epidermal growth factor receptor 2 (HER2).
In the Olympia A trial 1,836 patients with germline (inherited) BRCA1 or BRCA2 mutations and high-risk early breast cancer that was negative for over expression of HER2 were treated with Lynparza or no additional therapy after standard adjuvant treatment and directly compared. All participants had already received standard adjuvant or neoadjuvant chemotherapy, surgery and radiation therapy if needed for early-stage breast cancer disease. 
Patients treated with Lynparza experienced improved cancer free survival, 86% compared to 77% for individuals not receiving the PARP inhibitor. While 3-year estimated overall survival was also greater with Lynparza, however the difference was not statistically significant at the time of this interim analysis at 2.5 years median follow up.
The trial results highlight the need for genetic testing for BRCA mutations in patients diagnosed with high-risk early-stage breast cancer. These results could have an important impact on treatment decisions for this patient population, possibly including the use of a PARP inhibitor in the adjuvant setting.
Lynparza in BRCA-mutated HER 2 Negative Advanced Breast Cancer
Lynparza is a PARP inhibitor that blocks enzymes involved in repairing damaged DNA. It was initially approved for women with heavily pretreated ovarian cancer that is associated with defective BRCA genes and was the first PARP inhibitor approved for the treatment of breast cancer.
The safety and effectiveness of Lynparza in the treatment of advanced breast cancer were determined on the basis of findings from the OlympyiAD clinical trial, a randomized clinical trial of 302 patients with HER2-negative metastatic breast cancer with a germline BRCA mutation. In the OlympyiAD clinical study of 302 women whose breast cancer had spread, Lynparza reduced the risk of cancer growing by 42% compared to treatment with chemotherapy. Overall 60% of the patients who received Lynparza experienced a response compared to only 29% of those treated with chemotherapy. The time to cancer progression was delayed almost twice as long for Lynparza treated patients compared to those receiving chemotherapy.
This was the first comparative clinical trial in breast cancer that shows PARP inhibitors are superior to chemotherapy for HER2-negative metastatic breast cancer patients who have a BRCA mutation.
Interim results in a real-world population of patients with HER2-negative metastatic breast cancer with germline BRCA mutations were published at ASCO 2020 and were consistent with the OlympiAD study, supporting Lynparzaas a chemotherapy-free alternative treatment for patients with advanced breast cancer with germline BRCA mutations.3
The OlympiA clinical trial evaluated Lynparza tablets as adjuvant treatment in patients with gBRCAm high-risk HER2-negative early stage breast cancer, who have completed definitive local treatment and neoadjuvant or adjuvant chemotherapy. Interium analyses suggests that Lynparza demonstrated a clinical benefit for patients with germline BRCA-mutated high-risk human epidermal growth factor receptor 2 (HER2)-negative early breast cancer-full report to be published shortly.6
Veliparib in BRCA-mutated Metastatic Breast Cancer
The addition of the PARP inhibitor veliparib to carboplatin and paclitaxel chemotherapy significantly delays cancer progression for patients with metastatic breast cancer who have germline BRCA mutations.2
In a clinical study 509 previously treated patients with germline BRCA1- or BRCA2-mutated metastatic breast cancer received treatment with carboplatin and paclitaxel chemotherapy with or without the PARP inhibitor veliparib and were directly compared.
Analyses of the women treated with or without veliparib performed a median of about 3 years after beginning treatment showed that at 2 years survival without cancer progression was 33.6% with and 25.7% without veliparib. The benefit persisted at 3 years with 19.8% of veliparib treated patients surviving cancer free compared to 10.7% of those treated with chemotherapy alone.
The treatment regimen was well-tolerated and it did not compromise the administration of chemotherapy and the most common significant side effects with the veliparib regimen were anemia, neutropenia and thrombocytopenia.4,5
References:
Robson M., Im SA., Senkus E., et al, OlympiAD: Phase III trial of olaparib monotherapy versus chemotherapy for patients (pts) with HER2-negative metastatic breast cancer (mBC) and a germline BRCA mutation (gBRCAm), Presented at the American Society of Clinical Oncology Annual Meeting, Chicago; June 2-6, 2017.
Dieras VC, et al. Abstract LBA9. Presented at: European Society for Medical Oncology Congress; Sept. 27-Oct. 1, 2019; Barcelona, Spain.
Gelmon KA, Fasching PA, Couch F, et al. Real-world clinical effectiveness and safety of olaparib monotherapy in HER2-negative gBRCA-mutated metastatic breast cancer: Phase IIIb LUCY interim analysis. Presented at: the 2020 ASCO Annual Meeting; May 29-31, 2020. Abstract 1087.
[Diéras V, et al "Veliparib with carboplatin and paclitaxel in BRCA-mutated advanced breast cancer (BROCADE3): A randomized, double-blind, placebo-controlled phase III trial" Lancet Oncol 2020; DOI: 10.1016/S1470-2045(20)30447-2.](https://www.thelancet.com/journals/lanonc/article/PIIS1470-2045(20%2930447-2/fulltext)
[Telli M, et al "BROCADE3: A challenge to the treatment paradigm in BRCA breast cancer?" Lancet Oncol 2020; DOI: 10.1016/S1470-2045(20)30431-9.](https://www.thelancet.com/journals/lanonc/article/PIIS1470-2045(20%2930431-9/fulltext)
ClinicalTrials.gov. Olaparib as Adjuvant Treatment in Patients with Germline BRCA Mutated High Risk HER2 Negative Primary Breast Cancer (OlympiA). Available at . Accessed February 2021.