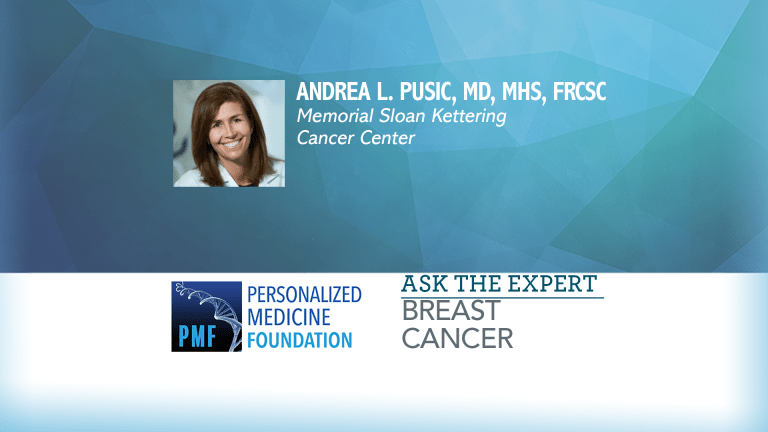 Ask The Expert from Sloan Kettering Cancer Center About Breast Reconstruction
Making Informed Decisions about Breast Reconstruction, Dr. Andrea Pusic M.D. of Memorial Sloan Kettering Cancer Center
Memorial Sloan Kettering Cancer Center expert Andrea L. Pusic, MD, MHS, FRCSC, discussed and answered participants' questions about reconstruction after breast cancer surgery.
Dr. Pusic is a plastic surgeon who specializes in reconstruction after cancer surgery. She performs a broad range of reconstructive surgeries using a variety of state-of-the-art techniques. Dr. Pusic has a strong interest in breast reconstruction, and is involved in a number of advocacy, outreach, and education initiatives for breast cancer survivors. Click here to learn more about Dr. Pusic.
Choosing to have breast reconstruction after surgical treatment for breast cancer may help to improve concerns about body image and quality of life as well as mitigate the psychological, social, sexual, and physical impact of treatment. Dr. Pusic will provide an overview of breast reconstruction options, the factors involved in determining the ideal surgical approach and treatment strategy, and how patient satisfaction and outcomes are being improved.
Join the conversation and Connect with others on CancerConnect - the leading social community for advocates, experts, and patients.
This Ask the Expert Series is made possible through support from the Personalized Medicine Foundation, CancerConnect and the Memorial Sloan Kettering Cancer Institute. Ask the Expert content and programs are not intended to be a substitute for healthcare professional medical advice, diagnosis, or treatment. Information should be used to further an individuals discussion with their managing healthcare team or providers. Speak to your healthcare provider about any questions you may have regarding your health.
The Ask The Expert Series is made possible by support fromThe Personalized Medicine Foundation, Incyte Oncology, Abbvie, and CancerConnect. The "Ask The Expert" series is not medical advice nor is it a substitute for your doctor. It should serve as a guide to facilitate access to additional information and enhancement of a shared decision making process with your treating physician.