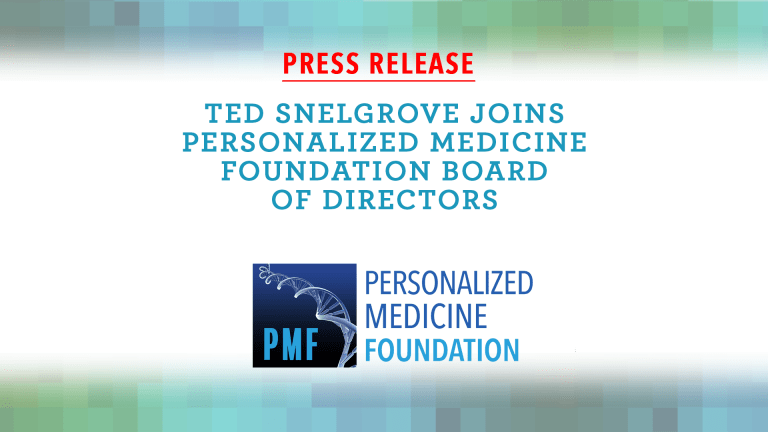 Ted Snelgrove Joins Personalized Medicine Foundation Board of Directors
The Personalized Medicine Foundation (PMF) a leading cancer patient advocacy organization focused on patient education
Ketchum Idaho, November 23.2020
The Personalized Medicine Foundation (PMF) a leading cancer patient advocacy organization focused on patient education, support and access to information on precision cancer medicines is pleased to announce that "Ted" Snelgrove is joining the PMF Board of Directors.
With more than 30 years of experience bringing novel precision medicine products to cancer patients Mr. Snelgrove's experience and relationships will be invaluable to the PMF. Mr. Snelgrove has spent years working with oncologists and advocacy organizations to help them better meet cancer patients needs. He is uniquely qualified to support the PMF in that he has significant experience in both molecular diagnostic and therapeutic applications that are now widely adopted in medicine. He received an MBA from the University of Michigan and previously served as an officer in the US Navy.
About the Personalized Medicine Foundation
The mission of the Personalized Medicine Foundation is to help individuals impacted by a cancer diagnosis understand the growing role of genetics, genomics and precision medicines in the treatment of their cancer and provide a community where rapidly advancing treatment information essential to personalized cancer care can be accessed and shared in a safe environment. This has become increasingly important as cancer patients defer or delay cancer treatment as a result of the pandemic this year.
In 2020 record numbers of cancer patients lost access to traditional information sources, and their doctors as a result of the COVID-19 pandemic and the government response. In fact, 2020 has become the single greatest health care crises ever facing cancer patients. As cancer patients turned to the internet in record numbers PMF programs served over 1.8 million individuals in 2020 as requests for PMF programs and services grew.
PMF accomplishes it mission through the following atPMF.org
· Production and distribution of expert-authored, cancer-specific content programming.
· PMF is part of the Cancer Connect Social Network for cancer patients along with leading U.S. Cancer Centers including Dana Farber, University of California, The James Ohio State, Roswell Park and others.
· Cancer First Call – Concierge Service
To meet these growing needs the PMF is also launching the "Ask the Expert – What You Need to Know About COVID-19 and Cancer initiative in December in collaboration with leading oncologists from Harvard-Dana Farber, The Mayo Clinic, Memorial Sloan Kettering and the Univ of California San Francisco.
It is the mission of the PMF to educate and support patients about the increasing opportunity and role that personalized medicine will play in the diagnosis and treatment of their cancer.
For more information contact chweaver@personalizedmedicinefoundation.org