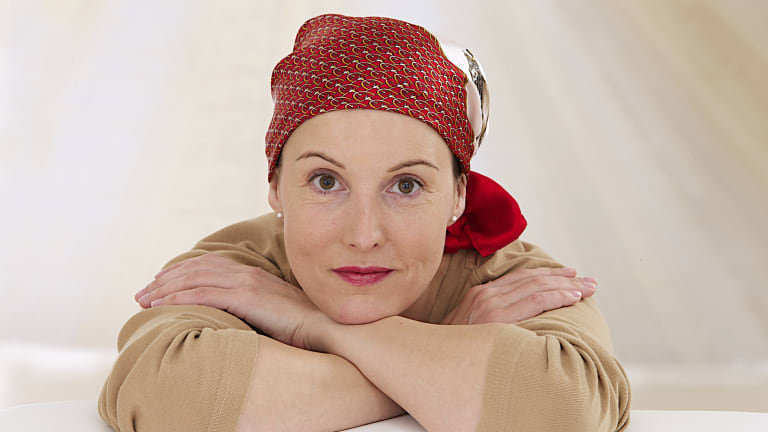 Ovarian Survivor Profile
I was busy as a wife, mom, and grandmother of four when I was diagnosed with ovarian cancer at the age of 56.
by CancerConnect, Medically Reviewed by Dr. C.H. Weaver M.D. 5/2022
In the spring and the summer of 2010, I noticed that I was experiencing an exceptional amount of gas. I felt fine, though; and when I went for my annual physical exam at the end of August, I never even mentioned the gas to my doctor. My physical exam and blood work all came back fine, and I thought all was well. Then, in early September, I began having symptoms of a urinary tract infection (UTI). When a urinalysis showed no infection but symptoms persisted, I became concerned.
Ovarian cancer was no stranger in my life, as my mom had been diagnosed 30 years earlier when she was in her fifties. For that reason I had always been diligent about going for my annual gynecologic exam, and, due to my mom's history, I would undergo a CA-125 blood test and an ultrasound each year. In 2010, however, my busy life had gotten in the way of my remembering to schedule my gynecologic exam on time, and I realized it had been 18 months since my last exam. The symptoms of the nonexistent UTI and the gas I had been experiencing started me thinking, Could this be ovarian cancer?
I called my doctor, expressed my concerns, and immediately set up an ultrasound before even seeing him for my exam. The ultrasound showed a four-centimeter solid mass on my left ovary, and the next step was a magnetic resonance imaging (MRI) scan and a CA-125 blood test. The MRI confirmed the tumor, and the CA-125 was 1,700, well over the normal value of 35. My doctor sent me to Memorial Sloan-Kettering Cancer Center to see a gynecologic oncologist, and it was she who first told me, "Brenda, you have ovarian cancer."

An eight-hour surgery followed, and I was diagnosed with Stage IIIC high-grade serous papillary cancer that had spread to my lymph nodes. The surgeon removed 50 lymph nodes, and cancer was in the majority of them. I woke up with an abdominal intraperitoneal port, which would later be used to deliver chemo directly into my abdomen, along with conventional chemo that would be administered through a vein.

The four months during which I received chemotherapy were the most difficult of my life, and there were some very dark days—days when I could not see the light at the end of the tunnel. When people ask me how I got through, the answer is easy for me: the support and the love of my family and friends, as well as with prayers and lots of hope. Hope was something I never lost sight of because when my mom was diagnosed with Stage III ovarian cancer 30 years earlier and was told she would need a miracle, she got that miracle—she survived more than 30 years after her diagnosis, free of ovarian cancer.
Now my good news: I finished chemo two years ago and have been cancer-free ever since. I have been on two cruises, attended my grandchildren's birthdays and school functions, hosted holidays at my house, and have been enjoying life.
I am so blessed to be a two-year survivor, and I look forward to so much life ahead of me. I hope that all women will become familiar with the signs and the symptoms of ovarian cancer, which include bloating, pelvic or abdominal pain, difficulty eating or feeling full quickly, excessive gas, and urinary frequency or urgency. In addition, I always suggest that women ask to receive yearly reminder cards for their annual gynecologic exams. For those who have been diagnosed with ovarian cancer, my message is always Hold on to hope.
The mission of the National Ovarian Cancer Coalition is to raise awareness and promote education about ovarian cancer. The coalition is committed to improving the survival rate and the quality of life of women with ovarian cancer. For more information visitovarian.org.