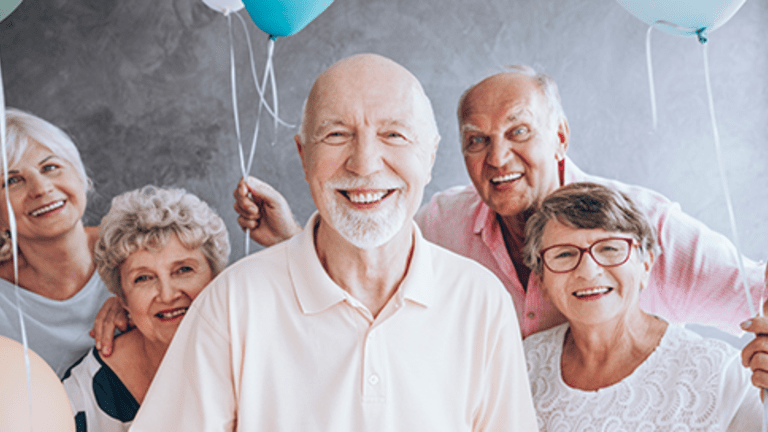 Survivorship - The Next Big Thing
Fran Zandstra Director of MDACC's Survivorship Program discuss the importance of a plan for treatment through recovery
by Diana Price, Medically Reviewed by Dr. C.H. Weaver M.D. 5/2022
Christy Stickney was 42 years old, newly married, and a busy mom to five kids when she was diagnosed with breast cancer. Determined to fight the disease, Christy says, she faced the challenge head-on. "After my diagnosis it was game on," she says. "There was no way that cancer would beat me."
Christy underwent a double mastectomy, breast reconstruction, and chemotherapy. She experienced side effects that included hair loss, fatigue, and "chemo brain," but she kept fighting—right up until the point she was supposed to be on the road to recovery. It was after her treatment was complete, when she was supposed to move on with her life, that Christy found herself in a deep depression, not sure how to move forward.
"Here I was, five months out of chemo, my main surgeries behind me, and all I could think about was going to sleep and never waking up," she says. Christy had come through the challenges of diagnosis and treatment only to find that it was recovery—physical and emotional—that seemed the biggest hurdle yet. "During my cancer battle, I never considered giving up," she says. "I was laser-focused on doing whatever was needed to beat this monster. So why now was I in this dark place, ready to end it all?"
It was the transition from active treatment to recovery that presented a chasm Christy didn't know how to bridge: "My prognosis was good, yet I felt like the life preserver I had been using for the past year and a half had been taken away. I was told to swim to shore, yet I had no arms. I should be able to do this, yet I was drowning. My surgical team and oncologist were some of the best in our area, yet here I was, so completely ill-prepared for the next part of my journey—recovery."
The Road through Recovery Is Not Always Easy
Unfortunately, Christy's post-treatment survivorship experience is not unique. Many cancer patients push through treatment, keeping their eye on the prize, only to realize that the end of active treatment can present its own set of physical and emotional challenges that require an entirely different approach and a new set of tools.
Often, says Amy Jacobson, RN, NP-BC, a nurse practitioner at the UCLA-LiveSTRONG Survivorship Center of Excellence, "survivors face the sense of not knowing where to go from here—here being the end of treatment. During treatment it's clear what the plan is, but once active treatment ends, many survivors feel unsure about what tests they need, who is managing their care, and who they should go to if problems arise."
Some of the most common issues patients face at this juncture include fear of recurrence, ongoing physical side effects from treatment, emotional distress, ongoing financial and insurance issues, and the lack of a comprehensive long-term care plan. Facing these challenges at a time when family and friends might assume that the most difficult stage of the journey has been completed can leave survivors feeling misunderstood and guilty for continuing to struggle at a time when they are expected to thrive.
Fran Zandstra, BSN, MBA, RN, executive director of the Cancer Survivorship Program at MD Anderson Cancer Center, says that a patient of hers once described the challenge of transitioning from active treatment to recovery this way: "The second-worst day of my life is when they told me, 'You don't have to come back,' because during treatment, when you're getting medicine, there's something keeping the cancer away; but when treatment is over, everyone thinks, She'll be just like she was, but that's just not the way it is."
Transforming the Survivorship Care Model
According to a recent review of survivorship statistics, the number of patients facing issues related to the transition from active treatment to long-term survivorship is growing: "The number of cancer survivors in the US has increased from 3 million in 1971, when the National Cancer Act was enacted, to over 12 million today. Over 70 percent of children affected by cancer survive more than 10 years, and most are cured. Most cancer survivors are adults, with two-thirds of them 65 years of age or older and two-thirds alive at five years."1 With this growing population of survivors, managing ongoing care and side effects is becoming a major concern among providers.
Patricia A. Ganz, MD, professor at the University of California, Los Angeles (UCLA) Schools of Medicine and Public Health and a researcher at UCLA's Jonsson Comprehensive Cancer Center, says that the need for addressing survivorship care was officially presented to the oncology community in an Institute of Medicine (IOM) report titled From Cancer Patient to Cancer Survivor: Lost in Transition. The report described the lack of best practices and guidelines for survivors' ongoing care and recommended the use of survivorship care plans, which would summarize the history of a patient's cancer care and be passed along to any providers who care for the patient after he or she completes active treatment.
Dr. Ganz says that it was in response to the IOM report that the American Society of Clinical Oncology (ASCO) and the European Society for Medical Oncology (ESMO) created a consensus statement on quality cancer care, which included a goal for "survivorship care planning." In addition, many cancer centers heeded the call for increased survivorship resources, developing survivorship programs and implementing the use of survivorship care plans to help patients and providers navigate recovery.
Today, a range of comprehensive survivorship program models that seek to bridge the gap between active treatment and long-term recovery are in evidence across the country. Zandstra says that the survivorship program she oversees covers four distinct areas to respond to the various challenges that patients face during the transition from active treatment to recovery. "At MD Anderson we're addressing surveillance for the disease, late effects of treatment, risk reduction and screening for second cancers, and psychosocial issues. Our survivorship program is constructed around those four domains." Providers help patients access resources across the four domains, Zandstra says, coordinating medical and complementary therapies to "move from the illness focus to the wellness focus, asking always, 'How do we optimize wellness?'
At the UCLA Survivorship Center of Excellence, Amy Jacobson says, programming is built around the survivorship care plan. "The cornerstone of the program is the Treatment Summary and Survivorship Care Plan, which is generated from an initial visit—during which a patient sees a psychologist or social worker, a medical oncologist, and a nurse practitioner—and is provided to the patient as well as their medical team; it outlines their diagnosis and treatment and provides recommendations for their care moving forward."
The MD Anderson and UCLA survivorship programs serve as excellent examples of the good that has come from the increasing recognition of need among survivors, and there has been improvement in addressing the challenge, Dr. Ganz says. "There has been modest progress, mostly at major cancer centers and in some community cancer centers," she says, "and the American College of Surgeons cancer program accreditation process has now adopted this as a standard, which should result in greater uptake." Still, she says, we have work to do to ensure that patients are provided with the care they need after treatment ends. "It takes a long time to disseminate quality-of-care activities such as this, and many barriers are raised to do this."
For patients who have not been treated at a major cancer center or community cancer center that has implemented components of a survivorship program, Zandstra recommends proactive self-assessment and seeking out services in their own communities. Most important, she says, is to communicate regularly with providers about any questions or issues that arise. "After treatment patients should make a list of questions they may have about what comes next," she says, "and they should continue to communicate with their care team about any symptoms." Sometimes just talking about the issues that arise—and hearing that they are a normal part of the recovery process—can be helpful. "Your healthcare team really wants you to be your own advocate," Zandstra says. "Saying it out loud is not going to make you have cancer, and your team really needs to know what's going on."
Striving for More Positive Stories of Survivorship
The important work being done at cancer centers around the country to provide survivorship programming and to increase awareness of the issue is making a difference in the lives of survivors—as are patients like Christy Stickney, who by sharing their stories are offering hope to others navigating this challenging phase of the cancer journey.
Though Christy did not have access to an established survivorship program, she did ultimately find support through her recovery by seeking counseling, working with a naturopath to manage the effects of treatment-induced menopause, getting support from her church, and turning to family and friends.
Now Christy hopes that by sharing her experience and describing the difficult time she endured, she can help bring awareness of the challenge of this phase of survivorship so that other survivors avoid the hardship she faced. "My daughter, who is eight, was studying her spelling recently and asked me the meaning of the word despair," Christy says. "I told her it means to give up, to lose hope. She walked over to me and gave me a big hug. She told me she was glad that never happened to me. Someday I will tell her, but in the meantime my goal, my passion, is to bring awareness to this issue—to hopefully help at least one person not end up where I did."
More Tips for Survivors Transitioning to Recovery
If possible, while still in active treatment, ask, "What happens next?"
At the end of treatment, ask for a survivorship care plan or summary of care so that you have a pathway that says what your life is going to look like moving forward.
Once you've completed treatment, reestablish your healthcare team at home and ask questions to understand the role of each provider moving forward: What is my oncologist going to do? My primary care doctor?
Make sure you have access to your records so that you have a permanent reference for your treatment history.
Set manageable goals to help you make steady progress forward. Goals can be as simple as Today I'm going to walk around the block.
Completing treatment for cancer is an accomplishment-Make your plan
You may feel a great sense of relief as some of the anxiety and discomfort subside and the inconvenience is over. You are finishing up treatment and you're wondering what's next? Who will oversee your treatment? When should you schedule follow-up appointments? Is counseling a good idea? What kind of long-term side effects should you look out for? Many of these questions can be addressed through a survivorship care plan—a document that you can create together with your healthcare team, which will outline your diagnosis and treatment history and help guide future medical care.
Follow-Up Strategy
Follow-up care is necessary to manage treatment complications and to detect potential cancer recurrence early, when it is most treatable. Discuss your post-treatment strategy in detail with your medical team to determine your follow-up schedule. Also, find out if your post-treatment strategy includes periodic tests. For example, your follow-up care may require periodic CT scans, MRIs or X-rays to monitor and note any suspicious changes. Similarly, if your disease is associated with a blood marker, you may have periodic blood tests to monitor blood marker levels. In addition to periodic tests, you may want to discuss your prognosis as well as symptoms of recurrence that are cause for further follow-up. Also, make sure that you have established a way to contact your doctor or nurse as additional questions and concerns arise.
Long-Term Side Effects
Long-term side effects from treatment may be minor or imposing. Understanding what side effects may occur and determining the best way to manage these side effects on a permanent basis is important. Your treating doctor may not be a specialist in the management of long-term side effects, so you may request a referral. For example, if the surgical treatment of your disease has left you physically challenged, your follow-up care may require a physical therapist. Or, if you have had a lymph node dissection, the management or prevention of lymphedema may best be handled by someone other than your surgeon.
Post Treatment Financial Issues
Cost of treatment may impose an ongoing financial stress and burden. Post-treatment financial issues may include disputes with your insurance, as well as debt incurred from out of pocket expenses or an inability to work during treatment. Patient advocate organizations offer valuable information to help patients with these issues. For more information about insurance issues, job discrimination or patient assistance programs, go to www.patientadvocate.org or other patient advocate organizations.
Support
After completing cancer treatment, you may feel elated and relieved as you recover, and the side effects of treatment diminish. Although your life may return to normal, the unknown and the statistics may still weigh on your mind from time to time. To cope with emotional issues, you may wish to seek professional support, family support, as well as support from other patients with your disease. 
Patients recommend reading other patient stories, telling your story and researching breaking news concerning your disease. These processes have been facilitated by the evolvement of the Internet's disease specific sites, bulletin boards, and chat rooms. Patients also indicate that community support groups are a valuable resource for emotional support. Acknowledging your experience through these outlets may provide some sense of relief and validation.
Defining your post-treatment strategy, understanding management of long-term side effects, seeking support for financial issues, and coping with emotional issues are all important components of your post treatment plan. Since thinking about cancer may consume you as you go through treatment, letting go and moving on may be difficult. However, an effective post-treatment strategy may help you cope with emotional and physical side effects, as well as facilitate early identification of cancer recurrence when it is most treatable.
There are a variety of survivorship care plan templates available to patients and providers, but Hausman says what's most important is that the patient and his or her entire care team have a copy of the completed document so that healthcare can be coordinated and monitored after treatment ends. She adds that these are the important components of a plan:
Patient diagnosis and concise treatment summary
Best schedule for follow-up tests
Information on late- and long-term effects of cancer treatment
Psychosocial assessment and recommended interventions
List of symptoms to watch for
List of support resources
Reference
Valdivieso M, Kujawa AM, Jones T, Baker LH. Cancer survivors in the United States: a review of the literature and a call to action. International Journal of Medical Sciences. 2012;9(2):163-73.