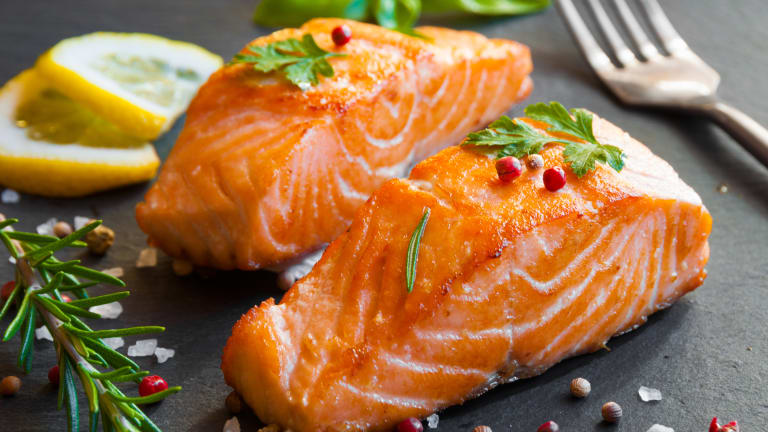 Omega-3 Fatty Acids - What You Need to Know
Omega-3 Fatty Acids may improve heart health and cognitive function but the jury is out on their impact on cancer.
by CancerConnect, Medically Reviewed by Dr. C.H. Weaver M.D. 02/2022
Dietary supplements are a booming business—Americans are spending approximately $25 billion a year to supplement their diets with products containing vitamins, herbs, and botanicals, as well as other supplements such as glucosamine, probiotics, and fish oils. A variety of studies have shown essential fatty acids to be beneficial; the omega-3 fatty acids found in fish oil—eicosapentaenoic acid (EPA) and docosahexaenoic acid (DHA)—are thought to be especially good.1-12
There is in fact one supplement that consistently yields positive results for improving health and vitality as well as slowing age-associated diseases: omega-3 fatty acids. Even better news is that increasing your intake of omega-3s can be as simple as adding a 3.5-ounce portion of fish to your diet two to three times a week or taking a high-quality supplement daily.
Omega-3s, which are essential fatty acids, can be found in fish such as salmon, sardines, tuna, and mackerel. Though there are many other sources of fatty acids in our diet, not all offer the same level of protection as omega-3s. Fatty acids from plant sources, such as soybeans, canola oil, olive oil, and flaxseed oil, have wonderful benefits but contain the less-protective alpha linolenic acid. Though there is much information about the benefits of flaxseed oil in the diet, it is not an adequate source of omega-3s.
A University of California, San Francisco study published in the Journal of the American Medical Association found that omega-3 acids can actually slow the aging process by as much as five years.1 Additionally, studies have shown that taking these fatty acids can decrease age-related diseases such as dementia and macular degeneration.2,3 Preliminary studies indicate that those who suffer from dementia but take omega-3s experience less decline in cognitive ability. Studies such as the Seven Countries Study, the Lyon Diet Heart Study, and some research conducted by the American Heart Association have shown that people who consume fish two to three times per week or who take high-quality omega-3 supplements also have improved general health, less risk of chronic heart disease (CHD), a decline in depression, and show fewer instances of cancer and other diseases associated with inflammation response.4,5 Increased joint flexibility is an added benefit.
Especially effective in lowering the risk of sudden coronary death, foods high in omega-3 or a high-quality supplement are now being recommended by many doctors. Though a standard dose of these essential fatty acids is 500 milligrams (mg) per day, the American Heart Association recommends that those who are at high risk of CHD should consume 1,000 mg of EPA and DHA daily. Any higher dose should be authorized by a physician. It's no secret that elevated triglyceride levels, independent of other issues or causes, can cause serious heart-health issues. Statins tend to be a regular course of treatment, but studies reported by the Mayo Clinic are now proving that omega-3 fatty acids can lower triglyceride levels by as much as 20 to 50 percent, similar to prescription medications.6 Prescription strength omega-3s may be recommended if triglyceride levels are very high.
How do you know if you need to add omega-3s to your diet? Omega-3s can now be measured with a simple blood test—the HS-Omega-3 Index—which can be ordered by a doctor. The target range for good health and disease prevention is 8 percent or higher, and those with a level below 4 percent could be at a higher risk of CHD and other medical concerns. These values are considered independent of other factors such as cholesterol levels, blood pressure, and family history.
According to the American Heart Association, adequate Omega-3 is encouraged for everyone, which means eating fish two to three times per week or taking an appropriate supplement.7 Rarely do we see the benefits and the positive effects of one supplement shared so broadly across ages, genders, and ethnicities. Combined with a proper diet and exercise routine, the addition of omega-3 to your diet can mean the difference between looking and feeling your age versus living with increased vitality and better health.
But What About Omega-3s and Cancer?
Consumption of fatty fish has been reported to be associated with a reduced occurrence of kidney, prostate, breast, and other cancers.9,10,11 It has been suggested that omega-3 fatty acids in the diet may provide a protective benefit against the development of cancer. As a result, several dietary supplements containing omega-3 fatty acids have been produced, and individuals have increased their consumption of fish. However, there remains no conclusive evidence of the link between omega-3 fatty acids and the reduction in cancer risk.12

Researchers from several medical institutions reviewed data from clinical trials evaluating the relationship between omega-3 fatty acids and the risk of cancer. The researchers compared cancer incidence between individuals who had a high dietary intake of omega-3 fatty acids to those with a low intake. In addition, the researchers evaluated different dietary sources of omega-3 fatty acids; these include diets high in fish, food with high concentrations of omega-3 fatty acids, and omega-3 fatty acid supplements.
The trials included more than 700,000 participants, seven countries, and evaluated 11 different types of cancers. Overall, there was no significant difference in the rates of different types of cancers between individuals who consumed large quantities of omega-3 fatty acids and those who consumed low quantities. Furthermore, the source of omega-3 fatty acids was not associated with differences in the rates of cancer. The researchers concluded that it does not appear that consumption of dietary omega-3 fatty acids reduces the risk of developing cancer. However, they caution that further study is required to reach a definitive conclusion.
Current research recommends against omega-3 fats for patients with hormone-sensitive cancers such as breast and prostate. The benefits of fish oils for people with breast cancer have long been debated. The most recent large-scale studies that looked for a connection between fish oils and breast cancer have failed to find preventive effects. Although fish oils are a healthful part of the diet for most of us, they should be minimized in the diets of patients with hormone-related cancers. At this point we know that eicosapentaenoic acid (EPA) is good for patients with cancer but not for those with hormone-sensitive cancers such as breast and prostate.
Fish Oil May Help Patients Maintain Weight During Chemotherapy
Fish oil, taken as a dietary supplement, may help prevent muscle and weight loss among cancer patients who are undergoing chemotherapy. Loss of muscle and weight is a potential side effect of chemotherapy that can adversely affect quality of life and survival as well as interfere with treatment. There is currently no effective known intervention to help patients maintain weight and proper nutrition during chemotherapy. Researchers have, however, suspected that supplementing a patient's diet with fish oil may help prevent weight loss during chemotherapy.
A study conducted in Canada evaluated whether daily supplementation with 2.2 grams (about 0.08 ounces) of fish oil could help patients maintain weight. Participants included patients with non–small cell lung cancer who were undergoing chemotherapy. Sixteen patients were given fish oil during their initial course of chemotherapy (about 10 weeks) and monitored for changes in weight, muscle, and fat. They were also given blood tests to measure levels of the omega-3 fatty acid eicosapentaenoic acid, which is present in fish oil. These patients were compared with 24 patients who did not receive fish oil.
It appears that patients who take fish oil daily during chemotherapy may have a reduced risk of weight and muscle loss. The researchers add that because fish oil is non-toxic and has few, if any, side effects, it may present an effective way for patients with cancer and other chronic diseases and conditions to combat malnutrition and muscle loss.8
Paulette Lambert, RD, CDE, is director of nutrition for California Health & Longevity Institute, located within Four Seasons Hotel Westlake Village (www.chli.com). With more than 27 years of private practice after an extensive clinical education, Lambert has wide-ranging experience in clinical nutrition and the development of individualized dietary plans.
References:
Farzaneh-Far R, Lin J, Epel ES, Harris WS, Blackburn EH, Whooley MA. Association of marine omega-3 fatty acid levels with telomeric aging in patients with coronary heart disease. Journal of the American Medical Association. 2010;303(3):250-57.
Tan JS, Wang JJ, Flood V, Mitchell P. Dietary fatty acids and the 10-year incidence of age-related macular degeneration: the Blue Mountains Eye Study. Archives of Ophthalmology. 2009;127(5):656-65.
Yurko-Mauro K, McCarthy D, Bailey-Hall E, Nelson EB, Blackwell A. Results of the MIDAS trial: effects of docosahexaenoic acid on physiological and safety parameters in age-related cognitive decline. Alzheimer's & Dementia: The Journal of the Alzheimer's Association. 2009;5(4):P84.
Keys A, Menotti A, Karvonen MJ, et al. The diet and 15-year death rate in the Seven Countries Study. American Journal of Epidemiology. 1986;124(6):903-15.
de Lorgeril M, Salen P, Martin JL, Monjaud I, Delaye J, Mamelle N. Mediterranean diet, traditional risk factors, and the rate of cardiovascular complications after myocardial infarction: final report of the Lyon Diet Heart Study. Circulation. 1999;99(6):779-85.
Mayo Clinic Proceedings Contributors Highlight Research Findings about Cardiovascular Benefits Associated with Omega-3 Fatty Acids. Mayo Clinic website. Available at: . Accessed June 13, 2011.
Fish and Omega-3 Fatty Acids. American Heart Association website. Available at: . Accessed June 13, 2011.
Murphy RA, Mourtzakis M, Chu Q, et al. Nutritional intervention with fish oil provides a benefit over standard of care on weight and skeletal muscle mass in non-small cell lung cancer patients receiving chemotherapy. Cancer [early online publication]. February 28, 2011. DOI: 10.1002/cncr.25709.
Brasky TM, Lampe JW, Potter JD et al. Specialty Supplements and Breast Cancer Risk in the VITamins And Lifestyle (VITAL) Cohort, Cancer Epidemiology, Biomarkers & Prevention. 2010; 19(7):1696–708.
The Lancet, Vol. 357, pp. 1764-1766, 2001.
Wolk A, Larsson SL, Johansson J-E, et al. Long-term fatty fish consumption and renal cell carcinoma incidence in women. Journal of the American Medical Association. 2006;296:1371-1376.
MacLean C, Newberry S, Mojica W, et al. Effects of Omega-3 Fatty Acids on Cancer Risk. Journal of the American Medical Association. 2006; 295:403-415.