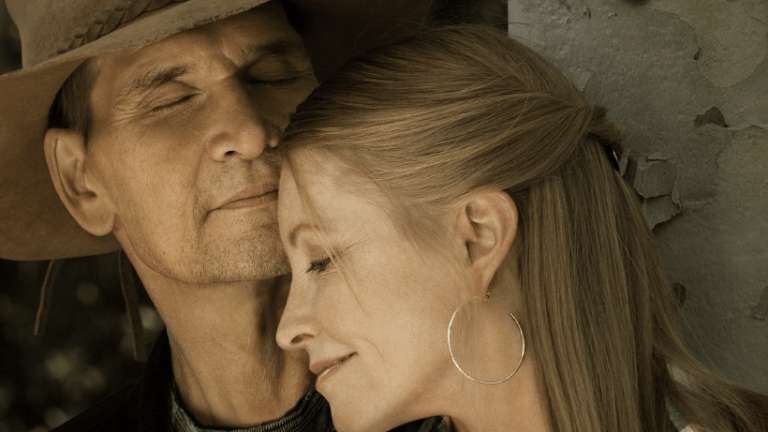 Lessons in Life and Love Niemi Swayze Discusses Pancreatic Cancer
Patrick Swayze's wife Niemi reflects on her journey as a caregiver, and shares her hopes as an advocate for PanCan
by Diana Price
When I reach Lisa Niemi Swayze on the phone, the actress, director, choreographer, and writer is at home on her ranch in New Mexico, where a summer thunderstorm is offering up welcome rain—along with some considerable background noise. She pauses as we begin our conversation, listening as an especially loud clap of thunder reverberates in the background and across the phone lines. "Did you hear that?" she asks. "This is quite a storm we're having here today."
In fact, the dramatic summer cloudburst is symbolic of Lisa's life in recent years, which has been defined by a storm of grief in the wake of her husband's diagnosis and, ultimately, death from pancreatic cancer. Actor Patrick Swayze, best known for his roles in such movies as Dirty Dancing,Ghost, and Point Break, fought the disease for 22 months before passing away at age 57.
After losing her partner of 34 years, Lisa reflected on her journey as a caregiver, on the ongoing grief she continues to work through, and on her role as an advocate for pancreatic cancer research.
Caregiver
When Patrick was diagnosed with pancreatic cancer, he immediately felt the gravity of his diagnosis. "He had known people diagnosed with the disease and that the statistics were not good," Lisa says. And his concern was well founded: pancreatic cancer has the highest mortality rate of all the major cancers (94 percent of patients die within five years of diagnosis and only 6 percent survive more than five years; 74 percent die within the first year of diagnosis).1
Still, in the face of these odds, Patrick was committed to standing up to the disease and to maintaining a positive and proactive approach. Seeing her husband's passionate desire to fight, Lisa decided that whatever concerns she had, she would not let Patrick see her break. "When he was diagnosed, from the very beginning, I was very fearful. But because we were in a fight for his life, I always said to myself, I can cry; I can fall apart; I can panic—later. But not now. I made a decision that I was going to be who he needed me to be so that he could get better—whether that meant holding his hand, getting his medication, making sure he got to his appointments, or," she laughs, "yelling at him if he was doing something wrong."
And that's what she did. For 22 months Lisa dedicated herself to being her husband's caregiver and advocate—and learning more than she ever wanted to know about cancer and the medical system along the way. "I kept copious notes on everything," she says, "because I knew that while he had fabulous doctors, he was not the only patient they had, and I was willing to contribute to his health—to dedicate myself—in a way nobody else could."
Learning to Cope
Fully committed to caring for her husband and all that that would entail, Lisa was still struck hard by the enormity of the role she had assumed. "You realize quickly that cancer doesn't happen to just one person," Lisa says. "It happens to the whole family. The one who is diagnosed is the one who may or may not pay the ultimate price, but, in a way, it sets out to kill those who love that person a little bit, too."
Despite her desire to take on the full burden of caregiving herself, Lisa soon realized that she would need to find support and respite for herself if she was going to truly offer Patrick the care he needed. "I'm one of those people who tend to do everything myself, but at a certain point there's just no way."
It was at this juncture that Lisa's close friends became her lifeline. "I had great, fantastic friends," she says. "Two really good friends of mine both said, 'Call us at 3 a.m.—when you need to cry, when you need someone to listen, or to laugh—just tell us what you need, and we'll be there for you.'" Sometimes, Lisa says, just being able to pick up the phone made all the difference. "The very act of calling them, of reaching out, calmed the panic that would rise."
Still, even her friends couldn't help bear the physical burden of caregiving. Having decided not to hire outside nursing help, Lisa was providing round-the-clock care to her husband—a feat that would prove unsustainable. "About a year into it, I really hit a wall," she says. "I was just not bouncing back like I used to." It was then that Lisa enlisted the help of Patrick's brother, Donny, who stepped in to pick up half of the home care responsibilities.
Donny's help provided critical respite, Lisa says, as did short breaks that she would find time to take when Patrick had visitors. "I sometimes wonder what people thought," she says, "because I'd often slip away when friends would stop by. I'd go get groceries or shop—just try to get out for a bit." It was difficult to acknowledge that she couldn't be there all the time, but Lisa was learning that to be a good caregiver, she had to care for herself.
While short breaks and care from her friends helped her through, she and Patrick found a unique way to cope as a couple, collaborating on a book—The Time of My Life—that highlighted Patrick's career and their life together. "For three or four years before Patrick got sick, I kept saying, 'You have so much to say; you need to write a book,'" Lisa says. Patrick agreed, when his agents approached him after he and Lisa were interviewed by Barbara Walters and discussed his illness. "The interview moved people," Lisa says, "and it just felt like the right time and the right group of people behind the project, so we said yes."
It wasn't always easy to find time to work on the book, as the couple had to make the most of the times when Patrick felt well. Despite the challenges, the project proved an incredible bonding experience, Lisa says, as they spent time focusing on their lives together and were struck especially by the realization of just how hard they had always worked and by the many challenges they had overcome. "It was a really wonderful experience," Lisa says, and "ultimately, we were very, very proud of the outcome."
As she found ways to cope with her new reality, it was the intangible gifts of time and love that really saw Lisa through the intensely emotional and physical ordeal of caregiving. "Many times, in my heart, I felt like I was living in a nightmare because I knew the possibility of what I might be facing in the future, which was a life without Patrick—and it's hard to forget that. But at the same time, because you're living in such an extreme situation, there are a lot of gifts that are presented: You find yourself less likely to let the little things get in the way because you're living in the truth of how you feel and of what you are to each other. That's a very precious thing, and that helped me get through—that realization that every day is a gift."
Public Support
While Lisa and Patrick waged their battle with the disease, they felt blessed by the outpouring of prayer and support from Patrick's fans. Though they had initially wanted to keep the diagnosis private, news of Patrick's illness was leaked to the tabloids from within the medical profession. The public leak was distressing at first, Lisa says. "Having the news break put additional pressure on us—the very people who didn't need the additional pressure. Patrick was in a fight for his life, and he shouldn't at that point have been asked to do press and field questions from the tabloids." Ultimately, though, both Lisa and Patrick felt honored by the public response and realized the value in the raised awareness of pancreatic cancer. "It brought attention to the disease," Lisa says, "and it brought touching and inspiring support from the public."
Lisa says she couldn't help but think, as Patrick defied the odds and continued to exceed his doctors' expectations, that the support from his fans played a role. "Patrick and I both felt the power of the public's care, meditations, and prayers. Initially, we kept getting surprised by good news: He was responding to treatment—good news; his blood work was good—more good news. Many of those times, when he was defying these seemingly impossible odds, I couldn't help but think that all the support out there—so many good thoughts and prayers—was making a real difference."
Working through Grief
Sadly, pancreatic cancer ultimately took Patrick's life, leaving Lisa to come to terms with a life without him. Since his death Lisa has been learning to live in the new normal of life without her husband. And it hasn't been easy. "It's a very, very long process to make your way back from a loss like this," she says. Learning, again, to find joy in each day has been a challenge. "I have to say that the fight with him—as hard as it was—was, in retrospect, a lot easier than the fight that I've gone through without him. Because all of a sudden those days that were so precious are no more. And that has thrown everything off kilter."
Lisa has been working to find balance, spending time on her ranches (near Los Angeles and in New Mexico) and focusing on the things that make her happy today. "I was knocked down for a bit," she says of the grief that she is still working through, "and since then I've been trying to lasso my chaotic life into some sense of order. I'm still making a lot of adjustments and trying to find time to relax."
A bright light in the sometimes-dark days has been time spent with her beloved horses—highlighted by the birth of a new filly this past summer. "She is the most beautiful thing ever," Lisa says of the latest addition to her family. "I had a lost a filly six months after Patrick died, and this is the horse to replace her—she's very, very special. Looking at her I feel about as happy as I have felt in a long time."
Moving Forward
As Lisa moved forward, learning to navigate life without her husband, she has found herself writing again, recording her feelings and experiences as she has, consistently, since she was a teenager. She published her second book—*Worth Fighting For—*which chronicles the last 22 months of her husband's life and their journey together. Taking the time to write about the intense experiences that marked Patrick's illness has been therapeutic in many ways, Lisa says. "It was very cathartic for me to be able to put things down on paper. I talked to a grief counselor who told me, 'The more you are able to share your experience, the more real it becomes, and the more you're able to process what has happened.'"
But processing has been tough at times, too. Committed to offering an honest account of her journey, Lisa found herself reliving experiences and revisiting feelings that were not easy to face. Still she persevered, taking time off from the project when she needed a break but always turning back to the work, dedicated to producing something that would make a difference in other people's lives. "In writing this book, I tended to be pretty candid because I thought, If I don't really share the truth, how can I help other people?"
Now, with the book set for release, Lisa is proud of her effort, both for the comfort it might offer other families touched by cancer and for the opportunity for reflection that it has provided. "When I reread the beginning of the book, I was glad I had started it when I did because being able to tell that story made it possible to release a lot of stuff I had been holding in for the 22 months he was ill." Along with the sense of accomplishment comes some trepidation, Lisa says, as she considers how much of such an intimate experience she has exposed. "I'm excited about it—and nervous. Getting to this point, where you have to let go of something you've worked so hard on, is an extremely vulnerable place to be. I worry: Did I say too much?Reveal too much? Like any work, you have put your heart and soul into it. It's only natural to feel vulnerable."
In addition to sharing insight into her journey as a caregiver through her book, Lisa hopes to help patients and families affected by pancreatic cancer by advocating for much-needed research and for awareness of the disease. In 2009 she became national spokesperson for the Pancreatic Cancer Action Network (www.pancan.org), a national advocacy organization dedicated to increasing research funding, providing support for patients and their loved ones, and advocacy for a cure.
The decision to become an active public advocate was an easy one, Lisa says. "My husband was one tough guy, and while pancreatic cancer may have taken him, it didn't beat him. He fought long and hard against this disease, and just because he's gone doesn't mean the battle is over. I feel like I'm continuing his battle for him because he's no longer around to fight—but I am."
Julie Fleshman, the then president and CEO of the Pancreatic Cancer Action Network, stated that Lisa has had "a tremendous impact in the fight against pancreatic cancer as she honors Patrick's incredible legacy. Her efforts have led to increased awareness of the disease and have educated the public about the urgent need for additional research funding that will ultimately lead to improved patient outcomes. Her public persona draws much-needed attention to our mission, and she inspires others to get involved with our efforts and make a difference." By sharing her story and inspiring others to become involved in advocacy work, Julie says, Lisa "continues to inspire hope in our entire community that we can change the course of history for this disease."
Lessons Learned, Love Honored
In caring for Patrick during his illness, in learning how to care for herself, in growing and sharing, and in embracing her role as an advocate, Lisa continues to honor the love that she and her husband shared and tries to learn from what she has been through. "There are so many lessons that have come from this experience," she says, "and a lot of them are very complex."
One simple, true thing that Lisa knows is that in sharing Patrick's journey—and her own—she hopes to reflect the spirit of the man she loved. Though he never wanted to be defined by the disease, Lisa says, his approach to his diagnosis is representative of the person he was. "His illness would be a part of how he would like to be remembered because although he has an incredible legacy of movies and was such a talented man, what he would want remembered most is the core of who he was: a fantastic person with great energy, great talent, strength, and kindness. The spirit of his work and the way he fought his cancer came from that wonderful person that he was."
Five Things You Should Know About Pancreatic Cancer
What is the pancreas and what is pancreatic cancer? The pancreas is a gland located deep in the abdomen. It is surrounded by the stomach, small intestine, liver, and spleen. The pancreas has two main functions. One is the exocrine function, which involves the production of enzymes that help in digestion. The second is the endocrine function, which involves the production of hormones, including insulin and glucagon. When cells in the pancreas grow out of control, a tumor develops. In most cases of pancreatic cancer, the cells that line the pancreatic duct are involved. This type of pancreatic cancer is an exocrine tumor known as adenocarcinoma. A less common type of pancreatic tumor begins in the islet cells of the pancreas, the cells that produce hormones, and is known as a neuroendocrine, or islet cell, tumor.
What are the symptoms of pancreatic cancer? The symptoms are vague and often also indicate a number of other conditions. The most common symptoms include back or abdominal pain, digestive issues, unexplained weight loss, or recent-onset diabetes. The symptom that often triggers a pancreatic cancer diagnosis is jaundice, which is yellowing of the skin and the eyes. Jaundice is caused by the buildup in the blood of a substance called bilirubin. In the case of pancreatic cancer, jaundice may occur if a tumor on the head of the pancreas obstructs the bile duct, causing this buildup of bilirubin.
Who is at risk? Recent research studies indicate that about 20 to 30 percent of pancreatic cancer cases are linked to smoking and another 10 percent are said to have a hereditary (or familial) link. Additionally, the incidence of pancreatic cancer among African Americans is 50 to 90 percent higher than for any other ethnic group in the United States. There is also an increased risk of pancreatic cancer among individuals of Ashkenazi Jewish descent. Some of the other risk factors scientists are currently studying include diabetes, chronic and hereditary pancreatitis (inflammation of the pancreas), obesity, physical inactivity, and diet.
What treatment options are available? The standard treatments for the most common type of pancreatic cancer include surgery, radiation, and chemotherapy. Only approximately 15 percent of pancreatic cancer patients are eligible for surgery. The most common surgery for pancreatic cancer is called the Whipple procedure, wherein part of the pancreas is removed along with other organs. Radiation therapy may be used before or after surgery. Most patients are treated with chemotherapy, which is the standard treatment for patients who are not able to have surgery. Clinical trials for pancreatic cancer are also available. The Pancreatic Cancer Action Network recommends that all patients consider clinical trials when exploring treatment options. The organization maintains a comprehensive and up-to-date database of pancreatic cancer clinical trials throughout the country and can perform personalized clinical trial searches for patients.
There is hope for pancreatic cancer patients. Receiving a diagnosis of pancreatic cancer can be a frightening moment for both the patient and the family. It is important to realize that there is hope and there are resources available to help them. The Pancreatic Cancer Action Network's Patient and Liaison Services program provides patients and their families with the most current information about the disease, including such topics as treatment and clinical trials, diet and nutrition, side-effect and symptom management, physicians who specialize in pancreatic cancer, and other support resources. The organization's Survivor and Caregiver Network puts patients and their families in touch with individuals who can share their experiences and offer support and inspiration. All services and materials are free of charge.
Reference:
1.Cancer Facts & Figures 2020. The top 5 cancer killers are (in order): lung, colon, breast, pancreatic, and prostate. American Cancer Society website. Available at:6. Accessed September 22, 2021.