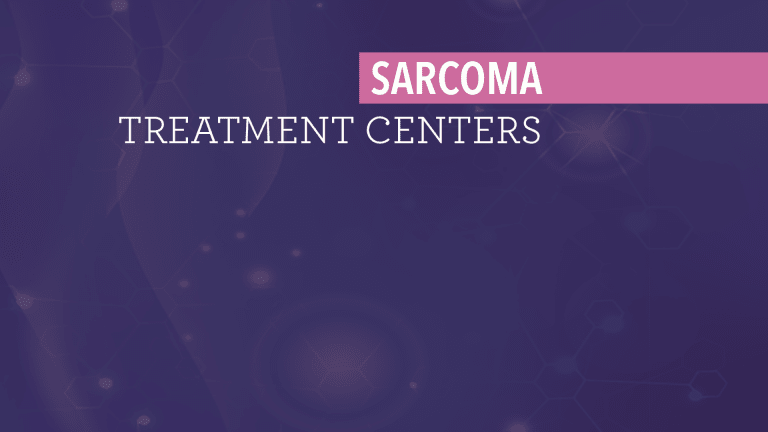 Medically reviewed by Dr. C.H. Weaver M.D. Medical Editor 6/2021
Because sarcomas are uncommon it is important to find physicians who have experience with this disease. In the United States there are several locations that have physicians and teams dedicated to advancing the treatment of GIST and other sarcomas. Patients with sarcoma should at least consider getting a second opinion at one of these centers. Click here to learn more about second opinions.
Clinical trials are an important aspect of moving sarcoma treatments forward and patients should consider being evaluated and treated at a cancer center with expertise in Sarcomas. For example the following clinical trials are ongoing at the Seattle Cancer Care Alliance Sarcoma program
A Phase 2 trial of an innovative T-cell therapy in participants with advanced synovial sarcoma or myxoid/round cell liposarcoma. This trial tests a modified T-cell that is directed at one of the most commonly expressed cancer-testis antigens, MAGE-A4. The study is among a growing number of trials that aim to use T-cells to infiltrate and destroy solid tumors.
A Phase 3 study that compares efficacy of two targeted second-line therapies, Ripretinib and Sunitinib, in treating gastrointestinal stromal tumors (GIST) if patients have not responded well or tolerated the typical first-line treatment, Imatinib. The two drugs in the study can potentially block the KIT mutations that spur GIST growth.
A pilot Phase 2 study of Oraxol in patients with cutaneous angiosarcoma. In 2018, the FDA gave Oraxol an orphan drug designation for angiosarcoma treatment, and this study's interim results showed a reduction in tumor size in all evaluable patients.
For sarcoma referrals, contact:
Arizona
University of Arizona
California
Univ of California Davis Sarcoma Program
Cedars Sinai Sarcoma Page (Los Angeles, CA)
UCLA's Sarcoma Program (Los Angeles, CA)
Children's Hospital of Los Angeles
Sarcoma Oncology Center, Santa Monica
Stanford University Cancer Center, Palo Alto
University of California, San Francisco (San Francisco, CA)
Colorado
University of Colorado Cancer Center – Anschutz (Aurora, Colorado)
Florida
Mayo Clinic (Jacksonville, FL)
Lee Moffitt Cancer Center and Research Institute
University of Florida Cancer Center
University of Miami Sylvester Comprehensive Cancer Center
Georgia
Georgia Cancer Emory Winship Cancer Institute (Atlanta)
Illinois
Robert E. Lurie Comprehensive Cancer Center at Northwestern University in Chicago
Iowa
University of Iowa, Holden Cancer Center (Iowa City, Iowa)
Kansas
University of Kansas Cancer Center
Maryland
Johns Hopkins (Baltimore, MD)
Massachusetts
Dana Farber Cancer Institute (Boston, Massachusetts)
Michigan
University of Michigan Comprehensive Cancer Center (Ann Arbor, Michigan)
Minnesota
University of Minnesota Cancer Center (Minneapolis, MN)
Missouri
Siteman Cancer Center/Barnes Jewish Hospital/Washington University School of Medicine in St Louis
New Jersey
Hackensack University Medical Center (Hackensack, NJ)
New York
Roswell Park Cancer Institute in Buffalo
Memorial Sloan-Kettering Cancer Center (MSKCC) in New York City
North Carolina
Ohio
The Cleveland Clinic Taussig Cancer Center Sarcoma Page (Cleveland, Ohio)
Ohio State University The James Cancer Inst
Oregon
Oregon's Health Sciences, Portland
Pennsylvania
Abramson Cancer Center Pennsylvania Hospital (Philadelphia, PA)
Fox Chase Cancer Center (Philadelphia, Pennsylvania)
South Carolina
Medical University of South Carolina – Hollings Cancer Center in Charleston
Tennessee
St. Jude Children's Research Hospital
Texas
M.D.Anderson Cancer Center (MDACC) (Houston, Texas)
Utah
University of Utah Huntsman Cancer Institute Sarcoma Service (Salt Lake City, UT)
Washington
Seattle Cancer Care Alliance (Seattle, Washington)
Washington D. C.
Washington Cancer Institute (Washington DC)
Children's National Medical Center – Center for Cancer and Blood Disorders Solid Tumor Program (Washington DC)
Wisconsin
Froedtert & The Medical College of Wisconsin Clinical Cancer Center (Milwaukee)