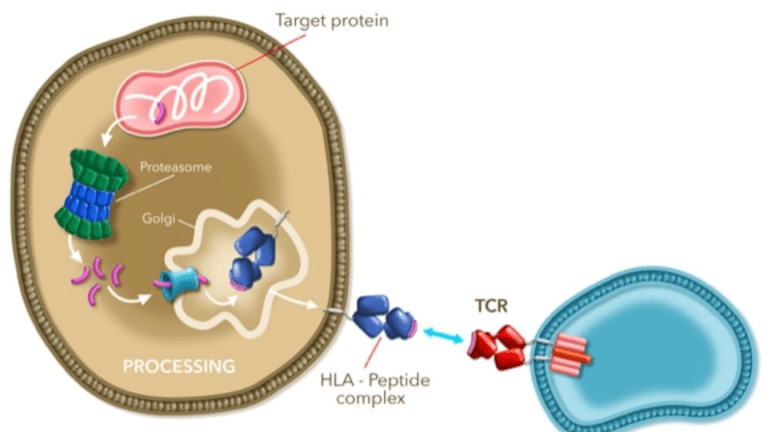 Afami-cel Elicits Durable Response Rates in Patients with Sarcoma
Enhanced TCR immunotherapy promising for synovial sarcomas
by Dr. C.H. Weaver M.D. 6/2021
According to data from the SPEARHEAD-1 clinical trial presented at the 2021 American Society of Clinical Oncology Annual Meeting the enhanced T Cell receptor immunotherapy, afamitresgene autoleucel (afami-cel) produces durable responses in advanced synovial sarcoma or myxoid/round cell liposarcoma (MRCLS).
About Soft Tissue Sarcomas
Soft tissue sarcomas are a type of cancer originating in the soft tissues that connect, support and surround other body structures, such as muscle, fat, blood vessels, nerves, tendons and the lining of joints. In the U.S., nearly 13,000 people will be diagnosed and approximately 5,000 are expected to die of soft tissue sarcomas in 2021. Adult advanced soft tissue sarcomas include malignant fibrous histiocytoma, leiomyosarcoma, synovial sarcoma, liposarcoma, angiosarcoma and rhabdomyosarcoma. These cancers are rare and should be treated at medical centers with specialized sarcoma programs. As a generality sarcoma patients respond poorly to chemotherapy and the focus of clinical trials has been to evaluate new treatment approaches.
About Afami-cel
Afami-cel is a specific peptide enhanced affinity receptor (SPEAR) T-cell therapy that is engineered to target MAGE-A4 which is present on cancer cells. MAGE-A4 is highly expressed in synovial sarcoma and MRCLS.2
The immune system plays an important role in targeting and destroying cancer. Antibodies target whole proteins on the cell surface and T-cell receptors (TCR) target peptides presented on the Human Leukocyte Antigen (HLA) complex. TCRs target and bind to a specific HLA peptide complex, resulting in the destruction of the relevant cell. Binding of naturally occurring T-cell receptors to cancers is not very effective because cancer proteins appear very similar to naturally occurring proteins and are very good at evading the immune system.
Afami-cel uses re-engineered and enhanced T-cell receptors to recognize and bind to cancer cells and more effectively stimulate the immune system to target and destroy the cancer.
The SPEARHEAD-1 clinical trial was designed to evaluate afami-cel in HLA-A*02 eligible and MAGE-A4-positive patients with metastatic or advanced synovial sarcoma or MRCLS. All patients participating in the trial had previously failed treatment with either an anthracycline- or ifosfamide chemotherapy regimen.
Overall, 330 patients were screened for HLA-A*02 - 176 were determined to have positive disease, and 106 were determined to have MAGE-A4 expression in at least 30% of their cells determined by immunohistochemistry.4 In total, 59 patients were enrolled and underwent leukapheresis and 37 were treated with afami-cel. Sixteen patients are awaiting treatment and 5 discontinued prior to T-cell therapy.1
Prior to afami-cel infusion, patients received lymphodepleting chemotherapy with fludarabine and cyclophosphamide. Patients then received a single infusion of the autologous genetically modified afami-cel transduced T cells.
The overall response rate to therapy was 39.4% with a disease control rate of 84.8% including 2 complete responses in patients with synovial sarcoma. The median duration of response has not yet been reached (range, 4.3+–38.0+).
The therapy was well tolerated and the most common side effects were low blood counts, nausea, and fever. Cytokine release syndrome was observed in 59% of patients a median of 3 days (range, 1-9) from infusion and the median time to resolution was 3 days (range, 1-34).
The SPEARHEAD-1 clinical trial is ongoing and data from this trial will be used to support Adaptimmune's BLA [biologic license application] submission in 2022.
References
D'Angelo SP, Van Tine BA, Attia S, et al. SPEARHEAD-1: a phase 2 trial of afamitresgene autoleucel (Formerly ADP-A2M4) in patients with advanced synovial sarcoma or myxoid/round cell liposarcoma. J Clin Oncol. 2021;39(suppl 15):11504. doi:10.1200/JCO.2021.39.15_suppl.11504
Two complete responses and response rate of 41% for people with synovial sarcoma reported at ASCO in Adaptimmune's phase 2 SPEARHEAD-1 trial. 
News release. Adpatimmune Therapeutics. May 19, 2021. Accessed June 4, 2021.