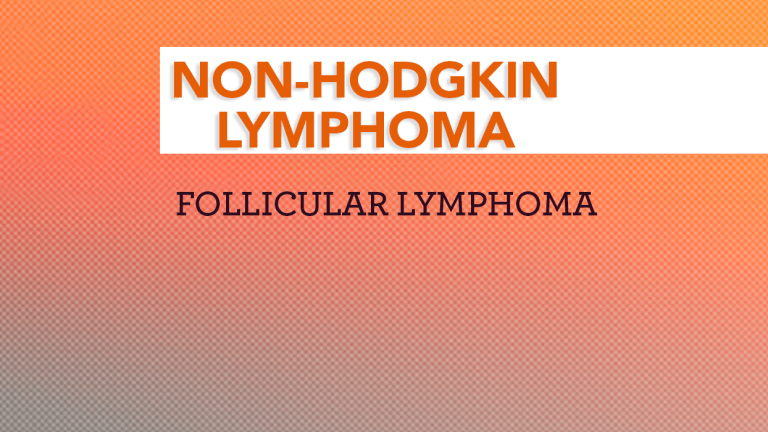 Treatment of Stages IIE - IV Follicular Lymphoma
Follicular - low grade lymphomas that require treatment appear to benefit most from Treanda-Rituxan.
Medically reviewed by Dr. C.H. Weaver M.D. 6/2021
Stage IIE-IV follicular NHL is defined as cancer that has invaded lymph node regions near the diaphragm (the breathing muscle separating the abdomen from the chest) or may have spread to organs outside the lymph system.
Follicular lymphoma is a slow growing cancer and can be difficult to cure with traditional cancer treatments—such as chemotherapy which work by destroying rapidly dividing cells. Chemotherapy treatment has been shown to improve survival, and the development of precision cancer medicines and immunotherapy have further improved outcomes.
In fact, patients with advanced follicular lymphoma appear to be living longer with 5 year survival rates for stage IV follicular lymphoma improving from 64% to 95% over the last 20 years. The longer survival of patients with advanced follicular lymphoma can be attributed to newer approaches to treatment, including the use of the precision medicine Rituxan® (rituximab).1
A wide range of treatment options exist for advanced follicular lymphomas and these options can make planning treatment confusing. Each treatment option is associated with unique side effects. When choosing a treatment, it may be most appropriate for older patients—who typically have more health concerns—to select the therapy with the least side effects. Younger patients may be able to tolerate more aggressive treatments, which offer a greater chance for long-term, cancer-free survival.
Types of Follicular Lymphoma
Follicular lymphomas are classified according to two systems, the Revised European American Lymphoma (REAL) system and the International Working Formulation (IWF). The following are types of follicular Non-Hodgkin lymphoma (NHL); they are treated similarly (see table 1).
Table 1 Types of Follicular NHL according to two classification systems, REAL and IWF
​
​
Chemotherapy for Advanced Follicular Lymphoma
Chemotherapy is a standard treatment for follicular lymphomas and consists of a single drug or combination of drugs administered intravenously or orally to kill cancer cells. Chemotherapy is used to treat advanced-stage indolent or follicular lymphomas but is increasingly being replaced by precision cancer medicines and immunotherapy.
Single-agent chemotherapy: Clinical trials have shown that Fludara® (fludarabine) appears to be an effective single drug for the treatment of progressive or relapsed follicular lymphoma. Other chemotherapy drugs that may be used to treat follicular lymphoma include:
Cladribine® (2-chlorodeoxyadenosine),
Cyclophosphamide,
Chlorambucil,
doxorubicin (Adriamycin®), and
mitoxantrone (Novantrone®).
Combinations of chemotherapy: Several multi-drug chemotherapy regimens can produce anti-cancer responses in patients with follicular lymphoma. Some of the combinations commonly used include the following and these regimens are more effective when combined with Rituxan.
BR: Treanda (bendamustine) and Rituxan
CHOP: cyclophosphamide, doxorubicin, Oncovin®, and prednisone
CVP: cyclophosphamide, Oncovin®, and prednisone
C(M)OPP: cyclophosphamide, Oncovin®, procarbazine, and prednisone
FN: Fludara® and Novantrone®, with or without dexamethasone
Chemotherapy is commonly combined with the precision cancer medicine Rituxan®.
Rituxan®
Rituxan is a type of precision medicine called a monoclonal antibody that binds to proteins on the surface of B-lymphocytes, which are the cells that are cancerous in follicular lymphoma. This binding stimulates the immune system to attack and kill the cancer cells. 
Rituxan alone: As initial treatment for follicular lymphoma, Rituxan alone has been shown to produce anticancer responses in approximately three-quarters (73%) of patients with follicular lymphoma. Clinical trial results also indicate that an anticancer response may last for up to one year, which increases the likelihood of long-term, progression-free survival in some patients.2
Chemotherapy plus Rituxan
The addition of Rituxan to chemotherapy improves response rates, but may also increase side effects.3,4,5
Treanda® (bendamustine) The two-drug regimen of Treanda plus Rituxan could become the new standard first-line therapy for indolent NHL. The 5-year survival without cancer progression is reported to be 65.5% compared to 55.8% for R-CHOP or R-CVP.5
CHOP plus Rituxan: Several clinical trials have demonstrated that CHOP chemotherapy plus Rituxan improves outcomes compared to CHOP alone in the treatment of patients with follicular lymphoma. In a large clinical trial that directly compared CHOP plus Rituxan and CHOP alone, patients treated with the combination had a reduced risk of cancer progression and experienced a longer time before their cancer progressed. Overall, 96% of patients treated with R-CHOP responded to treatment compared to 90% of patients treated with CHOP alone.3
Rituxan Maintenance Therapy​
CVP plus Rituxan maintenance: Rituxan maintenance therapy after CVP chemotherapy appears to improve survival of patients with advanced follicular lymphoma. In a clinical trial, 237 patients with stage III or IV disease were treated with six to eight cycles of chemotherapy. Approximately half then received Rituxan for three years, and the other half received no further treatment. Nearly two-thirds (62%) of patients treated with Rituxan survived three years or more without worsening of their lymphoma, compared to approximately one-third (38%) of patients who did not receive Rituxan. Overall, 91% of the patients treated with Rituxan survived three years or more, compared to 75% of patients who did not receive additional treatment.7
Radiation Therapy
Radiation therapy is occasionally used as an adjunct to chemotherapy, as it destroys localized lymphoma cells that may have survived chemotherapy by damaging their DNA. Radiation is also an alternative for patients who cannot tolerate chemotherapy, and it can be used to manage pain or swelling.
Strategies to Improve Treatment
The development of more effective cancer treatments requires that new and innovative therapies be evaluated with cancer patients. Clinical trials are studies that evaluate the effectiveness of new drugs or treatment strategies. Future progress in the treatment of stage IIE-IV follicular lymphoma will result from the continued evaluation of new treatments in clinical trials.
Precision Cancer Medicines
The purpose of precision cancer medicine is to define the genomic alterations in a lymphoma's DNA that is driving that specific cancer. Precision cancer medicine utilizes molecular diagnostic testing, including DNA sequencing, to identify lymphoma-driving abnormalities in the cancer's genome. Once a genetic abnormality is identified, a specific targeted therapy can be designed to attack a specific mutation or other related change in the DNA programming of the lymphoma cells. Precision cancer medicine uses targeted drugs and immunotherapy engineered to directly attack lymphoma cells with specific abnormalities, leaving normal cells largely unharmed.
Calquence (acalabrutinib) is a kinase inhibitor that works by blocking an enzyme needed by the cancer to multiply and spread. Calquence has been approved for the treatment of Mantle Cell Lymphoma based on a reported overall response rate of 81 percent.
Venclexta (ventoclax) The BCL-2 protein is a type of protein that contributes to a cancer cell's survival. Over expression of the BCL-2 protein in lymphoma cells is associated with increased survival time of the cancer cells as well as resistance to standard chemotherapy. Venclexta is an agent that binds to the BCL-2 protein, thereby disabling its ability to keep cancer cells alive.
Gazyva (obinutuzumab) Gazyva is an engineered monoclonal antibody designed to attach to CD20, a protein found on certain types of B-cells. It is thought to work by attacking targeted cells both directly and together with the body's immune system. The FDA approved Gazyva based on a clinical trial comparing chemotherapy with Rituxan or Gazyva. The progression-free survival was significantly improved with Gazyva compared to Rituxan.
Aliqopa( copanlisib) Aliqopa is a precision cancer medicine that inhibits several key cell-signaling pathways in lymphoma cell lines resulting in cancer cell death by apoptosis and inhibition of the growth of primary malignant B cell lymphoma cell lines.
Keytruda® (pembrolizumab) belongs to a new class of medicines called PD-1 inhibitors that help the immune system recognize and attack cancer. PD-1 is a protein that inhibits certain types of immune responses. Drugs that block PD-1 may enhance the ability of the immune system to fight cancer. Keytruda® works by blocking PD-1.
Adcetris (brentuximab Vedotin) This antibody-drug conjugate is targeted to CD30, a defining marker of Hodgkin's lymphoma, and is also a target expressed on various T-cell cancers and other hematologic malignancies. Adcetris is a type of immunotherapy/chemotherapy, administered intravenously, and FDA approved for the treatment of several types of Hodgkin and non Hodgkin lymphomas.
Imbruvica (ibrutinib) Imbruvica is a targeted agent that works by inhibiting the enzyme needed by the cancer to multiply and spread. The drug's approval was based on the results of a study that included 111 patients with MCL who were given Imbruvica daily until their disease progressed or side effects became intolerable. Results of the study indicated that nearly 66 percent of patients experienced an objective response—meaning their cancer shrank or disappeared after treatment.
Revlimid® (lenalidomide) This oral immunomodulatory therapy is being evaluated as a single agent for patients with mantle cell lymphoma and T-cell lymphoma, as well as in combination with Rituxan in patients with follicular NHL and following Rituxan plus cyclophosphamide, doxorubicin, vincristine, and prednisone (R-CHOP) treatment in patients with diffuse large B-cell lymphoma.
References
Liu Q, Fayad L, Cabanillas F et al. Improvement of Overall and Failure-Free Survival in Stage IV Follicular Lymphoma: 25 Years of Treatment Experience at the University of Texas M.D. Anderson Cancer Center . Journal of Clinical Oncology. 2006;24:1582-1589.
Colombat P, Salles G, Brousse N, et al. Rituximab (anti-CD20 monoclonal antibody) as single first-line therapy for patients with follicular lymphoma with a low tumor burden: clinical and molecular evaluation. Blood. 2001;97:101-106.
Hiddemann W, Kneba M, Dreyling M, et al. Frontline therapy with rituximab added to the combination of cyclophosphamide, doxorubicin, vincristine, and prednisone (CHOP) significantly improves the outcome for patients with advanced-stage follicular lymphoma compared with therapy with CHOP alone: results of a prospective randomized study of the German Low-Grade Lymphoma Study Group. Blood. 2005;106(12):3725-32.
Marcus R, Imrie K, Belch A, et al. CVP chemotherapy plus rituximab compared with CVP as first-line treatment for advanced follicular lymphoma. Blood. 2005;105:1417-1423.
J Clin Oncol. 2019 Feb 27. Epub ahead of print
Hainsworth JD, Litchy S, Shaffer DW, et al. Maximizing therapeutic benefit of rituximab: maintenance therapy versus retreatment at progression in patients with indolent Non-Hodgkin lymphoma—a randomized trial of the Minnie Pearl cancer research network. Journal of Clinical Oncology. 2005;23:1088-1095.
Hochster HS, Weller E, Gascoyne RD, et al. Maintenance Rituximab after CVP Results in Superior Clinical Outcome in Advanced Follicular Lymphoma (FL): Results of the E1496 Phase III Trial from the Eastern Cooperative Oncology Group and the Cancer and Leukemia Group B. Blood. 2005;106:106a, Abstract #349.
Witzig TE, Flinn IW, Gordon LI, et al. Treatment with ibritumomab tiuxetan radioimmunotherapy in patients with rituximab-refractory follicular Non-Hodgkin lymphoma. Journal of Clinical Oncology. 2002;20:3262-3269.
Press OW, Unger JM, Braziel RM, et al. A Phase II Trial of CHOP Chemotherapy Followed by iodine I 131 Tositumomab for Previously Untreated Follicular Non-Hodgkin Lymphoma: Southwest Oncology Group Protocol S9911. Blood. 2003;102:1606-1612.
Leonard JP, Coleman M, Kostakoglu L, et al. Abbreviated chemotherapy with fludarabine followed by tositumomab and iodine I 131 tositumomab for untreated follicular lymphoma. Journal of Clinical Oncology. 2005;23(24):5695-704.
Kaminski MS, Tuck M, Estes J, et al. 131I-Tositumomab Therapy as Initial Treatment for Follicular Lymphoma. New EnglandJournal of Medicine. 2005;352:441-449
​