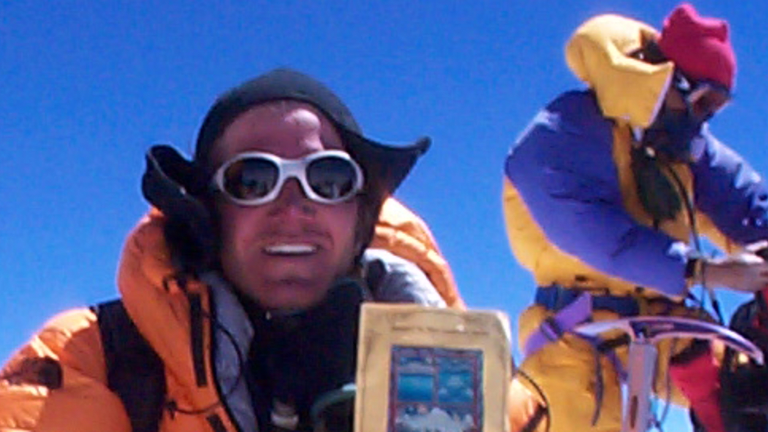 Standing On Top of the World: Climbing Everest and Beating Cancer Twice
Sean Swarner lymphoma and sarcoma survivor shares his story.
by Diana Price
So when he decided to summit Mt. Everest, there was no turning back. And, true to form, even the world's highest peak was unable to stop this two-time cancer survivor. The fact is that Everest's storied pitches, a daunting prospect for most, paled in comparison to the much more difficult uphill battle that Sean had endured long before he ever reached the Everest base camp.
At the age of 13, Sean was diagnosed with stage four Hodgkin's disease and was told by his doctors that he would not live longer than three months. But Sean knew that they were wrong. "Of course, I didn't fully understand what was going on," he says, "but, I never once thought about not making it. I lived every day to the fullest."
Sean endured six cycles of chemotherapy after his diagnosis. He lost all of his hair, which at the time seemed like a minor inconvenience compared to the loss of his normal daily life. He turned 14 during his treatment. He was in the eighth grade at the time, and he attended school when he felt well enough. When he was too sick to go to school, his teachers made house calls.
But Sean did more than survive. He survived his initial treatment and requested that his Hickman catheter be removed early so that he could compete in the championship swim meet at the end of the summer. By that time, he had gained about 60 pounds from his doses of prednisone, and his goal was simply to swim down and back the length of the pool. Most 14 year olds might not have been happy with that performance, especially if, like Sean, they had never lost a race. But even at such a young age, Sean knew that one length of the pool was an accomplishment.
After the race, he told a reporter, "I want to tell people that they can accomplish anything if they set their mind to it."
In retrospect, Sean laughs at his early sense of optimism. "I was 14 going on 40. I understood more about life than most 40-year-olds."
Toward the end of that summer, Sean's cancer went into remission, and he was able to start his freshman year of high school right on track. But that track was set to veer again. Like all cancer survivors, Sean underwent regular follow-up screening after completing treatment. It was during one of these routine check-ups, about a year-and-a-half after his remission, that x-rays showed a golf-ball sized tumor on his right lung.
With Sean's first bout of cancer, he didn't have any signs or symptoms of the disease; the diagnosis was prompted by a minor basketball injury that led to swelling in every joint in his body. Similarly, Sean's second cancer diagnosis was not preceded by any signs or symptoms of cancer. He just happened to go in for an x-ray at the right time. Acknowledging that both of his cancer diagnoses were the result of extenuating circumstances, he exhibits his trademark optimism when he jokes, "I have the world's worst good luck."
At the time, there seemed nothing lucky about the diagnosis: Sean was told he had Askin's sarcoma, a rare pediatric tumor.
"I remember the doctor taking my parents out into the hall to talk to them," he recounts. "I snuck over to the doorway to eavesdrop, and I heard my mom ask, 'Is it cancer again?' I crept back to my bed and started bawling."
This time the prognosis was even worse. The doctors told Sean's parents that he had about two weeks to live. He immediately underwent a thoracotomy for removal of his tumor, followed by the insertion of a Hickman catheter to allow him to receive his chemotherapy treatments.
Sean was almost 16 years old at this point, and his biggest disappointment at the time was the thought that he would miss the district championship track meet, scheduled to take place five days after his surgery. He knew he wouldn't be able to participate, but he wanted desperately to attend, even if only as a spectator. The doctors told him there was no way.
Following his surgery, Sean was given an accordion balloon that he had to blow into and inflate with his lungs each day. The doctors told him that he would be released when he could inflate the balloon to a certain mark. Sean practiced every day and marked his progress on the balloon. Each day, he tried to push past the mark he had made on the previous day. Finally, on the day of the track meet, he reached his goal and was released to attend the meet. Sean's teammates were so inspired by his presence, that they were propelled to win the meet by one-quarter of a point. At the end of the season, they presented him with a plaque that read, "Dedicated to Sean Swarner, whose effort is an inspiration to us all."
Though Sean had reached his goal and had attended the track meet, the challenge of his remaining treatment loomed ahead. Three months of grueling chemotherapy followed his surgery. For each treatment, he would check in to the hospital, where doctors would put him into a medically-induced semi-coma and pump him full of chemotherapy drugs. He would then return home and recover for a few days, only to return to the hospital do it all over again.
The chemotherapy was followed by radiation therapy: five days a week for five weeks. Sean remembers this part of the treatment most clearly because he had to travel 90 miles each way for treatment every day. No doubt an added stressor for most patients, Sean loved the commute because he was just learning how to drive, and it allowed him to clock a lot of time behind the wheel of the car. During this time, his hair started growing back, and he even felt well enough to go out on a date—"normal life" seemed a possibility again.
But this brief respite didn't last. Sean's treatment required another round of chemotherapy, and he underwent another 10 months of intense treatment. The chemo was difficult for Sean, and for the entire Swarner family. But Sean remembers the strength that his parents exhibited: "My family was there with me through everything," he says. "My mom and dad were incredible. They had the hospital bring in Lazyboy chairs so they could sleep next to my bed while I was going through treatment."
Because of the distance they were required to travel for treatment, Sean's younger brother, Seth, remained behind with friends and family. In retrospect, Sean says that if they had it to do over again, they would probably have brought him along to the hospital. But despite the fact that he wasn't able to be at Sean's side during treatment, Seth still contributed his support. "Seth seemed to hang in there and manage okay," Sean remembers. "He actually stuck up for me a number of times. At one point, we were at a soccer game, and the other team was calling me 'Barbie' because I looked plastic with my wig and my swollen, tight face. Seth went over and told them to stop."
This stage of his treatment seemed interminable in Sean's memory. When he wasn't receiving chemotherapy, he was at home recovering from his most recent treatment. While many of the details remain fuzzy for him, Sean remembers one thing absolutely clearly: the date he finished treatment, Monday, May 7, 1990.
Sean had tried to remain as active as possible during his cancer treatment, and when it was over, he tried to slowly do as much as he could. He had missed an entire year of school and what, to his adolescent mind, seemed like an eternity of social events. He wanted nothing more than to be able to return to school and to all of his normal activities.
With this goal in mind, it was exactly one year after his cancer went into remission, and two years after that district track meet that had been so important to him after his surgery, that Sean won the 800-meter run at the same meet. He finally felt like his life was moving forward.
Sean graduated from high school one year behind schedule and headed off to college. Beginning college as a biology major, Sean's goal was to become a doctor and cure cancer patients. But during a psychology class, he became interested in the power of the human mind—something his own experience as a cancer patient had lent him plenty of experience with—and he switched his major to psychology. He ultimately wrote his senior thesis about optimism and quality of life in cancer patients, and then proceeded on to graduate school to pursue a doctorate in psycho-oncology.
It was while he was living in Florida and pursuing his graduate degree that Sean first started thinking about Mt. Everest. While the idea of practicing psycho-oncology and helping cancer patients was appealing on some levels, Sean felt like there was more he could do. "I took a sabbatical from my studies at that time and reflected on my life and on having cancer. It was a pretty emotional time and incredibly hard on me because it was the first time I had really spent time thinking about having cancer," Sean remembers. "That's when I also decided I could never be the psycho-oncologist I wanted to be. It was too emotional for me, and I couldn't handle the pain. But, I knew that life was precious and short, and I wanted to make a difference. I also wanted to try to touch more people around the world…hence Everest."
Sean decided to switch gears. He left school and Florida and set his sights on his dream of climbing Everest, and of using mountaineering as a foundation for advocacy work. With these goals in mind, Sean and Seth took the first step in making Everest a reality by starting the CancerClimber Association—an organization dedicated to raising money through adventurous fundraisers to send kids with cancer to summer camps free of charge.
Once the idea of Everest took hold, there was no turning back. Sean moved to Estes Park, Colorado and began climbing a popular local fourteener, Long's Peak, regularly. Colorado was an ideal place to begin training because the state boasts a large number of fourteeners–mountains that measure higher than 14,000 feet—and Sean had a lot of climbing to do.
Mt. Everest is a daunting prospect for even the most accomplished mountaineer, and Sean had absolutely no mountaineering experience. He found a mountaineering book that was helpful and read it several times. He spent time with other climbers who became mentors, and he asked a lot of questions. He continued to climb and to prepare physically. He and Seth also traveled to Washington state to climb Mt. Rainier, in order to gain some mountaineering experience. But even Rainier paled in the shadow of Sean's ultimate goal: at 14,410 feet, Rainier is less than half the height of Everest.
The physical preparation for Everest would be intense for anyone setting out to accomplish such a tremendous feat. Sean's physical challenge was magnified by the fact that he isn't your typical cancer survivor: he is the only documented person in the world to have had both Hodgkin's disease and Askin's sarcoma. As a result of his second cancer, he has only partial use of his lungs. But Sean had never let his physical limitations stop him, and he continued to push ahead.
His lack of mountaineering experience and his history of cancer were only two of many obstacles that loomed between Sean and Mt. Everest. He faced opposition from more experienced climbers in the mountaineering community, who were skeptical of his fast-track approach to Everest. Most climbers who attempt Everest have been climbing for years and have gained experience on other big peaks before attempting the world's highest. Mt. Everest is a dangerous and unforgiving mountain. Even the most seasoned climbers are injured and die attempting to summit. Sean's methods for training for his climb were atypical and are, needless to say, not recommended for the average person. But to call Sean an average person, or even an average cancer survivor, is to ignore the sheer force of his will-power and the indomitable spirit that had already enabled him to cheat death…twice.
And so despite his limited experience, Sean persevered. He tackled the financing of the climb with the same sense of determination that he applied to his physical training. He found three sponsors (Asolo, Leki, Kavu) willing to take a chance on an unknown climber attempting to become the first cancer survivor to summit Mt. Everest. In addition, he developed a CancerClimber flag. Cancer survivors and their families and friends bought space on the flag for their name, knowing that they would, in a sense, summit the mountain with Sean and lend their support to his cause. And in the end, he sold most of his own possessions.
His single-minded determination continued to propel Sean toward Everest. He didn't care that he faced harsh criticism from the mountaineering community—a small, tight-knit group with an unwritten set of standards. He didn't care that his journey to the base of the mountain was unconventional. He didn't even care that he would have to cash in his life savings in order to fund the climb. All he knew was that he wanted to climb Mt. Everest, and he intended to do it. Like every other goal he had set in his life, he planned to achieve this one.
Because for Sean, the climb meant much more than a mountaineering accomplishment. He was climbing for all cancer survivors. He wanted to spread cancer awareness, but, more importantly, he wanted to show cancer survivors that nothing is impossible. He wanted to give cancer patients the will to live.
"I didn't have any heroes or anyone to look up to or to inspire me when I was a kid with cancer," Sean says. "I want cancer patients, and especially kids with cancer, to be inspired by my climbs so that they know that they can do anything, including survive cancer."
And finally, the training, the fundraising and the dreaming paid off, and Sean was able to leave for Everest. His small support group for the climb included Seth, a cook and two sherpas, Kame and Nima Gombu. Once they reached the Everest base camp, Seth and the cook stayed in camp, while Sean, Kame and Nima pushed for the summit.
On May 16, 2002, Sean became the first (and still only) cancer survivor to stand on the summit of Mt. Everest. On the summit, he held the flag with the names of cancer survivors. "Everyone named on that flag is a CancerClimber, whether they actually climb the mountain or not," Sean said. "I want to show people that they can climb out of their old ways and into new ones, out of their old life and into a new one."
The view from the summit of Everest is overwhelming and awe-inspiring for any climber, and it was perhaps even more so for Sean. Twice he had faced death, and twice he had conquered it. Now, he literally stood on top of the world, fully alive.
"The first thing that went through my mind was 'Holy cow, I made it.' Then, not a millisecond later, the second thing that flashed through my gray matter was 'um, I have to go back down, huh?'"
For most people, the summit of Everest would probably have been the pinnacle. Where else is there to go from there? For Sean, Everest became the starting point. He recounts, "I thought to myself, 'Why stop there? Why not keep going?'"
He had set his goal and achieved it, and now it was time for a new goal. Two days after he returned home, Sean climbed Long's Peak, and the idea of the Adventure Grand Slam began to take shape. Completing the Grand Slam entails scaling the seven summits—the highest peak on each continent—plus trekking to the North and South Poles.
In Sean's characteristic style, once the goal took root, it required action. He attacked the most difficult peak first. Apparently, after conquering Everest, it just "made sense" for him to keep going. Thus far, Sean has climbed Kilimanjaro in Africa, and then, only nine days later, he stood on top of Elbrus in Europe. He also completed Aconcagua, in Argentina (roughly 23,000 ft).
Through his success, Sean never forgets the real reason he climbs: "Having cancer was a part of me and is a part of me; it's part of who I became and who I am becoming."
On every climb, he continues to carry a flag for cancer survivors that reads "Dedicated to all those affected by cancer in this small world. Keep climbing!" He also visits cancer centers in the countries where he climbs, like the Bhaktapur Cancer Care Center in Khatmandu, in order to spread hope and inspire patients to dream big.
In his "down time," Sean continues to live in Colorado and climb many of the nearby peaks. He travels extensively to speak to universities, businesses and organizations about his experiences as a cancer survivor and a mountaineer. His message reflects his own powerful sense of determination: "Every person has their 'Everest,' their mountain to climb," he says. "I tell cancer patients to make a conscious decision to do what they want to do and to never, ever give up hope."