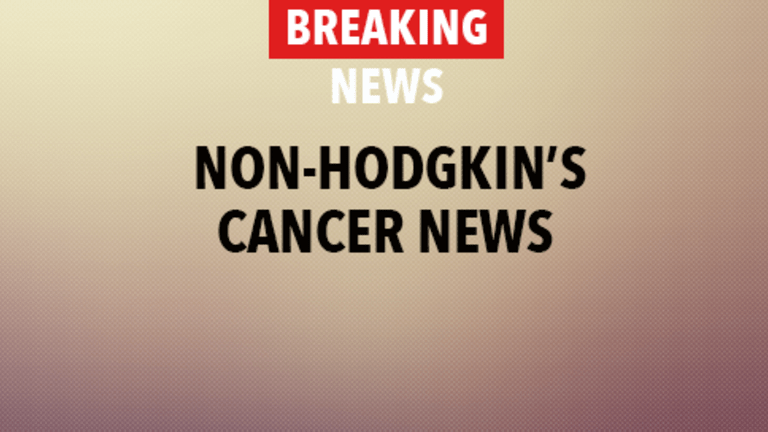 Dose Intensity Associated with Survival in Non-Hodgkin's Lymphoma
Dose Intensity Associated with Survival in Non-Hodgkin's Lymphoma.
Relative dose intensity (RDI) remains a key factor in the outcomes of patients with non-Hodgkins lymphoma (NHL). These results have been validated in several multicenter clinical studies.
Non-Hodgkin's lymphoma is a form of cancer that begins in the cells of the lymph system. The lymph system includes the spleen, thymus, tonsils, bone marrow, lymph nodes, and circulating immune cells. The main cells in the lymph system are lymphocytes, of which there are two types: B- and T-cells. Each cell type has a specific function in helping the body fight infection.
Non-Hodgkin's lymphoma is characterized by the excessive accumulation of atypical (cancerous) lymphocytes. These lymphocytes can crowd the lymph system and suppress the formation and function of other immune and blood cells. Non-Hodgkin's lymphoma is categorized by the type of lymphocyte it involves and by the rate at which the cancer grows.
RDI is a term that describes how closely the actual dose and schedule of chemotherapy given to a patient compares to the established chemotherapy doses and scheduling. A higher RDI percentage means that the delivered dose and schedule is closer to the established regimen, while a lower RDI percentage indicates significant chemotherapy dose delays or dose reductions. Delays or dose reductions in chemotherapy delivery are often due to side effects caused by therapy.  
It has been established that a higher RDI is significantly associated with improved survival among patients with NHL undergoing the most commonly prescribed chemotherapy regimens (anthracycline-based therapies).
An analysis of data including 15 patients with diffuse large cell lymphoma revealed that patients who received greater than 75% of RDI had significantly improved overall survival at five years (over 60%) compared with those who received 75% or lower RDI (less than 40%).
Another analysis included patients with newly diagnosed NHL who achieved a complete disappearance of their cancer following treatment with CHOP (cyclophosphamide, doxorubicin, vincristine, and prednisone).[1] Among those who exhibited a complete response, five-year survival was 80% among those who had received cyclophosphamide at an initial RDI of more than 90%; conversely, five-year survival among patients who received 90% or less of initial RDI of cyclophosphamide was only approximately 50%.
Although RDI is an important component to achieving optimal outcomes among NHL patients, less than half of patients treated with CHOP-based therapies receive at least 85% RDI among community practices.[2] The most common cause of suboptimal RDI (dose delays or reductions) is neutropenia. In fact, neutropenia results in nearly 60% of all dose delays and reductions among NHL patients treated with CHOP-based therapies, comprising a greater percentage than all other causes combined.[3]

Chemotherapy remains the cornerstone of treatment for patients with cancer. Unfortunately, chemotherapy is associated with side effects, including low levels of immune cells—a condition referred to as neutropenia. Patients with neutropenia can become susceptible to infection with bacteria, viruses, and/or fungus. Among patients with neutropenia accompanied by fever (febrile neutropenia [FN]), even the slightest infection can become life-threatening. Patients with FN typically must have their treatment doses delayed or reduced, which decreases chances for the best outcomes.
Fortunately, neutropenic patients can receive blood cell boosters (growth factors) such as Neulasta, which are given by injection during chemotherapy cycles. Neulasta has the ability to reduce infections, hospitalizations, medical cost, dose delays, and death associated with infection in neutropenic patients. The FDA has approved Neulasta to be given 14 days before initiation of chemotherapy or at least 24 hours following initiation of chemotherapy. Researchers continue to evaluate the effects of Neulasta among patients who are at risk for FN.
Taken together, these results indicate that in order to improve RDI and thus increase chances for optimal outcomes among patients with NHL receiving CHOP-based therapies, the risk and/or severity of neutropenia must be reduced as it remains by far the largest factor in suboptimal RDI delivery of therapy among this patient population. As such, preventive or proactive measures such as the use of Neulasta early in the course of chemotherapy or among patients who are at a high risk of developing neutropenia may provide an effective means of improving RDI and ultimately outcomes among NHL patients.
References:
[1] Epelbaum R, Faraggi D, Ben-Arie Y, et al. Survival of diffuse large cell lymphoma. Cancer. 1990;66:1124-1129.
[2] Lyman G, Dale C, Friedberg J, Crawford J, Fisher R. Incidence and predictors of low chemotherapy dose-intensity in aggressive non-Hodgkin's lymphoma: a nationwide study. Journal of Clinical Oncology. 2004;22:4302-4311.
[3] Picozzi V, Pohlman B, Morrison V, et al. Patterns of chemotherapy administration in patients with intermediate-grade non-hodgkin's lymphoma. Oncology. 2001;15:1296-1306.
Copyright © 2018 CancerConnect. All Rights Reserved.