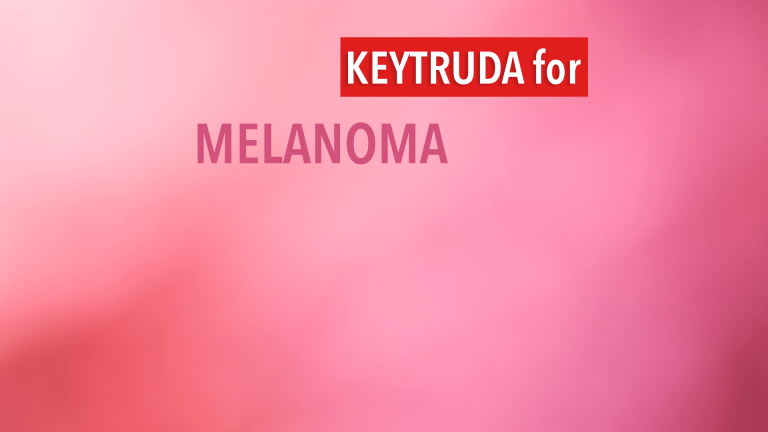 Keytruda® PD-1 Immunotherapy Treatment Improves Survival in Melanoma
Keytruda treatment for melanoma improves survival, treats CNS disease and may be most effective when used in combination
by Dr. C.H. Weaver M.D. updated 10/2021
Keytruda (pembrolizumab) immunotherapy works by blocking the action of a protein called PD-1. Because PD-1 inhibits certain types of immune responses, drugs that block it may enhance the ability of the immune system to fight cancer. Keytruda was the first anti-PD-1 "checkpoint inhibitor" drug, aimed at re-energizing a patient's protective immune response to cancer to receive FDA approval in the U.S.
Keytruda is FDA approved as adjuvant therapy for early stage melanoma, more advanced melanoma and also appears to treat central nervous system disease. Keytruda may ultimately be most effective when combined with other precision cancer medicines.1-12
About Melanoma
Melanoma is the most serious form of skin cancer and is characterized by the uncontrolled growth of pigment-producing cells. The rates of melanoma have been rising over the past few decades. It is estimated that in 2021, there will be more than 106,000 individuals diagnosed with melanoma diagnosed and more than 7,000 die from their disease in the United States.
Keytruda Treament of Stage II Melanoma
The Phase 3 KEYNOTE-716 clinical trial evaluated Keytruda treatment in 954 patients with stage IIB and IIC melanoma that had been surgically resected. Following surgery half of the patients received Keytruda and half did not. At the interim analysis it was determined that Keytruda treatment improved the duration of remission without cancer recurrence.  Fewer patients treated with Keytruda experienced recurrence and at 12 months 90.5% of Keytruda treated patients survived cancer free compared to only   83% of those not treated with Keytruda. 
Keytruda Treatment of Stage III Melanoma
The Keynote 054 clinical trial established Keytruda as standard treatment for stage III melanoma and led to FDA approval.
Adjuvant Therapy in Melanoma: Melanoma is separated into five staging categories (stages 0-4). Stage III melanoma is a cancer that has spread to the regional lymph nodes but has not yet spread to distant lymph nodes or to other parts of the body (metastasized). Standard treatment of stage III melanoma includes surgical resection of the primary tumor as well as the involved lymph nodes. Despite surgical removal of the cancer however, most patients experience disease recurrence and progress to metastatic disease. By five years, the majority of stage IIIb and IIIc patients (68% and 89%, respectively) experience disease recurrence. Keytruda adjuvant therapy administered following surgery reduces the risk of the cancer spreading.
About EORTC1325/KEYNOTE-054
The KEYNOTE-054 clinical trial evaluated adjuvant therapy with Keytruda compared to placebo in patients with resected high-risk stage IIIA, B, or C melanoma. In total, the study enrolled 1,019 patients who were treated with either Keytruda or a placebo for up to 1 year. Keytruda improved recurrence-free survival by reducing the risk of disease recurrence by 43% in individuals with surgically resected, high-risk stage III melanoma.
Keytruda is the second "checkpoint inhibitor" demonstrated to improve the treatment of stage III melanoma. The United States Food and Drug Administration also granted approval to Opdivo (nivolumab) for the adjuvant treatment of melanoma. Opdivo significantly improved recurrence-free survival at 18 months (66%) compared to standard treatment with Yervoy® (ipilimumab), (53%) in patients with surgically resected Stage III or Stage IV melanoma.
Keytruda and Opdivo are both precision cancer medicines that belong to a new class of medicines called PD-1 inhibitors that have generated great excitement for their ability to help the immune system recognize and attack cancer. PD-1 is a protein that inhibits certain types of immune responses. Drugs that block PD-1 may enhance the ability of the immune system to fight cancer. These so call "checkpoint inhibitors" work by blocking PD-1. Additional clinical trials will further evaluate how best to use these new medications; whether best used alone, or in combination, and the optimal duration of therapy remain unanswered questions.10-12
Keytruda Effective Treatment in Advanced Melanoma
Keytruda® outperformed Yervoy® (ipilimumab) as initial treatment of patients with advanced melanoma. Results of the KEYNOTE 006 trial updated at the 2017 annual meeting of the American Society of Clinical Oncology (ASCO) reported that Keytruda is associated with a 30% improvement in survival when used as initial treatment for advanced melanoma. In August 2019 another update was published in Lancet clearly demonstrated the long term superiority of Keytruda in prolonging survival.
With longer term follow up now beyond 5 years, Keytruda remains associated with a significant improvement in average overall survival doubling that achieved with Yervoy from 16 to 33 months.
The Phase III clinical trial known as KEYNOTE-006 directly compared Keytruda with Yervoy for the initial treatment of patients with advanced melanoma that could not be removed with surgery. Yervoy is a monoclonal antibody approved for the treatment of advanced melanoma that enhances the immune system's response against tumor cells and was approved in 2011 for the treatment of melanoma. The 834 patients included in KEYNOTE-006 had no more than one previous systemic therapy (such as chemotherapy or biological agents).
Initial results of KEYNOTE 006 published in 2015 demonstrated that Keytruda was significantly more effective than Yervoy in both progression-free and overall survival. With these outcomes, Keytruda became the first anti-PD-1 therapy to demonstrate a survival advantage compared to the standard of care for the first-line treatment of advanced melanoma.
Overall 50% of patients treated with Keytruda were alive nearly three years after starting treatment compared to 39% of patients treated with Yervoy.9
Keytruda Active Against Brain Metastases
Brain metastases are a common cause of disabling neurologic complications and death in patients with metastatic melanoma and occur in up to 40% of patients. A recently reported clinical study in 23 patients with melanoma and one or more asymptomatic, untreated 5- to 20-mm brain metastases treated with Keytruda monotherapy found that 26% of the patients treated with Keytruda responded for an average of 24 months.
Cancer in the brain and the rest of the body responded in a similar manner suggesting the brain metastases were of similar biology to the rest of the cancer. The average overall survival was 17 months and ~ 50% of the patients survived 2 years or longer.
Doctors are now evaluating the use of dual immunotherapy as treatment for metastatic melanoma that has spread to the brain. Patients with brain metastases should discuss these options with their treating physician and explore newer combinations of immunotherapy being evaluated in clinical trials.4
Keytruda Combination Therapy
Keytruda may ultimately be more effective when used in combination with other precision cancer medicines or immunotherapies.
Keytruda + BRAF-MEK Inhibitors
BRAF V600E mutated advanced melanoma patients survive longer without their cancer progressing when they are treated with a combination of two precision cancer medicines that block the BRAF mutation (dabrafenib and trametinib) and Keytruda.5
Keytruda + T-VEC
UCLA scientists have developed a potential new treatment that combines Keytruda with a herpes virus treatment called T-VEC (talimogene laherpareovec).
T-VEC is a genetically modified version of the herpes simplex virus that causes cold sores but is safe to use. T-VEC has already been approved for the treatment of melanoma and it works both by directly killing cancer cells and using a protein that attracts immune cells into the cancers.6,7
According to the study people whose melanoma does not respond to keytruda often lack a type of T cell called CD8+ in their tumors; the lack of CD8+ cells seems to prevent immunotherapy drugs from working. But the researchers believe those people might benefit from a combination therapy, because T-VEC attracts CD8+ immune cells to the tumors and keytruda allows them to attack the cancer cells.
The phase 1 clinical trial evaluated 21 people with advanced melanoma. Researchers injected patients' melanoma tumors with T-VEC for six weeks and then gave them infusions of keytruda. Sixty-two percent of the patients had a partial or complete response, meaning that their tumors either shrank or were no longer detectable.
The combination therapy could provide an alternative treatment for people with melanoma whose tumors don't respond to other therapies. It also being tested in people with head, neck and colon cancers.
Keytruda + Epacadostat
Epacdostat is a selective IDO1 enzyme inhibitor that when combined with Keytruda® appears promising. Epacadostat is an agent that blocks an enzyme called IDO1, which is implicated in the growth and spread of cancer cells. The immunosuppressive effects of indoleamine 2,3-dioxygenase 1 (IDO1) enzyme activity help cancer cells evade immunosurveillance. In single-arm studies, epacadostat combined with the PD-1 inhibitors Keytruda or Opdivo (nivolumab) improved response rates compared with studies of the immune checkpoint inhibitors alone.8
Epacadostat in combination with Keytruda appears well-tolerated in advanced melanoma patients. The average time to cancer progression was 12.4 months, and 70 percent, 54 percent, and 50 percent of individuals survived without evidence of cancer progression at 6 months, 12 months, and 18 months respectively. In patients who had never received treatment for advanced melanoma 52 percent survived without melanoma progression at 18 months from treatment and the average duration of survival had not been reached.
References:
Merck's Pivotal KEYNOTE-006 Study in First-Line Treatment for Advanced Melanoma Met Co-Primary Endpoints and Will Be Stopped Early [press release]. Merck website. Available at: mercknewsroom.com/news-release/oncology-newsroom/mercks-pivotal-keynote-006-study-first-line-treatment-advanced-melano. Accessed April 8, 2015.
abstracts.asco.org/199/AbstView_199_187297.html
Ribas A, Hodi FS, Kefford R, et al. Efficacy and safety of the anti-PD-1 monoclonal antibody MK-3475 in 411 patients (pts) with melanoma (MEL). J Clin Oncol 32:5s, 2014
Long-Term Survival of Patients With Melanoma With Active Brain Metastases Treated With Pembrolizumab on a Phase II Trial
news.cancerconnect.com/melanoma/three-drug-combination-improves-outcomes-of-braf-v600e-advanced-melanoma-GBDSifpSFkCUpM0VipvxTg/
abstracts.asco.org/199/AbstView_199_181148.html
news.cancerconnect.com/epacadostat-plus-keytruda-appears-effective-melanoma/
*Lancet Oncol***. 2019 Jul 22. Epub ahead of print).
mrknewsroom.com/news-release/oncology/mercks-keytruda-pembrolizumab-significantly-improved-recurrence-free-survival-
news.cancerconnect.com/fda-approves-opdivo-adjuvant-treatment-melanoma/
mrknewsroom.com/news-release/prescription-medicine-news/fda-approves-mercks-keytruda-pembrolizumab-adjuvant-treatmen