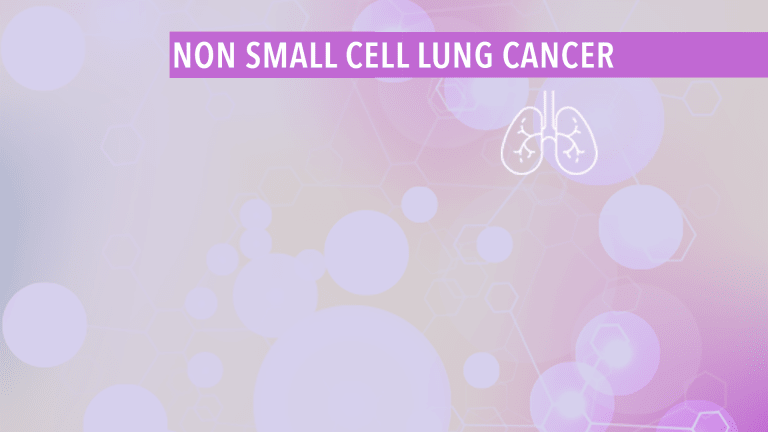 Understand ALK Inhibitor Treatment of ALK positive Lung Cancer
Alcensa, Xalkori, and several other precision cancer medicines target ALK positive lung cancer and improve treatment.
Alcensa, Xalkori, and several other precision cancer medicines target ALK positive lung cancer and improve treatment.
by Dr. C.H. Weaver M.D. updated 5/2020
Approximately 5% of all NSCLC's have an identified mutation referred to as the anaplastic lymphoma kinase (ALK) mutation. The ALK mutation is responsible for initiating and driving cancer growth. Individuals with ALK+ lung cancer tend to be non-smokers or former light smokers; younger, and are a type of NSCLC referred to as adenocarcinoma (based upon the cells affected). ALK + NSCLC tends to respond poorly to standard chemotherapy regimens.
Several precision cancer medicines that target variances in the ALK mutation are available and produce significant anti-cancer responses among cancers that test positive for ALK rearrangements.
Xalkori was the initial medicine approved as treatment for ALK + NSCLC. ALK-positive NSCLC patients however often have a cancer recurrence following treatment with Xalkori therefore, researchers have focused on developing new precision medicines for this group of patients.
Several precision cancer medicines have been developed for the treatment of ALK positive NSCLC and these medications appear more effective than traditional chemotherapy.(1-19)
Alcensa (alectinib)
Alcensa was approved for treatment of patients with the ALK driver mutation in NSCLC in December 2015 based on research showing that 38% - 44% of patients intolerant to or failing Xalkori responded to Alcensa treatment. Of interest 81% of patients with central nervous system involvement responded longer to Alcensa treatment compared to Xalkori.(3)
Alcensa is the current standard of care for the initial treatment of patients with ALK-positive lung cancer. (3-7) Alcensa provides longer symptom improvement than Xalkori in ALK-positive lung cancer and improves progression-free survival and delays the time to CNS progression when directly compared to Xalkori. The phase 3 ALEX clinical trial directly compared Alcensa to Xalkori as initial treatment for patients with advanced ALK-positive NSCLC. Alcensa had fewer side effects, delayed cancer progression, and reduced the time to cancer progression in the brain. Patients treated with Alcensa survived on average 35 months without cancer progression compared to only 11 months with Xalkori. (18)
Alcansa has a better toxicity profile than Xalkori. Fewer patients treated with Alcensa report clinically meaningful worsening in treatment-related symptoms such as diarrhea, peripheral neuropathy, constipation, dysphagia, appetite loss, and nausea/vomiting.
Alecensa Superior to Xalkori in ALK positive NSCLC Involving the Brain
The results from two separate clinical studies comparing Alecensa® to Xalkori presented at the European Society for Medical Oncology demonstrated that Alecensa® is superior for treating NSCLC that has spread to the brain in ALK gene positive NSCLC.
Findings from the ALUR, as well as a secondary analysis of the ALEX trial both showed Alecensa can significantly decrease CNS progression of NSCLC in both the first-line as well as the second-line treatment setting.(1,2)
The ALUR clinical trial reported that of 107 ALK+ NSCLC patients whose disease had progressed after a previous first-line combination treatment of both platinum-based chemotherapy and Xalkori. The CNS overall response rate was 54.2% in those treated with Alecensa compared to zero for those treated with chemotherapy. Alecensa delayed cancer progression by 9.6 months compared to 1.4 months for Xalxori.(5)
Zykadia®
Approved for First-Line ALK-Positive NSCLC
Zykadia is an oral, selective inhibitor of ALK, a gene that can fuse with others to form an abnormal "fusion protein" that promotes the development and growth of certain tumors in cancers including NSCLC. The US FDA approved the expanded use of Zykadia® to include the first-line treatment of patients with NSCLC whose cancers are ALK-positive.(8-10)
The approval of Zykadia is based on results from the ASCEND-4 clinical trial. ASCEND-4 compared Zykadia to standard chemotherapy, including maintenance, in adult patients with Stage IIIB or IV ALK-positive advanced NSCLC who received no prior therapy for their advanced disease. Patients received Zykadia or standard pemetrexed-based platinum doublet chemotherapy followed by pemetrexed maintenance and were directly compared.
Of 376 patients, 189 (59 with brain metastases) who were treated with Zykadia and 187 (62 with brain metastases) with chemotherapy. Patients treated with first-line Zykadia had a median time to cancer progression of 16.6 months, compared to 8.1 months for patients treated with standard first-line pemetrexed-platinum chemotherapy with pemetrexed maintenance. Overall intracranial response rate in patients with measurable brain metastases was 57% for patients treated with Zykadia, versus 22% for patients treated with chemotherapy. Patients without brain metastases receiving Zykadia experienced an average time to cancer progression of 26.3 months compared with 8.3 months among patients treated with chemotherapy.(1,3)
Lorbrena (lorlatinib)
Lorbrena is a third-generation oral medication that blocks the protein produced by the abnormal ALK gene. Approval of Lorbrena was based on a subgroup of 215 patients with ALK-positive metastatic NSCLC who were previously treated with one or more ALK kinase inhibitors. The overall response rate to Lorbrena treatment was 48%, with 4% complete and 44% partial responses. The estimated median response duration was 12.5 months. In addition, a 60% response rate was reported among patients with measurable intracranial lesions and the median duration of response in these patients was 19.5 months.(11,12) Learn more....
Alunbrig (brigatinib)
On May 22, 2020, the US FDA approved Alunbrig for the treatment of ALK-positive metastatic NSCLC based on efficacy outcomes from the ALTA 1L clinical trial, in which patients with confirmed ALK-positive NSCLC, who had not received prior ALK-targeting therapy, were were treated with either Alunbrig orally once daily or Xalkori orally twice daily and directly compared.
Alunbrig treated patients survived on average 24 months without cancer progression compared with 11 months for those receiving Xalkori. The most common side effects were diarrhea, fatigue, nausea, rash, cough, myalgia, headache, hypertension and vomiting.
Higher Dose Alunbrig ALK Inhibitor Improves Outcomes
Doubling the dose of the ALK inhibitor Alunbrig improved outcomes in patients with Xalkori refractory NSCLC according to a study published in the Journal of Clinical Oncology.
In the current study patients who started treatment at 90 mg/day and had their dose gradually increased to 180 mg/day experienced an improved response rate (54% versus 45%) and this translated into a delay in cancer progression and prolonged survival. Importantly these better outcomes occurred with limited additional side effects.
Higher doses of chemotherapy drugs ofter kill more cancer cells than lower doses. When higher doses of therapy kill more cancer than lower doses, doctors say there is a "dose response effect." Additional post FDA approval clinical trials are performed to refine dosing regimens and drug combinations.(13)
Next Generation Treatment of ALK + NSCLC
AP26113 Active in NSCLC with Brain Metastasis
The novel targeted agent AP26113 shows strong anti-tumor activity in Xalkori® resistant and Xalkori-naïve patients with NSCLC.
AP26113 is a novel targeted agent known as a tyrosine kinase inhibitor. It potently inhibits mutant activated forms of ALK and epidermal growth factor receptor (EGFRm), but does not inhibit native EGFR.
Researchers conducted a phase 1/2 open-label dose finding multi-center study of AP26113 in ALK positive patients and determined that AP26113 was generally well tolerated. An objective response was observed in 22 (65%) of 34 ALK-positive NSCLC patients. The response rate in patients previously treated with Xalkori was 61%; all three Xalkori-naive patients responded (100%), one with a complete response. Eight of 10 patients (80%) with preexisting brain metastasis had radiographic evidence of regression, and ongoing improvements lasting more than 40 weeks were reported.
The researchers note that the data is immature, but 80 percent of patients remain on therapy after six months and there is a marked response in brain metastases.(15)
Ensartinib (X-396)
Ensartinib is a new-generation ALK inhibitor with high activity against a broad range of known crizotinib-resistant ALK mutations and CNS metastases. Clinical results demonstrate that Ensartinib is well tolerated and has anti-tumor activity in patients with ALK positive NSCLC.
Results were initially presented from a dose-escalation phase 1 study evaluating in patients with advanced solid tumors. The NSCLC patient group was comprised of ALK-positive patients (n=18) who were either Xalkori® (crizotinib)-naïve (n=5) or Xalkori-resistant (n=13). Among 11 ALK positive patients evaluable for response 6 patients had a partial response (55%) and 2 had stable disease (18%). Of the three patients with progressive disease, and acquired resistance to Xalkori anti-cancer activity was also observed.
In a larger trial 156 patients with stage IIIb or IV ALK-positive NSCLC that had progressed with crizotinib therapy were given at least 1 Ensartinib dose - 52% of these patients had an objective response. Ensartinib showed confirmed efficacy among patients harboring certain common ceritinib-resistant mutations (F1174L/V or C1156Y) or alectinib-resistant mutations (I1171T/S).
The clinical safety profile for Ensartinib is thus far favorable and different from other ALK inhibitors. This and other studies are ongoing to better determine what role it will play in the management of NSCLC. Ensartinib is currently only available through participation in clinical trials.(16,19)
Xalkori (crizotinib)
The ALK "inhibitor" Xalkori™ was determined to be more beneficial than chemotherapy for certain individuals with ALK positive lung cancer. The research published in the New England Journal of Medicine was responsible for the gradual replacement of chemotherapy by ALK inhibitor precision cancer medicines.
The clinical trial involved 343 NSCLC patients with overactive ALK who were divided into two groups and the results of their treatment directly compared. One group received Xalkori™ and the other group was treated with a standard chemotherapy regimen using pemetrexed, and either carboplatin or cisplatin.
On average, individuals treated with Xalkori™ experienced control of their cancer for almost 11 months compared to only 7 months for those receiving the chemotherapy treatment regimen. Xalkori™treated patients also experienced a greater reduction in symptoms related to their cancer and improved quality of life.
References:
N Engl J Med. 2017 Jun 6. doi: 10.1056/NEJMoa1704795.
Shaw AT, Kim DW, Mehra R, et al: Ceritinib in ALK-rearranged non–small-cell lung cancer. New England Journal of Medicine. 2014; 370: 1189-1197.
Peters S, Camidge DR, Shaw AT, et al. Alcensa versus Xalkori in Untreated ALK-Positive Non-Small-Cell Lung Cancer. N Engl J Med. 2017;377(9):829–838. doi: 10.1056/NEJMoa1704795.
news.cancerconnect.com/alecensa-superior-xalkori-treatment-lung-cancer/
Abstract 138PD_PR "Patient-reported outcomes (PROs) in ALEX: A phase III study of Alcensa (ALEC) vs Xalkori (CRIZ) in non-small-cell lung cancer (NSCLC)" presented by Maurice Pérol during the Poster Discussion session "Immunotherapy and next-generation TKIs: from second to frontline treatment" on Thursday 12 April, 07:45 to 09:00 (CEST) in Room A. Journal of Thoracic Oncology, Volume 13, Issue 4, Supplement, April 2018
Abstract 1298O_PR "Alectinib vs crizotinib in treatment-naïve ALK+ NSCLC: CNS efficacy results from the ALEX study.
Abstracts 1299O_PR 'Primary results from the phase III ALUR study of alectinib versus chemotherapy in previously treated ALK+ non-small-cell lung cancer (NSCLC).
Zykadia® (ceritinib) Full Prescribing Information.
Lovly, C., L. Horn, W. Pao. 2016. Molecular Profiling of Lung Cancer. My Cancer Genome. Non-Small Cell Lung Carcinoma. (Updated March 28). Accessed March 22, 2017.
Soria JC, et al. First-line ceritinib versus platinum-based chemotherapy in advanced ALK-rearranged non-small-cell lung cancer (ASCEND-4): A randomized, open-label Phase 3 study. The Lancet. 2017; 389(10072):917-929.
J Clin Oncol. 2019 Mar 20. Epub ahead of print
Brigatinib in Patients With Crizotinib-Refractory Anaplastic Lymphoma Kinase–Positive Non–Small-Cell Lung Cancer: A Randomized, Multicenter Phase II Trial
Phase III Study Shows Genentech's Alecensa® Was Superior to Crizotinib in a Specific Type of Lung Cancer
Camidge DR, Bazhenova L, Salgia R, et al. Updated results of a first-in-human dose-finding study of the ALK/EGFR inhibitor AP26113 in patients with advanced malignancies. 2013 European Cancer Congress. Abstract 3401.
Horn L, Infante J, Blumenshcein G, et al. A phase I trial of X-396, a novel ALK inhibitor, in patients with advanced solid tumors. J Clin Oncol 32:5s, 2014 (suppl; abstr 8030)
United States Food FDA expands use of Xalkori to treat rare form of advanced non-small cell lung cancer. Available here. Accessed March 11, 2016.
NSCLC; Lung Cancer. 2019;138:79-87
Lancet Respir Med. 2020;8[1]:45-53
US Food and Drug Administration. FDA approves brigatinib for ALK-positive metastatic NSCLC. May 22, 2020. https://www.fda.gov/drugs/drug-approvals-and-databases/fda-approves-brigatinib-alk-positive-metastatic-nsclc. Accessed May 26, 2020.
https://www.fda.gov/drugs/drug-approvals-and-databases/fda-approves-brigatinib-alk-positive-metastatic-nsclc.