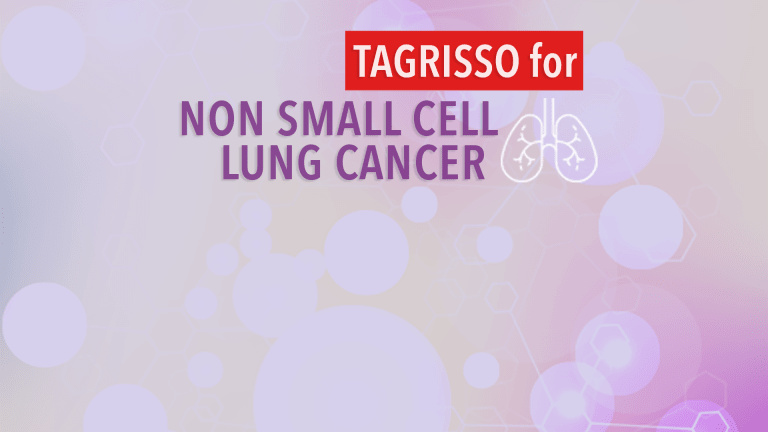 Tagrisso® - Standard of Care for EGFR + Non Small Cell Lung Cancer
FLAURA study confirms Tagrisso as best initial treatment of EGFR + NSCLC - learn more about its role in NSCLC management
by Dr. C.H.Weaver M.D. updated 9/2021
As individualized treatment approaches continue to gain momentum in the treatment of lung cancer, several specific gene mutations have been identified that contribute to the growth and spread of certain cancers. Once these mutations are identified, researchers can develop medications that specifically target the effects caused by the mutations.
About Tagrisso
Tagrisso (osimertinib) is a 3rd generation, EGFR- tyrosine kinase inhibitor (TKI) medication that potently and selectively inhibits both EGFRm and EGFR T790M resistance mutations. EGFR mutations occur in 30–40% of NSCLC in Asian populations and to 10–15% in Western populations.
Tagrisso is approved by the United States Food and Drug Administration (FDA) for the treatment of advanced EGFR + NSCLC that that has the T790M because clinical trials have demonstrated that Tagrisso significantly delays cancer progression, and is associated with fewer side effects, than standard chemotherapy for patients with advanced non-small cell lung cancer (NSCLC).
The epidermal growth factor receptor (EGFR) is part of a pathway involved in normal cellular growth. However, mutations within the EGFR gene can result in the production of too many EGFR proteins, and can result in unregulated spread of cancer cells. Standard treatment for patients who have too many EGFR proteins, referred to as EGFR+ cancer, includes EGFR tyrosine kinase inhibitors (EGFR TKIs). These drugs block the growth stimulatory effects of the mutations within the EGFR pathway, and reduce the spread of cancer. Tagrisso specifically targets the EGFR T790M mutation, reducing the growth and spread of the cancer cells.
Tagrisso has demonstrated activity against central nervous system (CNS) lesions - 57% of Tagrisso treated patients experienced a response.
The most common side effects of Tagrisso treatment are diarrhea, rash, dry skin, nail toxicity, and fatigue.
Although EGFR TKIs are an effective treatment option for patients with EGFR + NSCLC, the cancer stops responding to these agents after approximately 9-13 months of treatment. Often, the cancers will develop additional mutations that allow that cancer cells to begin growing again, despite treatment with EGFR TKIs. One such common mutation that can develop during EGFR TKI therapy is the T790 mutation (T790M).
Tagrisso Established as Standard of Care for Initial Treatment of EGFRm NSCLC
The FLAURA clinical trial assessed the effectiveness and safety of Tagrisso 80mg orally once daily compared to two other widely used EGFR inhibitors; Tarceva (erlotinib) or Iressa (gefitinib) as first line therapy in 556 patients from Asia, Europe, and North America with NSCLC and EGFR mutations.
Tagrisso treated patients were reported to have a statistically-significant and clinically-meaningful improvement in progression-free survival increasing the time patients lived without disease progression or death from any cause. Updated results released in Sept. 2019 confirm Tagrisso also improves the duration of survival.1,2,4,5
Treatment with Tagrisso improved progression-free survival by 54%.
Response to treatment was 80% with Tagrisso compared to 75%.
Average duration of response was two-fold higher for Tagrisso (17.6 months) compared to (8.7 months).
Tagrisso improved overall survival duration compared to Tarceva and Iressa. Median overall survival was 38.6 months compared to 31.8 months with first generation EGFR-TKIs.
More than half (54%) of Tagrisso treated patients were alive at three years compared to 44% for Tarceva or Iressa.
Interestingly individuals of Asian ancestry did not benefit from Tagrisso relative to Tarceva or Iressa.
Tagrisso in TKI Resistant NSCLC
The clinical trial included 419 patients with EGFR+ T790M-positive advanced NSCLC that has stopped responding to prior EGFR TKI therapy. One group of patients was treated with Tagrisso, and the other group of patients was treated with the standard chemotherapy agents, pemetrexed plus carboplatin or cisplatin.3
The median duration of time on treatment in which the cancer did not progress was 10.1 months for patients treated with Tagrisso, compared with only 4.4 months for those treated with chemotherapy.
Among patients whose cancer had spread to the central nervous system (brain and spinal column), a difficult-to-treat population, the median duration of time on treatment in which the cancer did not progress was 8.5 months for patients treated with Tagrisso, compared with only 4.2 months for those treated with chemotherapy.
Serious side effects were experienced in 23% of patients treated with Tagrisso, compared with 47% of patients treated with chemotherapy.
At 6 months following initiation of therapy, approximately 69% of patients treated with Tagrisso were alive with no progression of cancer, compared with only 37% of patients treated with chemotherapy.
The researchers concluded that Tagrisso had significantly greater efficacy than platinum therapy plus pemetrexed in patients with T790M-positive advanced NSCLC (including those with CNS metastases) in whom disease had progressed during first-line EGFR-TKI therapy."
Tagrisso-Avastin Combination
Initial study results suggest that combination therapy with Avastin (bevacizumab) and Tagrisso (osimertinib) is well tolerated and may improve outcomes. Because the combination of Tarceva (erlotinib) and Avastin as initial treatment of EGFR-mutant lung cancers improves progression-free survival compared with Tarceva alone researchers Memorial Sloan Kettering Cancer Center and Weill Cornell Medical College combined Avastin with Tagrisso, the current standard of care. 
A total of 49 patients (median age, 60 years) with metastatic EGFR-positive lung cancers were enrolled in the interventional study between August 15, 2016, and May 15, 2018. The 12-month overall response rate was 80%, and 76% of patients survived without cancer progression. Among 6 patients with measurable central nervous system disease, all of them had a partial or complete central nervous system response.6
References:
Abstract LBA6_PR 'Tagrisso vs standard of care (SoC) EGFR-TKI as first-line treatment in patients with EGFR-TKI sensitising mutation (EGFRm) positive advanced non-small cell lung cancer (NSCLC): FLAURA Asian subset' will be presented by Byoung Chul Cho during the Mini Oral session Thoracic malignancies 2 on Sunday, 19 November 2017, 14:30 to 15:25 (SGT) in Room 310. Annals of Oncology, Volume 28, 2017 Supplement 10
'Tagrisso in treatment-naïve EGFR mutation-positive advanced NSCLC (FLAURA)' S Ramalingam et al, The New England Journal of Medicine (NEJM), 10.1056/NEJMoa1713137,
Mok T, Yi-Long W, Ahn M-J, et al. Osimertinib or Platinum–Pemetrexed in EGFR T790M–Positive Lung Cancer. New England Journal of Medicine. 2016. DOI: 10.1056/NEJMoa1612674. Available here. Accessed December 7, 2016.
Tagrisso significantly improves overall survival in the Phase III FLAURA trial for 1st-line EGFR-mutated non-small cell lung cancer
The primary results were presented at the ESMO Congress 2017 and subsequently published in the New England Journal of Medicine: Soria JC, Ohe Y, Vansteenkiste J, et al. Osimertinib in Untreated EGFR-Mutated Advanced Non-Small-Cell Lung Cancer. N Engl J Med. 2018;378:113–125. doi:10.1056/NEJMoa1713137.
JAMA Oncol. 2020;6[7]:1-8