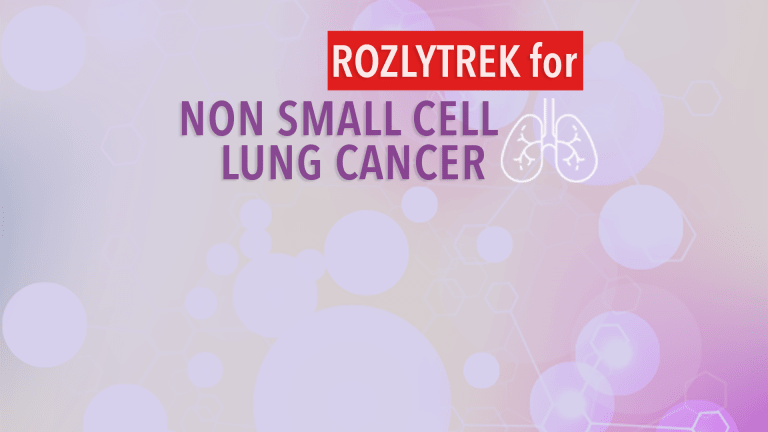 Rozlytrek Precision Cancer Medicine Effectively Targets ROS 1 NSCLC
Rozlytrek (entrectinib) for Treatment of ROS 1 NSCLC
by Dr. C.H. Weaver M.D. updated 3/2021
The US FDA approved Rozlytrek (entrectinib) for treatment of metastatic non-small cell lung cancer (NSCLC) whose tumors are ROS1-positive. Rozlytrek was also approved for treatment of cancers with a neurotrophic tyrosine receptor kinase (NTRK) gene fusion.1
About Rozlytrek (entrectinib)
Rozlytrek is a precision cancer medicine that targets solid tumors that harbor NTRK1/2/3 or ROS 1 gene fusions. It is a selective tyrosine kinase inhibitor designed to inhibit the kinase activity of the TRK A/B/C and ROS1 proteins, whose activating fusions drive proliferation in certain types of cancer. Rozlytrek is designed to cross the blood-brain barrier, and preclinical studies show that the agent achieves high CNS concentrations
Rozlytrek can block ROS1 and NTRK kinase activity and may result in the death of cancer cells with ROS1 or NTRK gene fusions. Rozlytrek has been evaluated across a range of solid tumor types, including breast, cholangiocarcinoma, colorectal, gynecological, neuroendocrine, non-small cell lung, salivary gland, pancreatic, sarcoma and thyroid cancers, demonstrated anti-cancer activity in all of them.
An updated integrated analysis of three clinical trials was published in March 2021. Among 161 patients with metastatic ROS1 fusion-positive NSCLC followed for at least 6 months, 67% had objective responses, with a median duration of 15.7 months. Median progression-free survival was 15.7 months, and more than 80% of patients were alive at 12 months.2
Among 20 patients with CNS involvement at baseline 55% had objective responses, with a median response duration of 12.9 months. In their discussion of the findings, the authors noted that rozlytrek is effective against the most common crizotinib resistance mutation.
Approval in NSCLC
The ROS-1 mutation is an uncommon mutation found in only 1% of individuals with NSCLC. Research has indicated that the ROS-1 mutation plays a role in the development and progression of some lung cancers, and patient characteristics are similar to those who have ALK+ NSCLC and can be targeted.
Rozlytrek was evaluated in adult patients with NTRK-positive cancers at various doses and schedules in one of three clinical trials: ALKA, STARTRK-1, and STARTRK-2.
Effectiveness in ROS1-positive metastatic NSCLC was determined in 51 adult patients who received Rozlytrek at various doses and schedules in the same three trials. The overall response rate was 78%. Cancer completely disappeared in 5.9% of patients. In the 40 patients with tumor shrinkage, this reduction was maintained for ≥12 months in 55% of patients.
The STARTRK-NG study
The STARTRK-NG clinical trial evaluated the safety and effectiveness of Rozlytrek in 29 children and adolescent cancer patients with no curative first-line treatment option and recurrent or refractory extracranial solid tumors or primary CNS tumors, with or without NTRK, ROS1 or ALK fusions. Eleven children were identified to have cancers with NTRK, ROS1 or ALK fusions.
Complete responses were observed in two patients with NTRK and ALK fusions: one with an NTRK fusion-positive primary CNS tumor and one with an ALK fusion-positive inflammatory myofibroblastic tumor. Another complete response was observed in one neuroblastoma patient with an ALK F1174L mutation.
Partial responses were observed in nine patients, three unconfirmed at the time of the clinical cut-off date, across NTRK, ROS1 and ALK fusion-positive primary CNS (n=4) and extra-cranial (n=5) solid tumors.
The most common side effects occurring in at least 20% of patients were fatigue, constipation, dysgeusia, edema, dizziness, diarrhea, nausea, dysesthesia, dyspnea, myalgia, cognitive impairment, increased weight, cough, vomiting, pyrexia, arthralgia, and vision disorders.
The FDA initially granted priority review for Rozlyrek and ultimagely full approval for NTRK positive cancers irrespective of origin and metastatic ROS1-positive NSCLC.
Other reading...
References:
US Food and Drug Administration. FDA approves third oncology drug that targets a key genetic driver of cancer, rather than a specific type of tumor. Accessed August 15, 2019.