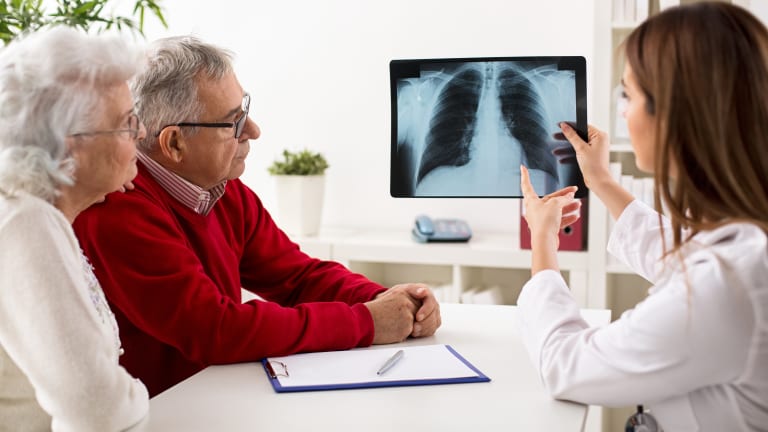 Diagnosed with Lung Cancer? 10 Must Read Tips to be an Empowered Patient
Education, Self-advocacy, NGS Testing, Support and the right physicians can improve outcomes for lung cancer.
by Dr. C.H. Weaver M.D. 11/2022
Historically lung cancer was initially treated by a thoracic surgeon and most patients only saw a medical oncologist if their disease was advanced or progressed and they required systemic treatment with chemotherapy. 
This is no longer the case – ALL patients with newly diagnosed lung cancer should be evaluated by a mulit-discplinary treatment team including a medical oncologist to develop their treatment plan. This is because novel precision medicines and immunotherapy are now used to treat the earliest stages of lung cancer. 
Information and support are key to being an empowered patient and optimizing treatment outcomes. The following tips will help you navigate a lung cancer diagnosis and understand your treatment options to best advocate for yourself. Have tips to share or want to connect with other lung cancer patients? Join the conversation on Lung CancerConnect here.
Seek Care from a Team
Perhaps the single most important thing you can do is seek care at a cancer center where the doctors have experience treating lung cancer as part of a multidisciplinary team. These centers are staffed with all the experts that focus on lung cancer including thoracic surgeons, pulmonologists, and medical and radiation oncologists that participate in tumor boards where each patients situation is discussed among the group to ensure optimal treatment planning.
Be Your Own Advocate
It's a good idea to spend a bit of time researching your diagnosis so you can have meaningful conversations with your treatment team to engage in a shared decision-making process. Make sure you understand the type of lung cancer, its stage, and whether you have any cancer growth causing mutations. These determine your treatment options. All treatment is discussed based on the stage and the results of "next generation sequencing" (NGS). You can begin to learn about lung cancer here and keep up to date with research news and helpful tips by signing up for the Lung CancerConnect newsletter here.
Join an Online Support Community
An online support community is a great resource to help find a doctor, to share information and learn about treatment choices with other individuals in your situation. The Lung Cancer Connect online support community is safe, private, and fully moderated. Moreover, patients from leading cancer programs including Harvard - Dana Farber, Roswell Park, and Ohio State among others use the community which allows patients to interact with others from America's top cancer centers. Join the conversation here.
Be Organized
Preparing in advance for your appointment is important.  Write down any questions you want to remember to ask, and consider bringing a close friend or family member to each appointment to take notes from your conversation with your doctor. Consider using a recorder during your appointment – this allows you to "replay" the conversation which can be very helpful. Stud­ies have shown that most patients retain only about 10% of what is told to them during an appoint­ment. It's not unusual for patients to be treated by multiple doctors. To stay on top of the treatment routine, it's critical to record notes from doctor appointments, questions/answers for your physician, dates of appointments, test results blood cell counts, medications and dosing schedules, prescription refills and other information.
Make Sure You Understand the Risks and Benefits of Your Treatment Options
Understand the goals of treatment so you can make the most informed treatment decisions. The goal of therapy may be cure, prolong survival, or reduce symptoms and complications of the cancer. We have created a guide to facilitate a discussion with your treating physician.
Ask about the Role of Precision Medicines & Immunotherapy
Unlike chemotherapy, which attacks normal cell as well as cancer cells, precision cancer medicines and immunotherapy are designed to target cancer cells with specific genetic alterations that allow cancer cells to grow. Lung cancers typically result from abnormal genes or gene regulation. The strategy of precision cancer medicine is to define abnormalities at the most basic genetic level. These abnormalities in the DNA are called genomic alterations and they are responsible for driving cancer cell growth. Once the cancer growth driving abnormality is identified, genomic tests are used to measure the specific genes in an individuals lung cancer that are abnormal or are not working properly. By identifying the genomic changes and knowing which genes are altered in a patient, cancer drugs that specifically attack that gene (or the later consequences of that gene) can be used to precisely target the cancer and avoid affecting healthy cells.
Tissue and Liquid Biopsies
A sample of tissue is required to confirm a diagnosis of lung cancer and test for cancer causing genomic alterations in the cancers DNA that can be targeted with precision cancer medicines or immunotherapy.  All newly diagnosed patients should undergo multi-gene testing that includes PDL-1, EGFR, and ALK at the minimum as early as possible in their evaluation. These tests can be ordered separately but are best ordered as part of a comprehensive NGS panel that includes testing for other less common mutations as well.  Although the comprehensive NGS panel may have more information than you initially need its best to have it done to help with long term treatment planning. A liquid biopsy (blood sample) can also be used and having both tissue and liquid tested improves the accuracy of the NGS testing more than either test alone. Moreover, information obtained on tissue can be used to assess your response to treatment most accurately.
Ask about Clinical Trials
Ongoing research is being conducted to find new treatments for lung cancer. By learning about clinical trials, you can identify opportunities that advance the treatment of cancer and possibly benefit your personal prognosis. Over 15 new precision cancer medicines and immunotherapy have been FDA approved based on clinical trial results in the last several years. Learn more about clinical trials.
Consider a Second Opinion
The more you can learn about your diagnosis and your treatment options, the better chance of receiving the best treatment. Getting a second opinion will help you understand ALL available treatment options and provide reassurance to you and your family that you are receiving the most appropriate therapy. A second opinion should be obtained at a major cancer treatment program that treats lots of lung cancer patients and where physicians work in a "team" format to determine treatment.
Learn more about why getting a second opinion may be the most important decision you make.
Make Sure You Have an Overall Care Coordinator
Everyone needs a single point of contact who is responsible for your overall care. This is typically your gynecologic oncologist. Without a "quarterback" the potential for miscommunication, and frustration is considerable. Make sure you have one primary care coordinator that you can contact for follow-up questions and concerns during the course of your treatment.