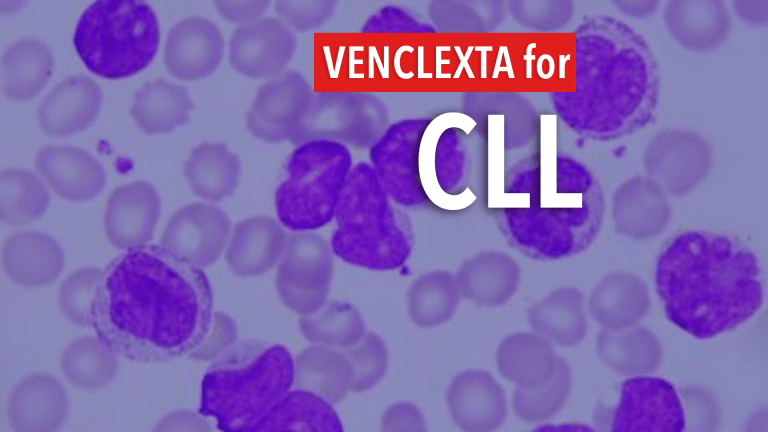 Venclexta Combination Treatment for Chronic Lymphocytic Leukemia
Sustained progression free and overall survival benefits with Venclexta combined with Rituxan or Imbruvica.
Sustained progression free and overall survival benefits with Venclexta combined with Rituxan or Imbruvica.
by Dr. C.H. Weaver M.D. updated 6/2020
About Chronic Lymphocytic Leukemia
Chronic lymphocytic leukemia (CLL) starts in immune cells called B-cells. It is the most common adult leukemia with over 15,000 individuals diagnosed annually in the United States and almost 5,000 patients succumb to the condition. CLL is not a rapidly growing cancer, but the cancerous cells accumulate in blood, bone marrow, lymph nodes and spleen, resulting in enlargement of these organs and decreased bone marrow blood cell production and immune function. CLL interferes with the normal production of antibodies and immunoglobulins, so the body cannot properly fight infections.
CLL typically responds to treatment with chemotherapy and precision cancer medicines. Although CLL is currently considered incurable patients can maintain remissions for many years. There are several different treatment options available for CLL and treatment is determined by genetic and genomic tests as well as age and the overall condition of the individual undergoing treatment. Precision cancer medicines are increasingly used instead of chemotherapy because they target specific growth mechanisms of CLL and avoid the side effects of chemotherapy.
About Venclexta
The BCL-2 protein is a type of protein that contributes to CLL cell's survival. Over expression of the BCL-2 protein in CLL cells is associated with increased survival time of the leukemia cells as well as resistance to standard chemotherapy. Venclexta is a precision cancer medicine that binds to the BCL-2 protein, thereby disabling its ability to keep cancer cells alive.
The FDA has approved Venclexta for the treatment of adults with CLL and small lymphocytic lymphoma (SLL), including those who have not received previous treatment.
Venclexta in Previously Untreated CLL
Investigators reported the results of a clinical trial comparing Venclexta plus Gazyva (obinutuzumab) with chlorambucil plus Gazyva in previously untreated CLL and coexisting medical conditions at the June 2019 American Society of Oncology Annual Meeting. 432 CLL patients with an average age of 72 years, were treated with either 12 months of Venclexta and six months of Gazya or six months of Gazyva and 12 months of chlorambucil and directly compared.
Overall 84.7 % in the Venclexta group responded to treatment compared with 71.3% in the chlorambucil- Gazya group and twice as many Venclexta treated patients experienced a complete remission.
After a median follow-up period of only 28.1 months there was evidence that the Venclexta combination significantly delayed CCL progression and prolonged survival compared to chlorambucil plus Gazyva. 88% of Venclexta treated patients survived without progression of their leukemia compared to only 64% of those treated with chlorambucil–Gazyva.
The most common side effects in Venclexta treated patients were low blood counts (neutropenia, thrombocytopenia, anemia), diarrhea, nausea, upper respiratory tract infection, cough, musculoskeletal pain, fatigue and edema. The Venclexta labeling also includes a contraindication on the use of strong CYP3A inhibitors during initiation and ramp up of Venclexta therapy for CLL/SLL.
Venclexta + Imbruvica
According to study results were published in the May 2019 online issue of the New England Journal of Medicine the combination of Imbruvica (ibrutinib) and Venclexta (venetoclax), are very effective treatment when given together for high-risk and older patients with chronic lymphocytic leukemia (CLL).
Researchers from MDACC in Houston TX treated 80 previously untreated elderly or high risk CLL patients with the combination. Patients were an average age of 65 years with 30 percent over age 70, and 93% had high-risk genetic abnormalities.
Overall the combination therapy was well tolerated, and no additional side effects were reported, other those known to occur from the individual drugs. A total of 88% of patients experienced a complete remission following Venclexta + Imbruvica with normal or incomplete blood count recovery after 12 cycles of treatment. Sixty-one percent of patients had complete remission with undetectable minimal residual disease. The current median follow-up of the trial is only 14.8 months so longer follow-up is needed to adequately assess the long-ultimate safety and effectiveness of the combination.(2)
The CAPTIVATE MRD Venetoclax - Imbruvica clinical trail has shown that high MRD-negative rates in CLL/SLL can be achieved with the combination. In patients with previously untreated CLL or SLL a once-daily oral regimen of Venclexta + Imbruvica produces molecular remissions in both bone marrow and peripheral blood, including in patients with high-risk disease, according to the preliminary results from the phase 2 CAPTIVATE MRD clinical trial released at the annual congress of the European Hematology Association.
The study enrolled 164 patients with CLL/SLL who were treated with the combination and the treatment was able clear the blood (minimal residual disease (MRD) and bone marrow in 75% and 68% of patients respectively. According to Dr. Tanya Siddiqi, MD, of City of Hope National Medical Center, Duarte, Calif., and colleagues. "This phase 2 study supports synergistic antitumor activity of the combination with notable deep responses across multiple compartments." The most common side effects with the combination were mile diarrhea, joint pain, headaches and nausea. Neutropenia which was often associated with fever may be the most severe of the reported side effects. More mature trial results will be reported later in 2021. (6)
Venclexta for Recurrent CLL
Venclexta + Rituxan
A combination of Venclexta plus Rituxan (rituximab) significantly reduces the risk of cancer progression or death compared with Treanda (bendustamine) plus Rituxan in the treatment of chronic lymphocytic leukemia that has recurred following prior therapies.(3,4,5)
The MURANO clinical trial which directly compared two different treatment regimens in patients with CLL that had recurred following prior therapies. Overall 389 patients with CLL who were divided into two groups and treated with a standard treatment consisting of Treanda plus Rituxan, or Venclexta plus Rituxan.
Venclexta was already approved by the United States Food and Drug Administration (FDA) for the treatment of recurrent CLL with a 17 p deletion. However, its approval was based on results that measured anti-cancer responses, and the FDA has required follow-up data to include duration of responses and survival rates.
The results of the MURANO trial were updated at the 2019 ASH Annual Meeting and researchers reported that at a median follow-up time of nearly 48 months after the initiation of treatment demonstrated that the combination of Venclexta+Rituxan represented a "profound improvement" compared to the standard Treanda+Rituxan treatment.
Updated 4 year overall survival rates are 85% among the group of patients treated with Venclexta + Rituxan compared with only 66% of those treated with Treanda+Rituxan.
Survival without cancer progression is 53% for patients treated with Venclexta compared with 5% percent for those treated with Treanda+Rituxan.
The Venclexta + Rituxan combination was generally well tolerated.a + Rituxan compared to Treanda+Rituxan.
The Venclexta + Rituxan combination was generally well tolerated.
Long term follow up from MURANO demonstrates sustained progression free and overall survival benefits with the Venclexta + Rituxan combination.
Venclexta + Imbruvica
In the phase 2 CLARITY clinical trial Imbruvica (ibrutinib) was evaluated in combination with Venclexta in 53 patients with relapsed or refractory CLL. The treatment was well tolerated and after 12 months of treatment over half of individuals treated with the combination could no longer have CLL detected in their blood. Venclexta + Imbruvica represents another chemotherapy free option for recurrent CLL.(5)
References:
The New England Journal of Medicine (2019; June 4. DOI:10.1056/NEJMoa1815281)
Seymour J, Kipps T, Eichhorst B, et al. Venetoclax plus rituximab is superior to bendamustine plus rituximab in patients with relapsed/refractory chronic lymphocytic leukemia – results from pre-planned interim analysis of the randomized phase 3 Murano study. 59th annual meeting of the American Society of Hematology. Late-breaking abstract #2. Available here. Accessed February 26, 2018.
Seymour J, et al. MURANO trial establishes feasibility of time-limited venetoclax-rituximab (VenR) combination therapy in relapsed/refractory (R/R) chronic lymphocytic leukemia (CLL). Presented at the 2018 American Society of Hematology Annual Meeting & Exposition: December 1, 2018; San Diego.
J Clin Oncol. 2019 Jul 11. Epub ahead of print