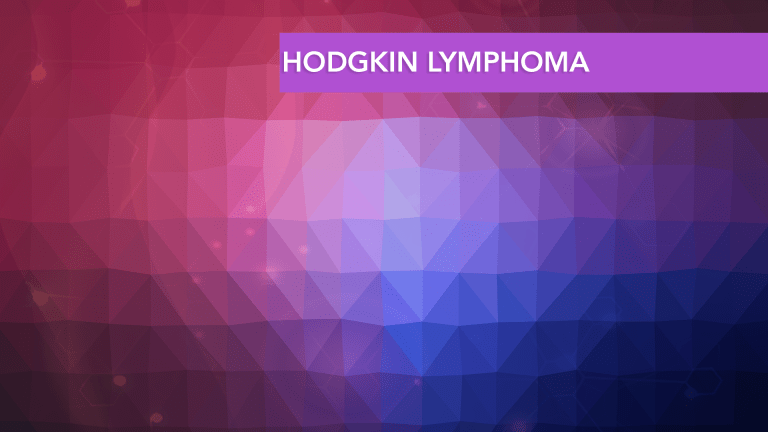 Treatment of Relapsed Hodgkin Lymphoma
Treatment consists of high dose chemotherapy, stem cell transplant, CAR T cells and precision cancer medicines.
by Dr. C.H. Weaver M.D. Medical Editor, updated 5/2021
Individuals who fail initial treatment for Hodgkin's lymphoma (HL) remain curable using high dose chemotherapy (HDC) and autologous stem cell transplantation (ASCT), CAR T cells, and precision cancer medicines. The current dilemma is how best to use these therapies?
Patients with relapsed or recurrent HL can be divided into two broad categories. Patients who fail to achieve an initial complete disappearance or remission of their cancer following a complete course of chemotherapy treatment are referred to as "induction failures." Other patients achieve a complete remission to initial treatment and later experience a cancer recurrence. These patients are said to have relapsed or recurrent HL. Relapse of HL may occur several months to years after the initial remission; however, the majority of relapses occur within 2 years of initial treatment.1
Historically, patients with recurrent HL were treated with additional chemotherapy using drugs to which the patient had not been previously exposed and or radiation therapy. Treatment of relapsed patients with several cycles of "salvage" chemotherapy produces a complete disappearance or remission of cancer in 30%-40% of patients and as many as 20% survive without an additional cancer relapse.1
In the 1990's it was demonstrated that HDC and ASCT cured more patients with recurrent HL compared to conventional "salvage" chemotherapy and HDC became the standard treatment for the majority of patients with relapsed HL.2,3,4
The basic strategy uses higher doses of chemotherapy, which kills more cancer cells than lower doses. Unfortunately, the higher doses of therapy used to destroy cancer cells also damages normal cells. The body's normal cells that are most sensitive to destruction by HDC are the blood-producing "stem: cells in the bone marrow. To "rescue" the bone marrow and hasten blood cell production and immune system recovery, HDC is followed by an infusion of autologous stem cells collected from the patient prior to administering the HDC.
The ASCT process was developed more than 60 years ago and the individuals responsible for its advancement were awarded the Nobel Prize for Medicine in 1990. Over the last few decades the hospital length of stay has been reduced to one to two weeks and the risk associated with the HDC and ASCT and not that much different than those from standard chemotherapy.4,5
Researchers from the Royal Marsden Hospital reported long-term data including 195 patients with recurrent HL who received an ASCT between 1985 and 2005.6
61% of patients achieved a complete disappearance of cancer.
The median survival was nine years.
Median progression-free survival was three years.
Five- and 10-year overall survivals were 55% and 49%, respectively.
10% of patients developed a second cancer, the most of which were acute myeloid leukemia or myelodysplastic syndromes.
ASCT vs alloSCT
The role of allogeneic stem cell transplantation in the management of HL is typically limited to patients with resistant or refractory cancer, or patients who are unable to undergo an autologous stem cell transplant, usually because of the inability to collect sufficient stem cells to support the procedure. 
Children, adolescents and adults with relapsed Hodgkin's lymphoma are curable with an alloSCT.  Allogeneic stem cell transplantation, in general, is associated with greater side effects than ASCT but patients treated with allogeneic stem cell transplantation, are less likely to develop a cancer recurrence. This is because of the immunologic effect that the allogeneic transplant has on eradicating cancer cells remaining in the patient. Because allogeneic stem cell transplantation is associated with greater side effects but appears more capable of preventing cancer recurrences, its use is largely limited to patients with resistant or refractory disease that have failed multiple other treatments. Long-term clinical studies also suggests that patients with recurrent Hodgkin's treated with an allogeneic stem cell transplant experience fewer relapses and fewer incidences of treatment-induced AML/MDS when compared to patients treated with autologous stem cell transplants.11
An early report from the European Group for Blood and Marrow Transplantation involving 91 children age 18 or younger with relapsed or refractory Hodgkin's lymphoma who were treated with an allogeneic stem cell transplant before 2005 indicated the following:.
Overall survival was 54%.
The five-year relapse rate was 44%.
AlloSCT Following Treatment with Checkpoint Inhibitor Immunotherapy 
An international, retrospective study analyzed data from 209 patients at 33 transplant centers, including 23 in the United States, who underwent alloHCT after PD-1 checkpoint blockade. Transplant recipients were on average 31 years of age, received a median of 10 doses of a PD-1 monoclonal antibody, with a median interval of 81 days from the last dose to alloHCT. After PD-1 monoclonal antibody therapy, 109 patients (52%) proceeded directly to alloHCT, and 100 patients (48%) had intervening salvage therapy. After a median follow-up of 24 months the overall survival rate was 82% - 69% without lymphoma progression. Complications are greater than with ASCT; 14% died from complications of transplant, 5% from Graft vs Host Disease · The incidence of chronic GVHD was 34%.12
CAR T Cell Therapy
The use of a patient's own immune cells to fight cancer through a technique called CART therapy may be a more promising therapeutic approach than alloSCT in the treatment of some lymphomas. 
Adcetris (brentuximab vedotin)
Adcetris is a precision cancer medicine that targets a protein known as CD30, which is present on HL cells. Adcetris attaches to and enters CD30-positive cells where it releases the potent chemotherapy drug monomethyl auristatin E. Adcetris when combined with chemotherapy has become the standard initial treatment for advanced HL and appears to improve the outcome of HDC and ASCT as well.7,8,9
Adcetris and PET-Adapted Salvage Therapy in Relapsed/Refractory HL
Patients with relapsed/refractory HL are typically treated with a few cycles of chemotherapy prior to ASCT. This is often achieved with a regimen called ICE (ifosfamide, carboplatin, etoposide), which is highly toxic. Pre-transplant positron-emission tomography (PET) normalization is one of the strongest predictors of outcome following ASCT.
Researchers sought to avoid pre-transplant ICE by utilizing Adcetris with the goal of normalizing the PET. In a small trial 46 patients with relapsed/refractory HL received two cycles of weekly Adcetris followed by PET imaging. Patients who achieved normalization of their PET proceeded directly to ASCT while those who did not received two cycles of augmented ICE. The complete response rate was 80% after Adcetris with or without ICE, and 30% of patients were able to avoid ICE salvage therapy altogether and proceed straight to ASCT.9
Recurrence of Hodgkin's Lymphoma Following ASCT
Although the majority of patients with recurrent HL are cured by initial salvage treatment with ASCT or CAR T, some patients experience a recurrence following these therapies. Treatment options for these "refractory" patients may consist of repeating the treatment, allogenic SCT, participation in a clinical trial or re-treatment with salvage chemotherapy or immunotherapy.
Keytruda® is a monoclonal antibody that helps to restore the body's immune system in fighting cancer. It creates its anti-cancer effects by blocking a specific protein used by cancer cells called PD-L1, to escape an attack by the immune system. Once PD-L1 is blocked, cells of the immune system are able to identify cancer cells as a threat and initiate an attack to destroy the cancer. Keytruda® was approved for the treatment of recurrent HL based on data in 210 patients from the KEYNOTE-087 trial and appears superior to Adcetris as salvage therapy.2,10
Radiation Treatment of Relapsed Hodgkin's Lymphoma
Radiation therapy can be used with curative or palliative intent for recurrences. If the recurrences are localized and can be encompassed within a tolerable field of radiation, good results can be achieved. More often, patients with recurrent HL receive radiation for palliation of local symptoms.
Strategies to Improve Treatment
The progress that has been made in the treatment of relapsed Hodgkin's lymphoma has resulted from the development of high-dose chemotherapy regimens, new treatment strategies and their evaluation in clinical trials. Currently, there are several areas of active exploration aimed at improving the treatment of Hodgkin's lymphoma.
Post-ASCT Adcetris®: The use of post ASCT maintenance therapy with Adcetris® significantly delays cancer progression and prolongs survival according to the results of the AETHERA clinical trial.
Doctors performing ASCT had long theorized that administration of targeted therapy following ASCT that could be helpful by eradicating any residual lymphoma cells and might improve cure rates achieved with HDC and ASCT alone.
The AETHERA clinical trial was designed to evaluate whether Adcetris® could improve the outcome of HL patients undergoing ASCT. In this trial 329 patients who had either achieved remission or had stable disease at time of ASCT were treated with either Adcetris® or placebo for up to 1 year after ASCT and directly compared.
Post ASCT Adcetris® delayed the time to cancer progression; at 2 years 63% of HL patients who were treated with the drug survived without lymphoma progression compared to only 51% of patients who received placebo. The average time to cancer progression was 43 months for Adcetris® treated patients compared to 24 months for those on placebo resulting in a 43% reduction in risk of disease progression.
Overall survival was similar in both groups at 2 years based on interim analysis, and this was most likely because patients treated with placebo were allowed to cross over and receive Adcetris® when their HL progressed.8
References:
Arella C, Cuttica A, Vitolo U, et al.: High-dose sequential chemotherapy and peripheral blood progenitor cell autografting in patients with refractory and/or recurrent Hodgkin lymphoma: a multicenter study of the intergruppo Italiano Linfomi showing prolonged disease free survival in patients treated at first recurrence. Cancer 97 (11): 2748-59, 2003.
Schmitz N, Pfistner B, Sextro M, et al.: Aggressive conventional chemotherapy compared with high-dose chemotherapy with autologous haemopoietic stem-cell transplantation for relapsed chemosensitive Hodgkin's disease: a randomised trial. Lancet 359 (9323): 2065-71, 2002.
Rancea M, Monsef I, von Tresckow B, et al.: High-dose chemotherapy followed by autologous stem cell transplantation for patients with relapsed/refractory Hodgkin lymphoma. Cochrane Database Syst Rev 6: CD009411, 2013.
High-dose chemotherapy and peripheral blood stem cell infusion in patients with non-Hodgkin's lymphoma: Results of outpatient treatment in community cancer centers
Sirohi B, Cunningham D, Powles R, et al. Long-term outcome of autologous stem-cell transplantation in relapsed or refractory Hodgkin's lymphoma. Annals of Oncology. 2008;19:1312-1319.
Moskowitz C, Nadamanee A, Masszi T, et al. The Aethera Trial: Results of a Randomized, Double-Blind, Placebo-Controlled Phase 3 Study of Brentuximab Vedotin in the Treatment of Patients at Risk of Progression Following Autologous Stem Cell Transplant for Hodgkin Lymphoma. Presented at the 56th Annual Meeting of the American Society of Hematology, December 6-9, 2014. Abstract 673.
Moskowitz CH, Nademanee A, Masszi T, et al. Brentuximab vedotin as consolidation therapy after autologous stem-cell transplantation in patients with Hodgkin's lymphoma at risk of relapse or progression (AETHERA): a randomised, double-blind, placebo-controlled, phase 3 trial. The Lancet [online publication]. March 18, 2015.
Moskowitz AJ, Schoder H, Gerecitano J, et al: PET adapted sequential salvage therapy with brentuximab vedotin and augmented ICE for transplant eligible patients with relapsed and refractory Hodgkin lymphoma. 9th International Symposium on Hodgkin Lymphoma. Abstract T128. Presented October 15, 2013.
KEYNOTE-204: Randomized, open-label, phase III study of pembrolizumab (pembro) versus brentuximab vedotin (BV) in relapsed or refractory classic Hodgkin lymphoma (R/R cHL).
Claviez A, Canals C, Dierickx D, et al. Allogeneic hematopoietic stem cell transplantation in children and adolescents with recurrent and refractory Hodgkin's lymphoma: An analysis of the European Group for Blood and Marrow Transplantation. Blood. 2009; 114: 2060-2067.
Merryman RW, Castagna L, Giordano L, et al. Allogeneic transplantation after PD-1 blockade for classic Hodgkin lymphoma. Leukemia. Published online March 3, 2021. doi:10.1038/s41375-021-01193-6