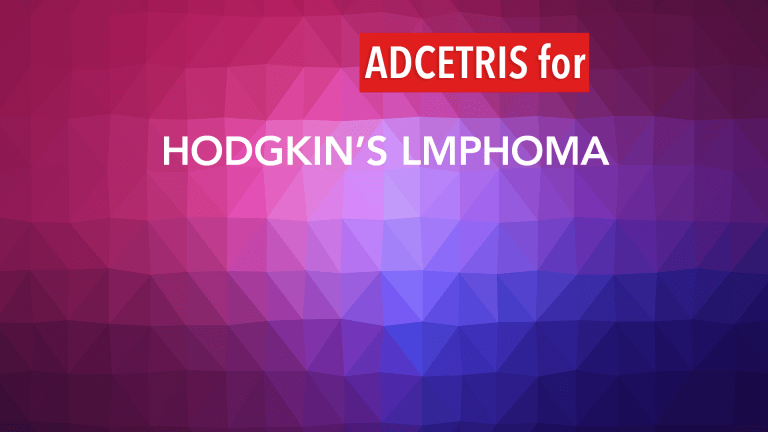 Adcetris Combination with Chemotherapy-Standard of Care for Hodgkin Lymphoma
NEJM - Adcetris + AVD significantly improves survival and is standard of care for Classical Hodgkin Lymphoma.
by Dr. C.H. Weaver M.D. updated 8/2022
The U.S. Food and Drug Administration (FDA) approved Adcetris (brentuximab vedotin) in combination with chemotherapy in adult patients with previously untreated Stage III or IV classical Hodgkin lymphoma based on the successful outcome of the ECHELON-1 clinical trial that compared Adcetris plus AVD (Adriamycin, vinblastine and dacarbazine) to ABVD (Adriamycin, bleomycin, vinblastine and dacarbazine) chemotherapy. Adcetris AVD reduces the risk of relapse, improve survival and avoids bleomycin lung toxicity. Updated trial results further suggest that the prophylatic use of a white blood cell growth factor to improve bone marrow function and recovery is beneficial.1-3
About Adcetris
Adcetris is a precision cancer medicine that targets a protein known as CD30, which is present on Hodgkin lymphoma cells as well as cells from other cancers. Once Adcetris enters CD30-positive cells, it releases the potent chemotherapy drug monomethyl auristatin E. Adcetris has shown significant clinical activity and a manageable safety profile in patients with relapsed or refractory Hodgkin's lymphoma.
Precision cancer medicine utilizes molecular diagnostic testing, including DNA sequencing, to identify cancer-driving abnormalities in a cancer's genome. Once a genetic abnormality is identified, a specific targeted therapy can be designed to attack a specific mutation or other cancer-related change in the DNA programming of the cancer cells. Precision cancer medicine uses targeted drugs and immunotherapies engineered to directly attack the cancer cells with specific abnormalities, leaving normal cells largely unharmed.
In order to reduce the risk of HL recurrence and avoid bleomycin lung toxicity researchers previously conducted a small phase I clinical study that evaluated Adcetris as an addition to ABVD or as a substitute for bleomycin.2 The results of this trial suggested that HL outcomes could be improved so a larger comparative trials was initiated to confirm these results.
In the current study, 1,334 patients with previously untreated advanced HL were treated with either the historical standard therapy of ABVD or Adcetris plus doxorubicin, vinblastine, and dacarbazine (A + AVD). When directly compared 83% of HL patients treated with A+AVD survived 3 years without cancer recurrence compared to only 76% of those treated with ABVD.6
Six year results were updated and published in the New England Journal of Medicin.7,8
Overall survival was 94% for A+AVD and 89% for ABVD.

Survival without cancer recurrence was 83% of Adcetris treated patients survived compared to 74% with ABVD.

Adcetris + AVD treated patients had a 41% reduction in the risk of death compared with patients receiving ABVD.
The Adcetris did cause more nerve damage, episodes of fever, and neutropenia than ABVD. Peripheral neuropathy was initially observed in 67% of Adcetris treated patients compared to 43% with ABVD. The update shows that among patients with peripheral neuropathy, 83% treated with Adcetris and 84% treated with ABVD reported complete resolution or improvement at last follow-up.
A + AVD appears to produce superior outcomes for the initial treatment of advanced HL and may represent a new standard of care. Although HL are often still cured with stem cell transplantation when they relapse following initial therapy, improving the outcomes with initial treatment can spare patients the need to undergo aggressive salvage treatment.
Impact of Prophylactic G-CSF 
Another analysis of the ECHELON-1 trial evaluated the use of granulocyte-colony stimulating factor (G-CSF) prophylaxis among patients treated with Adcetris The initial design of ECHELON-1 did not mandate prophylactic G-CSF at initiation. During the trial, however, increased rates of febrile neutropenia observed with Adcetris + AVD led to the recommendation to use G-CSF prophylaxis.4
Eighty-three patients received primary G-CSF prophylaxis, and 453 did not. The rate of neutropenia decreased from 73% to 35%, and severe neutropenia dropped from 70% to 29%. Fever and neutropenia decreased from 21% to 11%.
In addition patients who received primary G-CSF prophylaxis had far fewer dose delays of Adcetris plus AVD compared with patients without prophylaxis (35% vs 49%). The researchers have theorized that this could explain the improvement in survival without cancer progression seen with primary G-CSF prophylaxis. At 2 years this was 84.6% with primary G-CSF prophylaxis vs 81.7% without. Patients who received primary G-CSF prophylaxis had fewer dose delays and experienced less toxicity, and therefore they could tolerate more treatment administered on time, possibly leading to better outcomes.
Adcetris Improves Response Rates to ABVD in Hodgkin's Lymphoma
Adding Adcetris® to the chemotherapy regimen ABVD produces a high complete response rate with a moderate increase in toxicity in patients with advanced Hodgkin's lymphoma, according to the results of a study presented at the 19th International Symposium on Hodgkin Lymphoma held in Cologne, Germany in 2014.
Researchers conducted a phase I study that evaluated Adcetris as an addition to ABVD or as a substitute for bleomycin (AVD plus Adcetris). The substitution came as a result of observing that Adcetris appeared to create more bleomycin toxicity—so in the second half of the study, the researchers eliminated the bleomycin.
The results of the study indicated that 21 of 22 (95%) of patients who received ABVD plus Adcetris achieved a complete response and the same was true for 24 of 25 (96%) of those who received AVD plus Adcetris. Only one patient had disease progression and this patient was receiving AVD plus Adcetris. One patient. One patient in the ABVD plus Adcetris group developed grade 5 pulmonary toxicity during treatment and was not evaluable.
As a result of the high response rate, researchers initiated the international randomized trial known as ECHELON-1 that established AVD + Adcetris as the new standard of care.5
References:
Joseph M Conners et al: Brentuximab Vedotin Plus Doxorubicin, Vinblastine, Dacarbazine (A+AVD) As Frontline Therapy Demonstrates Superior Modified Progression-Free Survival Versus ABVD in Patients with Previously Untreated Stage III or IV Hodgkin Lymphoma (HL): The Phase 3 Echelon-1 Study
news.cancerconnect.com/adcetris-improves-response-rates-to-abvd-in-hodgkins-lymphoma/
Connors JM, Jurczak W, Straus DJ, et al; ECHELON-1 Study Group. Brentuximab vedotin with chemotherapy for stage III or IV Hodgkin's lymphoma. N Engl J Med. 2018;378(4):331-344.
Straus DJ, Collins GP, Walewski JA, et al. Improving outcomes with brentuximab vedotin (BV) plus chemotherapy in patients with newly diagnosed advanced stage Hodgkin lymphoma [ASCO abstract 7534]. J Clin Oncol. 2018;36(15 suppl).
Ansell SM, Conors JM, Park SI, et al. Front-line therapy with brentuximab vedotin combined with ABVD or AVD in patients with newly diagnosed advanced stage Hodgkin lymphoma. 9th International Symposium on Hodgkin Lymphoma. Abstract P005. Presented October 15, 2013.
ASH Annual Meeting Abstract #4026, poster presentation on Monday, December 9, 2019

Ansell SM, Connors JM, Radford JA, et al. First-line brentuximab vedotin plus chemotherapy to improve overall survival in patients with stage III/IV classical Hodgkin lymphoma: An updated analysis of ECHELON-1. Presented at: the 2022 ASCO Annual Meeting; June 3-7, 2022; Chicago, IL. Abstract 7503.

doi:10.1056/nejmoa2206125