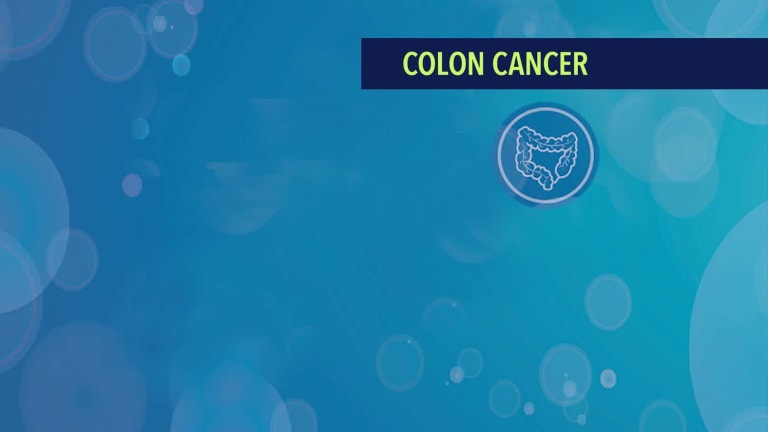 Treatment of Stage I - III Colon Cancer
Treatment of early stage colon cancer consists of surgery followed by systemic adjuvant chemotherapy in individuals at risk of cancer recurrence
by Dr. C.H. Weaver M.d. updated 10/2021
The treatment of early stage colon cancer consists of surgery followed by systemic adjuvant chemotherapy in individuals at risk of cancer recurrence.1-4
Following surgical removal of colon cancer, the cancer is classified as:
Stage I colon cancer is confined to the lining of the colon, does not penetrate the wall of the colon into the abdominal cavity, and has not spread to any adjacent organs or local lymph nodes. Approximately 90% of patients are cured with surgery alone and will not experience a cancer recurrence.3
Stage II colon cancer has penetrated the wall of the colon into the abdominal cavity but does not invade any of the local lymph nodes - 25-40% of stage II patients will experience recurrence following surgery and systemic adjuvant therapy is recommended for some patients to reduce this risk.3
Stage III colon cancer has penetrated the wall of the colon into the abdominal cavity and invaded any of the local lymph nodes. Half of patients will experience recurrence following surgery and systemic adjuvant therapy is recommended to most patients to reduce this risk.3
The following is a general overview of the treatment of stage I - III colon cancer. The information on this Web site is intended to help educate you about treatment options and to facilitate a shared decision-making process with your treating physician.
Systemic Adjuvant Therapy
The delivery of systemic treatment following local treatment with surgery is referred to as "adjuvant" therapy and may include chemotherapy or precision cancer medicines. Systemic adjuvant chemotherapy is commonly recommended for some patients with stage II and most patients with stage III colon cancer. The goal of systemic adjuvant therapy is to reduce the risk of colon cancer recurrence.1-7
Stage II Colon Cancer
Adjuvant chemotherapy may delay cancer progression and prolong survival in some but not most patients with stage II colon cancer. 
Characteristics that may indicate a higher risk of recurrence in stage II cancer include the following.3,4
High grade cells on pathologic exam.
Less than 12 lymph nodes sampled during surgery.
Perforation or obstruction of the colon due to cancer.
Stage IIB tumors (tumor has extended beyond the wall of the colon).
MRD Assessment & ctDNA Testing
Most patients with stage II CRC don't benefit from chemotherapy - ctDNA testing for Minimal Residual Disease (MRD) may help determine prognosis and guide adjuvant treatment for patients with early stage colon cancer. 
Stage III Colon Cancer
Systemic adjuvant chemotherapy is administered to patients with stage III colon cancer because it reduces the risk of cancer recurrence and improves survival.3-7
Since the 1980's, the mainstay of chemotherapy treatment has been 5-flourouracil (5-FU) and leucovorin (LV), which is very well tolerated by most patients. Adding Eloxatin® (oxaliplatin) to 5-FU/LV improves (FOLFOX) survival rates by 5-10%
Xeloda® (capecitabine) is a form of the chemotherapy drug 5-FU that is administered orally as a pill, rather than into a vein and appears to work as well as 5-FU/LV with fewer side effects. In addition, oral administration is more convenient since it requires fewer clinic visits—patients receiving Xeloda will make a minimum of eight trips to their clinic, whereas those on 5-FU may make up to 30 trips.5
Adjuvant Chemotherapy Regimens for Colon Cancer
FOLFOX (LV/5-fluorouracil + Eloxatin (oxaliplatin)
CAPEOX (Xeloda (capecitabine) + Eloxatin)
Xeloda
The overall health of the patient must be considered when weighing the risks and benefits of adjuvant therapy. Patients with fewer other health problems (such as diabetes, obesity or heart disease) will better tolerate adjuvant chemotherapy.
In order to reduce neuropathy, a significant and troublesome side effect of Eloxatin The American Society of Clinical Oncology released guidelines that states that patients with clinically low-risk stage II-III colon cancer should have the option of receiving 3 months of adjuvant Eloxatin-based chemotherapy instead of 6 months.
Resulting recommendations of therapy duration apply to patients with completely resected stage III colon cancer who are being offered adjuvant chemotherapy with Eloxatin and a fluoropyrimidine.
For patients at a high risk of recurrence (T4 and/or N2), adjuvant chemotherapy should be offered for a duration of 6 months.
For patients at a low risk of recurrence (T1, T2, or T3 and N1), either 6 months of adjuvant chemotherapy or a shorter duration of 3 months may be offered on the basis of a potential reduction in adverse events and no significant difference in disease-free survival with the 3-month regimen.
Furthermore, the panel recommends a shared decision-making approach on a case-by-case basis in determining duration of therapy. Decision-makers should take into account patient characteristics, values and preferences, and other factors including a discussion of the potential for benefit and risks of harm associated with treatment duration, the guideline states.8,9
Treatment of the Older Individuals
A large percentage of patients with colon cancer are 65 years or older. Sometimes elderly patients and/or their physicians may believe that treatment will be more toxic for elderly patients than it is for their younger counterparts. Due to this perceived intolerability of therapy, elderly patients often do not receive optimal treatment. The results of several clinical trials however confirm that elderly patients with colon cancer who are in otherwise good health tolerate chemotherapy as well as younger patients and experience improved survival from its use.10,11
Researchers combined information from four clinical trials evaluating FOLFOX4 in a total of 3,742 patients, 614 of whom were age 70 or older. One of the trials enrolled patients with Stage II or Stage III colorectal cancer, two studies enrolled patients with metastatic colorectal cancer, and one study enrolled patients who had experienced cancer progression during initial treatment.
Patients age 70 or older were more likely than younger patients to experience low levels of white blood cells (neutropenia) or platelets (thrombocytopenia). Grade 3 or 4 neutropenia developed in 43% of younger patients and 49% of older patients. Grade 3 or 4 thrombocytopenia developed in 2% of younger patients and 5% of older patients.
The overall frequency of serious adverse effects of treatment was similar in the two age groups (63% in younger patients and 67% in older patients).
The benefits of FOLFOX4 on response to treatment and survival were also similar in the two age groups.
The researchers conclude that the FOLFOX4 chemotherapy regimen remains safe and effective when used in selected elderly patients with colorectal cancer. The researchers note that judicious use of FOLFOX4 "should be considered without regard to patient age, although scant data are available for patients older than 80 years."10
Another evaluation of adjuvant chemotherapy was conducted using the Surveillance, Epidemiology, and End Results (SEER) database and the New York State Cancer Registry (NYSCR), both of which are linked to Medicare programs and the NCCN Outcomes Database and the Cancer Care Outcomes Research and Surveillance Consortium (CanCORS).
The study included data from 5,489 patients aged 75 or older with stage III colorectal cancer diagnosed between 2004 and 2007. The patients were categorized into two groups: chemotherapy or no chemotherapy. Those who underwent chemotherapy were further categorized to determine whether their chemotherapy included Eloxatin®.
The results of the analysis indicated that the use of chemotherapy declined with age and comorbidity. Patients who received chemotherapy had significantly better survival than those who did not. In fact, the researchers found that the survival benefit was equal to that seen in clinical trials of younger patients. Chemotherapy that included Eloxatin appeared to be associated with a trend toward lower mortality in two of the four data sets.
The researchers concluded that patients aged 75 and older with stage III colorectal cancer may experience a survival benefit with adjuvant chemotherapy. They suggest that adjuvant therapy in this older patient population is worth considering, depending on individual health characteristics.11
Strategies to Improve Treatment
The progress that has been made in the treatment of colon cancer results from ongoing patient participation in clinical trials. Currently, the main areas of active research are focused on optimizing the use of adjuvant treatment.
Reducing Side Effects of Adjuvant Chemotherapy
FOLFOX AND CAPOX are standard adjuvant treatment regimens for stage II-III colon cancer. Both use Eloxatin which can cause neuropathy. Doctors would like to reduce the risk of neuropathy without reducing the effectiveness of adjuvant treatment.
Findings from a phase 2 clinical trial presented at the 2020 ASCO Gastrointestinal Cancers Symposium suggest that intermittent Eloxatin with CAPOX could be equally as effective.
A total of 200 patients were treated with either CAPOX and continuous Eloxatin for 8 cycles or CAPOX with intermittent Eloxatin. The intermittent treatment regimen included 2 cycles of CAPOX, 4 cycles of capecitabine without Eloxatin, and then another 2 cycles of CAPOX.
At 3 years 78% in the continuous arm and 82% in the intermittent arm survived without cancer progression suggesting that intermittent use of Eloxatin could be equally effective as an adjuvant setting for colon cancer, and substantially reduce long-term PSN and potential improve patient quality of life.16
Precision Cancer Medicine Targeting Genetic Mutations
Not all colon cancer cells are alike. They may differ from one another based on what genes have mutations. Molecular testing is performed to test for certain genetic mutations or the proteins they produce because the results can help select treatment including newer precision cancer medicines designed to attack specific colon cancer cells with specific genetic mutations.
Doctors will increasingly use genomic testing to help better identify who will benefit from adjuvant therapy.
Precision cancer medicines that target specific genomic alterations in the cancer's DNA that are driving the growth of the cancer are increasingly used to treat advanced colon cancer. Several unique genomic mutations have been identified and targeted precision cancer medicines have been developed and are being used to prolong survival. Clinical studies are ongoing to determine how to incorporate genomic testing and precision cancer medicines into the adjuvant treatment of early stage colon cancer.12
Advances in Surgery for Colon Cancer
Surgical removal of cancer remains an integral part of the treatment strategy for patients with stage III colon cancer however few patients are cured with surgery alone. Conventional surgery involves opening the pelvis and/or abdomen to gain access to the large intestine. As with any surgery, there are risks associated with removing cancer, including infection, blood loss, and other possible complications of surgery.13-15
Clinical trials have shown that a less invasive surgical technique, called laparoscopic surgery, may be more tolerable than and similarly effective as conventional surgery. Laparoscopic surgery involves the placement of small probes into the area of surgery. The probes contain cameras and instruments for removing the cancer. The surgeon performs the surgery through the probes while watching his or her movements captured by the camera and projected on a large screen. This type of procedure prevents the need for large surgical incisions, and may be associated with fewer complications, especially infections (abdominal infections, urinary tract infections and pneumonia). In addition, patients undergoing laparoscopic surgery generally experience less discomfort post-operatively and have a quicker recovery time (return to normal activities).
When choosing between open and laparoscopic abdominal surgery, patients and their doctors must weigh the potential short-term benefits of laparoscopic surgery with a possible small increase in cancer recurrence that may be associated with laparoscopic resection. Patients may choose based on their own health and the expertise and recommendations of their surgeon.
Next: Surgery for Colon Cancer
Next: Precision Cancer Medicine for Colon Cancer
References:
D Sargent, R Goldberg, J MacDonald, et al. Adjuvant Chemotherapy for Colon Cancer (CC) Is Beneficial Without Significantly Increased Toxicity in Elderly Patients (Pts): Results from a 3351 Pt Meta -Analysis. Proceedings from the 36th annual meeting of the American Society of Clinical Oncology. Blood. 2000;19: Abstract #933.
ascopubs.org/doi/abs/10.1200/JCO.2017.35.4_suppl.710
Journal of Clinical Oncology (online April 15, 2019; doi:10.1200/JCO.19.00281).
O'Connell M, Lee M, Lopatin M et al. Validation of the 12-gene colon cancer recurrence score (RS) in NSABP C07 as a predictor of recurrence in stage II and III colon cancer patients treated with 5FU/LV (FU) and 5FU/LV+oxaliplatin (FU+Ox). Paper presented at: 2012 Annual Meeting of the American Society of Clinical Oncology; June 1-5, 2012;Chicago,IL. Abstract 3512.
Andre T, Boni C, Mounedji-Boudiaf, et al. Oxaliplatin, Fluorouracil, and Leucovorin as Adjuvant Treatment for Colon Cancer. New England Journal of Medicine. 2004;350:2343-2351.
Twelves C, Wong A, Nowacki M, et al. Capecitabine as Adjuvant Treatment for Stage III Colon Cancer. New England Journal of Medicine. 2005; 352:2696-2704.
Taieb J, Puig PL, Bedenne L. Cetuximab plus FOLFOX-4 for fully resected stage III colon carcinoma: scientific background and the ongoing PETACC-8 trial. *Expert Reviews of Anticancer Therapy.*2008;8(2):183-9.
Grothey, A. et al. (2018) Duration of Adjuvant Chemotherapy for Stage III Colon Cancer. The New England Journal of Medicine.
Iveson, T. et al. (2018) 3 versus 6 months of adjuvant oxaliplatin-fluoropyrimidine combination therapy for colorectal cancer (SCOT): an international, randomised, phase 3, non-inferiority trial.
Goldberg RM, Tabah-Risch I, Bleiberg H et al. Pooled Analysis of Safety and Efficacy of Oxaliplatin Plus Fluorouracil/Leucovorin Administered Bimonthly in Elderly Patients with Colorectal Cancer. Journal of Clinical Oncology. 2006;24:4085-4091.
Sanoff HK, Carpenter WR, Stürmer T, et al. Effect of adjuvant chemotherapy on survival of patients with stage III colon cancer diagnosed after age 75 years. Journal of Clinical Oncology. 2012; 30(21): 2624-2634.
abstracts.asco.org/199/AbstView_199_194502.html
Mirza MS, Longman RJ, Farrokhyar F, et al. Long-term outcomes for laparoscopic versus open resection of nonmetastatic colorectal cancer. Journal of Laparoendoscopic Advances in Surgical Technique2008;18(5):679-685.
Bilimoria KY, Bentrem DJ, Merkow RP, et al. Laparoscopic-assisted vs. Open Colectomy for Cancer: Comparison of Short-term Outcomes from 121 Hospitals. Journal of Gastrointestinal Surgery [early online publication]. June, 2008.
Nelson H, Sargent D, Wie H, et al. A Comparison of Laparoscopically Assisted and Open Colectomy for Colon Cancer. New England Journal of Medicine 2004;350:2050-2059.
Nakamura M, Nakayama G, Ishigure K, et al. Randomized phase II trial of CAPOX with continuous versus intermittent use of Eloxatin as an adjuvant chemotherapy after curative resection of stage II/III colon cancer (CCOG-1302 study). Presented at: the 2020 Gastrointestinal Cancers Symposium; January 23-25, 2020; San Francisco, CA. Abstract 95.